New edition of prints titled Power and Glory is the result of a very fruitful collaborative project of Obey mastermind, Shepard Fairey and Paul Stolper Gallery. The series will be presented at this year's LA Art Show, running from January 15-19, occupying the Booth #622. This innovative screen print series encompasses four new silk screen and foil block prints, which marks a new era in Fairey's art, since this is the first time he used foil blocking as a medium. Series is printed as a limited edition and available at the LA Art Show, but worry not, because more prints art to be produced starting from March.
Power and Glory
Power and Glory print project is the third endeavor that the Paul Stolper Gallery and the street art big shot, Shepard Fairey have undertaken together. The foil-blocked silkscreen prints will bring a new aesthetical value to Fairey's recognizable style, as he furthers his exploration of contemporary American iconography. Basic inspiration for new screen printed images came from the most iconic element of the USA - the Star and Striped flag. Following the traces of Jasper Johns and Peter Blake, Fairey exploits one of the most powerful symbols of the American society and interprets it in a particularly ironic way. Often glorified, respected, but also diminished, burned and blamed at large, the American flag Fairey presents resembles a doily, element of obsolescence, history, daily life and ignorance for the outside world. As the flag is one of the most present national symbols in the US, Fairey uses it to bring out all the hermetic and xenophobic it arouses in mediocre masses, but also redesigns it as if it were a logo of a brand. With deliberate use of shiny, golden foil blocked embellishments, the Obey master points out the overruling superficiality of the modern, media dominated society, where looks are everything, and true values and meanings are often swept under the carpet. Highly stylized flag of Shepard Fairey is almost unrecognizable, but still pretty, and wall-worthy, if you understand what it's all about.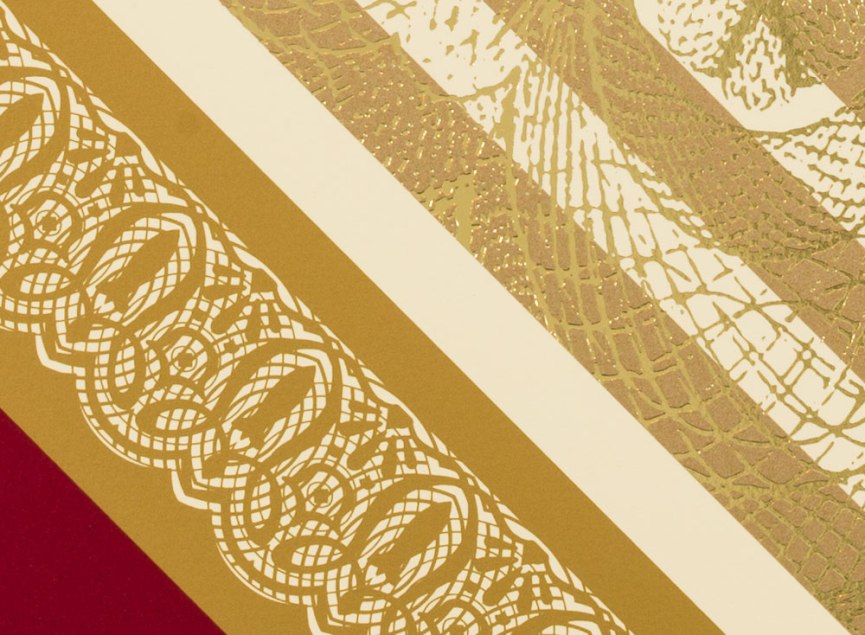 The new layout of the flag is deconstructed, and the single star is brought to the foreground. Unavoidable Obey motif adorns these interesting prints, and it disallows the attention to remain at the shiny surface, that mimicks the surface of a US banknote thanks to the foil block technique. Obey is the message and the reminder that one should never forget about the Big Giant, bringing back the essence of Shepard Fairey's socially conscious concept. Suggestive title, Power and Glory, does instantly evoke the generally accepted meaning of the flag, but Fairey's screen prints distort this meaning, they convert it in a socially aware mirror, and award it a new, ambiguous and frightening significance of uncertainty whose power and glory is he - are we- referring to?