An American contemporary street artist, graphic designer, activist, and illustrator who emerged from the skateboarding scene, Shepard Fairey has been inspiring generations of artists with his thought-provoking and often controversial pieces. An icon of the contemporary art scene in the country and beyond, he has always been an artist who speaks his mind through his art.
A comprehensive retrospective of the artist's work will soon be on view at the Galerie Itinerrance. Titled Facing the Giant: 3 Decades of Dissent, the exhibition will trace the artist's 30-year-long career, creating a dialogue between his 19-year-old punk beginnings and his current life as a 49-year-old artist, activist, punk, father and husband. It will highlight the issues and forces he confronts through his art, as well as the continuity and evolution of his practice.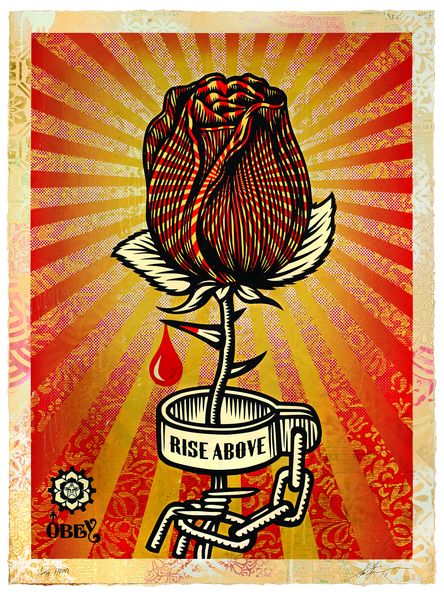 An Artist and Activist
A consistent presence in national and international art scenes since the 1990s, Shepard Fairey rose to prominence with work characterized by punk ethos. Constantly moving forward, he has gained wisdom while retaining the defiant idealism that fueled his beginnings and continues to define his career.
The retrospective will bring together works which address recurring topics in the artist's career such as phenomenology, self-empowerment, rebellion, abuse of power, environmental destruction, racism, gender inequality, xenophobia, campaign finance reform, the military industrial complex, propaganda, war and peace, and economic imperialism.
Fairey has been producing an impressive number of fine art screen prints. The exhibition now brings 30 works which will be for the first time as original paintings, as well as 30 x 41-inch fine art prints on cotton rag paper, and as 30 x 41-inch hand painted multiples.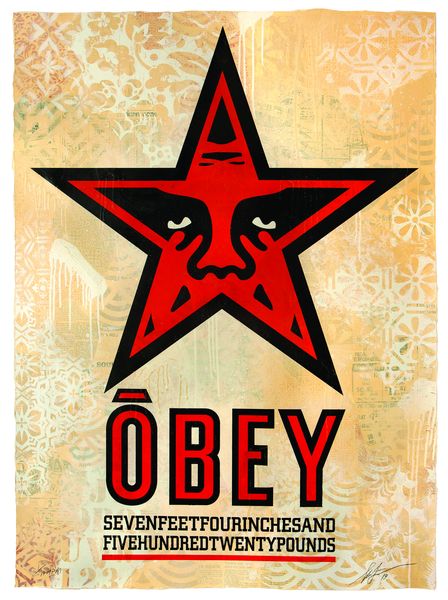 Earth Crisis
Shepard Fairey's unique brand of social critique has always been evident in his public art, convicted it has the power to engage people emotionally and intellectually.
Among his recent projects is Earth Crisis, a giant sphere suspended between the first and second levels of the Eiffel Tower in 2015. Conceived and set up by the Galerie Itinerrance, the work addressed the environment as its subject, raising awareness and provoking discussions about the Earth's future. As the artist explained, the public needs to become aware of the earth crisis we are facing, hoping his work would generate "a needed conversation about the fate of our planet."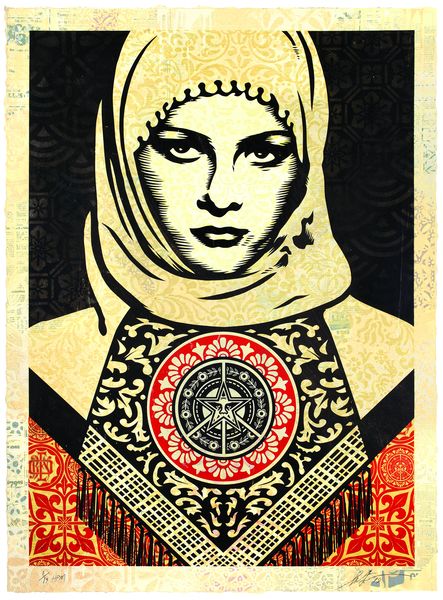 Shepard Fairey Exhibition at the Galerie Itinerrance
Throughout thirty years of his career, Fairey has created 99 murals all over the world and presented 69 solo shows. To celebrate this event, the artist will paint his 100th mural in June, in Paris.
The exhibition Facing the Giant: 3 Decades of Dissent will be on view at Galerie Itinerrance in Paris from June 22nd to July 27th, 2019. The opening reception will take place on Saturday, June 22nd from 6 pm in the presence of the artist.
Featured image: Shepard Fairey. All images courtesy Galerie Itinerrance.