Lately, Shepard Fairey has been hitting the news everywhere. His charges and arrests have been putting us on the edge of our seats in anticipation of what is to come and what is to happen to this "vandalizing" artist. We've recently covered the stories of his arrest in LA, and the pressing of charges against him made by the Detroit police. Well, it seems like those charges caught up with him, and that he faces a similar scenario to the one of LA's case. But, with a slight twist. This time, Mr. Shepard Fairey decided to turn himself in!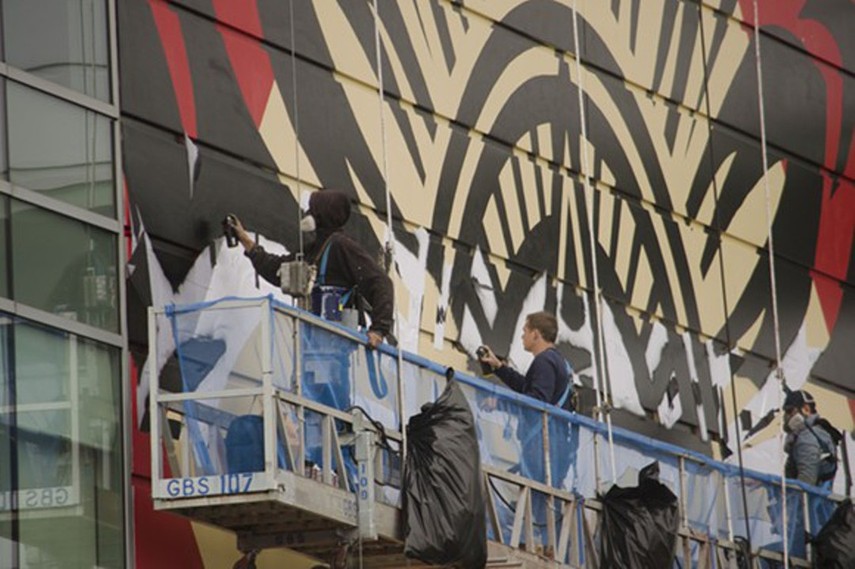 The "Mess" He Made
Let us go back a little bit, to the "scene of the crime". What caused all of this fuss in Detroit? Well, it's only the largest mural of the artist's career! Fairey painted this majestic piece on an 18-story building One Campus Martius, formerly the Compuware building, in Motown. So you can imagine a mural of this magnitude is surely going to catch a few looks and attract much attention, both positive and negative. And that's not quite all that he was charged for, apparently he also did some smaller work on other buildings, allegedly causing $9,000 worth of damage throughout the city of Detroit. Raising much discourse on the never-ending subject of whether this should be interpreted as art or vandalism, art aficionados stepped up to defend their fellow man, claiming his work as an undeniable product of artistry. As on the other hand, Detroit officials tried to justify the felony charges and an especially high bond amount for the famous artist, by referring to his track record and the "mess" that he had left there. Apparently, not even "Elephant Snot", the mostly used graffiti removal-tool, was up to the task of removing Fairey's work. They attempted to clean it off, but wheat paste, a glue used to stick posters, doesn't respond well to graffiti-removal tools, so they had to paint over it.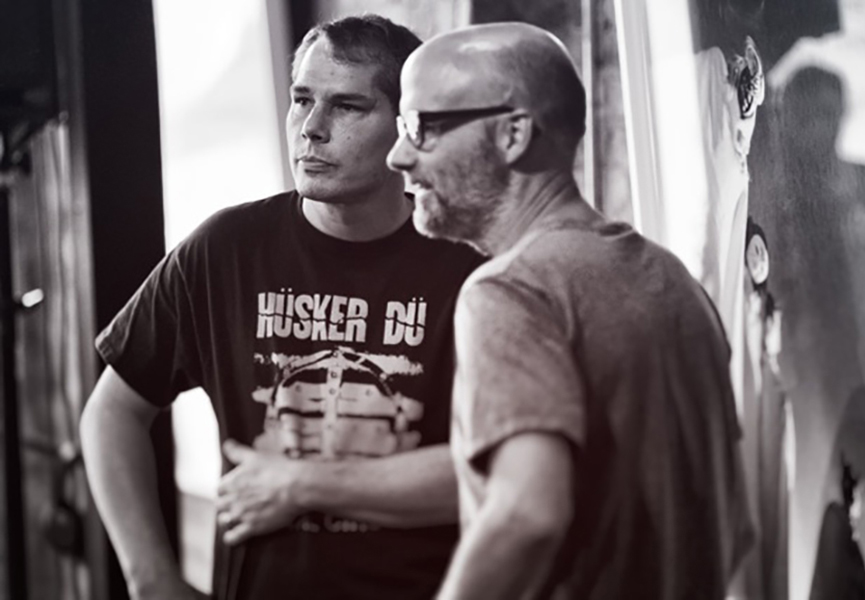 Getting Arrested as a Marketing Strategy?
Getting arrested for his work is nothing new for the world-renowned artist. Looking at his history record, as many as 18 times had he faced arrest on similar charges previously. But according to the Detroit officials, this could be the first time his charges are felonies, which is why they hope to get his attention at last. The founder of the now-closed CPop Gallery, Rick Manore proclaimed Fairey to play a "tortured artist" as a way of a marketing strategy, made entirely with the goal to increase his street credibility and emphasize his image of an outlaw. The owner of the gallery, which showcased Fairey's work in Detroit over a decade ago, said that this is exactly what the artist wants, claiming that by wearing his warrants on his sleeve like badges of honor, Fairey is using the judicial system and the media to market himself. He also said that by doing these "crimes" as a minor investment, Shepard Fairey accomplishes to remain relevant in the world of art in return, and that he has been doing this for years, being great at it. Whether or not this, somewhat cynical, approach to Fairey's work is true or not, another Detroit street artist, known as Fel3000FT, said that Fairey is simply one of those guys known for just giving people art, and that's one way he made himself a career-by giving people his work, who then later on put it up for him because they liked his stuff. He also argued that unless the police have official footage of Fairey doing it, we can't know who did it. Still, this doesn't clear the artist from his charges, because even if he didn't physically paste his work onto the sites himself, he might still be found guilty if others did so at his direction. On top of that, Fairey will also have to answer about his previous public claims regarding his intention to create street art without permission. The maximum penalty of the charges in question are up to five years in prison, and the monetary fine could potentially be over $10,000. Mr. Fairey's spokeswoman said on Tuesday that the artist was unavailable and had no comment at that time. Fairey is soon to face a probable cause conference, set for July 21st , which will be followed up by a preliminary hearing on July 28. We remain focused on this controversial event as we are keen to see how it all plays out for the street art legend, and we encourage you to share your voice with us on our Facebook page, does Shepard Fairey have your support?
Featured image
Shepard Fairey - Mural in Detroit, 2015 - Courtesy of battlecreatures.co
Sign up for free to My Widewalls, and stay tuned for the latest news from the world of art!