Shepard Fairey, one of America's most prolific street artists was recently in New York preparing for his new solo show at Jacob Lewis Gallery. Coinciding with the On Our Hands exhibition, was also his public project initiated in partnership with the Mana Contemporary. Earlier this week, Shepard Fairey created his widest horizontal mural, measuring 147 feet in length and 47 feet in height. Located between Jersey City and Manhattan, the mural is so far one of the highlights in the ongoing Mana Urban Arts Project.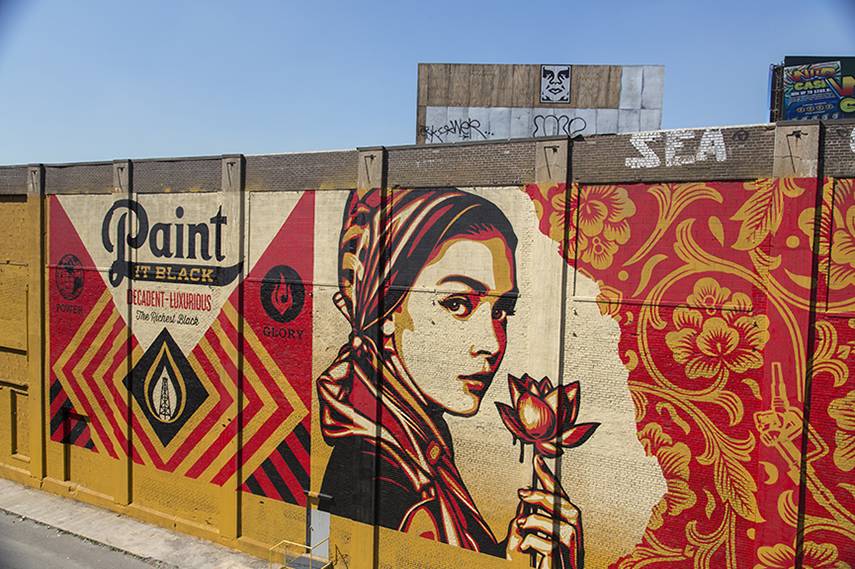 Mana Contemporary – Urban Arts Project
Last year, Mana Contemporary began working on its public arts project, with the initial idea of turning an abandoned ice factory in Jersey City into a street art museum. The museum is a great contribution to the promotion of street and public art practice and it features a series of educational and artistic programs. Mana Urban Arts project provides a platform for the collaboration of internationals artists whose works are exhibited indoors, as part of the rotating exhibition programs, as well as on the exterior walls, where commissioned murals are regularly being created.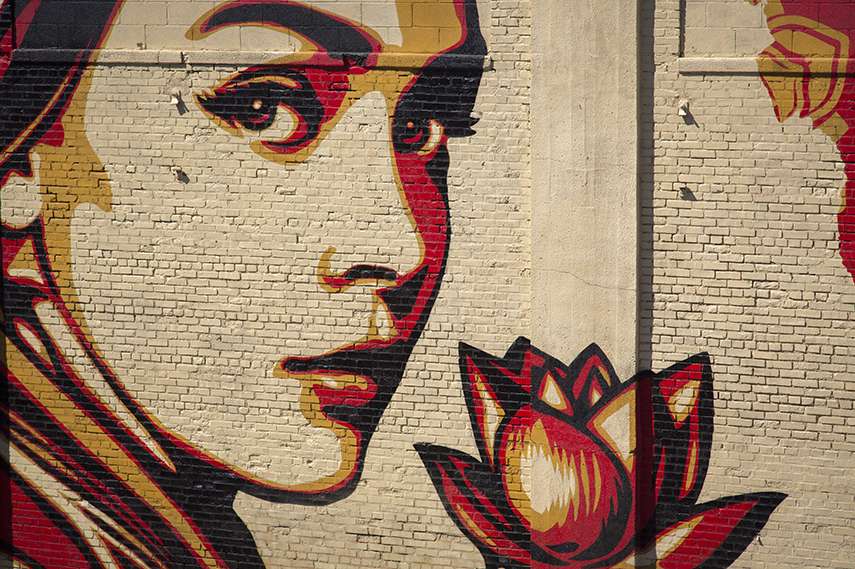 Natural Springs - Shepard Fairey's Widest Mural
Earlier this year the artist created his largest mural in Detroit and we all know how the recent events in Shepard Fairey vs. the City of Detroit case went. Although he was officially charged with illegal tagging and malicious destruction of property, the trial apparently didn't break the spirit of the artist who just finished working on his widest horizontal mural. Entitled Natural Springs, the mural incorporates the imagery found in his new series of paintings, currently on display at Jacob Lewis Gallery in Chelsey, New York. The mural is located at 581 Monmouth Street visible for all passengers who travel between Jersey City and Manhattan via the Holland Tunnel.
Location of the Natural Springs Mural
What Is Next for Shepard Fairey
The participation in the Mana Urban Arts Project will not finish after this mural. Another project in line is the artwork which will cover 60-foot-wide billboard atop one of Mana Contemporary's buildings overlooking the Pulaski Skyway. Knowing Shepard Fairey's work, we do not doubt that it will be an astonishing contribution to the ongoing public art project, and we are looking forward to the final results. In the meantime, stay tuned for the latest news from Obey Giant workshop and the further developments in Shepard Fairey's case.
What do you thing about the mural? Share your opinion on our Facebook page!
Don't miss on the latest public art projects and sign up for My Widewalls for FREE!
All images courtesy of Mana Contemporary