What is so extraordinary about the premiere of Miami City Ballet Heatscape which is about to take place very soon? It is certainly the exciting and unexpected collaboration between Miami City Ballet and graffiti artist Shepard Fairey, best known for his Hope image of Barack Obama. In this unprecedented world premiere ballet and guerrilla street art come together and with its unique mixture they create something exciting. Although, it should not really come as such a surprise for Miami City Ballet prefers choreographers who have given ballet fresh and unexpected dimensions.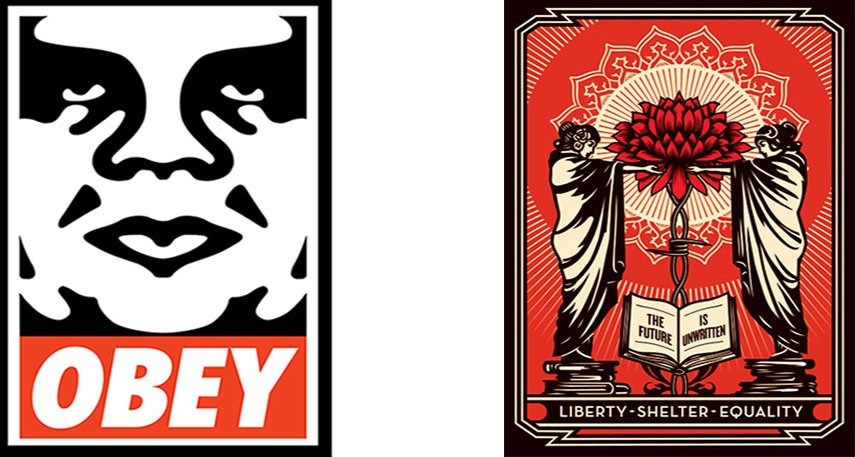 Shepard Fairey with Miami City Ballet
Collaboration between choreographer Justin Peck and Shepard Fairey is quite precedent for both of them. But how did this unusual team came to be? Peck never had any particular interest in graffiti or street art but when he saw Fairey's Wynwood Mural the thought sprung to his mind that perhaps street art and ballet could mix after all. Shepard Fairey felt the same about ballet but the concept seemed interesting. And with this idea they managed to create a unique piece that brings together music, movement, costumes and art design. However, this is not the first time that two forms seemingly impossible to mix were put together. It was New York collective Faile and French artist JR that had successful collaboration with the New York City Ballet on several occasions. Since it proved to be huge success JR was asked to direct NYC Ballet.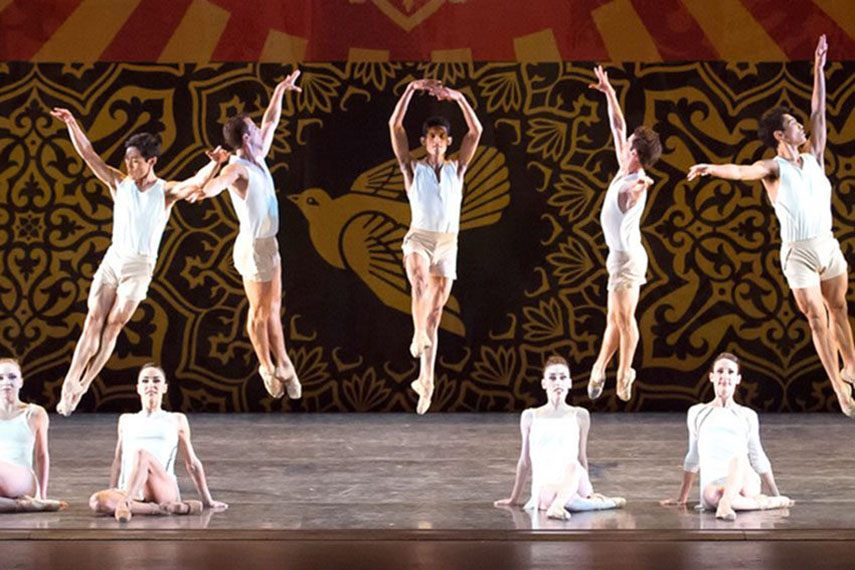 The Backdrop of The Miami City Ballet's Heatscape
The back coulisse of the Heatscape features iconography of Obey Giant (read more at Shepard Fairey: Poster Power) with mandalas and Fairey's overall recognizable style. Shepard Fairey and Justin Peck were able to find symbols such as birds, female figure and lotus flower elements that are common for both Ballet and Shepard Fairey's art. They analyzed meaning behind few of these symbols and tried to incorporate them into the backdrop. Fairey conveys he enjoyed the collaboration and found Peck's ideas interesting and inspiring while Peck greatly admires the textural details and meticulous work that Shepard Fairey did for the Ballet. Peck also compares the symmetrical elements in Fairey's work to those in nature, so perfect but fleeting. Same as it is in ballet.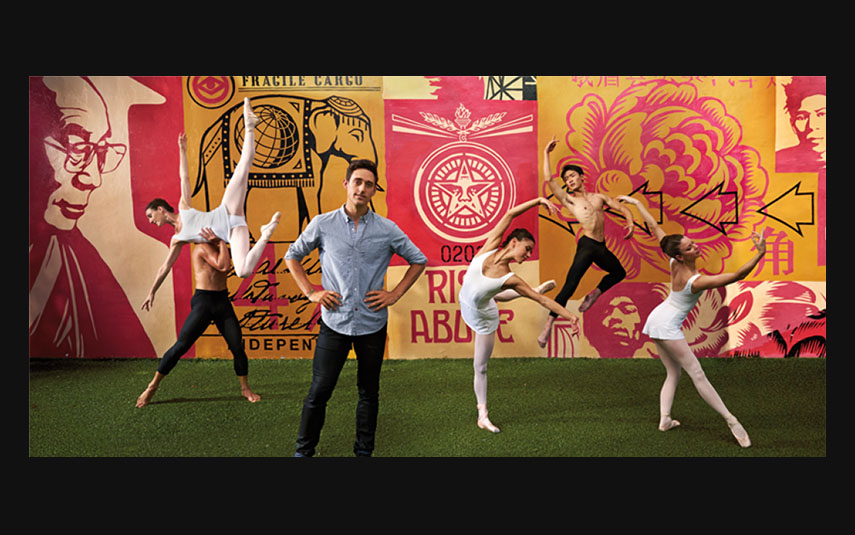 Fairey's other Projects
Shepard Fairy seems to be expanding his interests outside of Street Art for apart from taking part in Miami City Ballet he is also appearing in a new episode of Portlandia, a comedy show in its fifth season. Shepard Fairey takes on a role of an employee in a store that sells art supplies. Fairey's involvement in the show is result of his admiration for this comedy series. Shepard Fairey also took part in Art Basel 2014 in Miami. He cooperated with Cleon Peterson and together they completed two murals in Wynwood. Although these two artists may not seem to have a lot in common the murals prove they make a fine team. The pair was quick to produce two murals and subtly conceal trademarks of both artists imagery. Heatscape by Miami City Ballet and Shepard Fairey premiers on Friday, April 10th at 8 pm at Adrienne Arsht Center.
If you want to stay informed on similar stories just sign up for My Widewalls!
Featured images in slider are courtesy of Arsht Center and Art Daily Fix