Art lovers of all preferences will have the opportunity and certainly the pleasure to immerse into a parallel world conjured up by a young Australian street artist Shida. Scenes of mysterious disposition made in mixed media display numerous influences of historical art movements, from Post-Impressionism in France to Russian Symbolists, while retaining the surreal nature of a contemporary Sci-Fi illustration. Backwoods Gallery from Collingswood, Victoria is presenting a new body of work by Shida entitled Inner Myths this July, where the artist's pictorial evolution will be in focus.
Inner Myths opens on July 4 and it will run through July 13, 2014.
Shida's Inner World
Inner Myths series of work will put Shida's oeuvre into a different perspective, showing this young creative is not to be viewed as a street artist alone, but as a promising figure in Australian contemporary art scene. As a prolific artist, Shida continuously creates in the most diverse media, from murals to paintings, sculptures and prints, frequently mixing aerosol and acrylic paint to vitalize his fine drawing. His style leans on Paul Gauguin, Mikhail Vrubel, Frank Frazetta and Nikolai Kalmakov, but it also has somewhat of a Japanese Ukiyo-E linework, especially in print. His inspirations come from the exploration of modern masters as much as from within, which is best displayed in the Inner Myths series. Through it, the artist channels the very force that drives him towards creation, this mysterious, godlike entity that breaks out onto the canvas, while his search for innermost truths never ends, but the labyrinth continues with each step taken.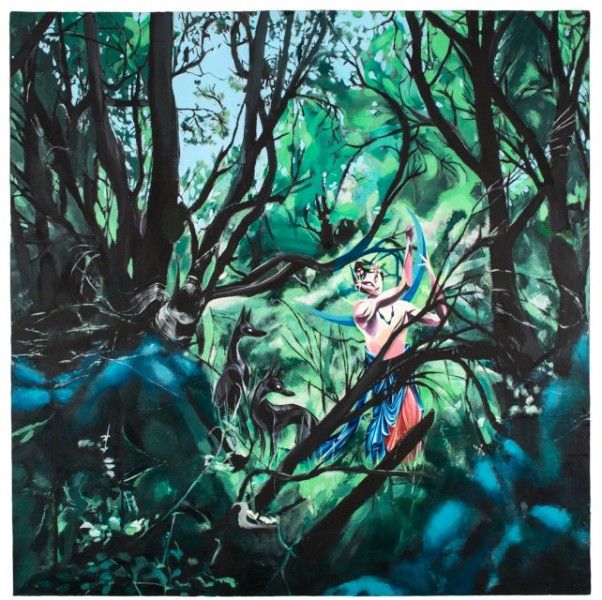 There is something inside me,
a dark blue chasm.
Its depths hold a mystery even from me.
Down, inside I explore.
Only to find that I am lost,
are Shida's words on the Inner Myths, which best describe this overwhelming creative power, materialized in a synthesis of styles, dressed in deep, cryptic cold and dark palette.
Shida
Shida is among the most prolific Australian young street artists today, best known for his monumental mural work, mostly executed on the eastern coast of the continent and across the ocean. He comes from the famous Melbourne scene, where he started doing street art in 2004. Painting was an activity Shida adopted in 2006. His style is founded on expression, psychedelia and fractals. He has been painting across the world, including places such as New York, Sao Paulo, Cambodia and Berlin. Exhibiting his work since a very early age, Shida continues to work as a free artist, pursuing his creative dream.

Drawing is the base of his expression, characterized by fine, elegant linework that describe surreal landscapes or ethereal creatures. His birdlike, humanoid or alien like subjects bathe in a gracious color palette, with contrasts carefully executed through complementary nuances. His sculptures retain a lot of the linearity of his drawing, as they emulate his abstract creations in 3D. Painting his imagination, Shida uncovers his personal visions of a different, vibrating reality.