Upcoming exhibition titled Summoning Lovers Out of Time will present Shida street art in Backwoods Studios, a new exhibition space of Backwoods Gallery. This site-specific event which will last only one weekend is an excellent opportunity to observe Shida's work in interaction with a new industrial space where art and location will create an atmospheric and powerful visual experience for the visitors.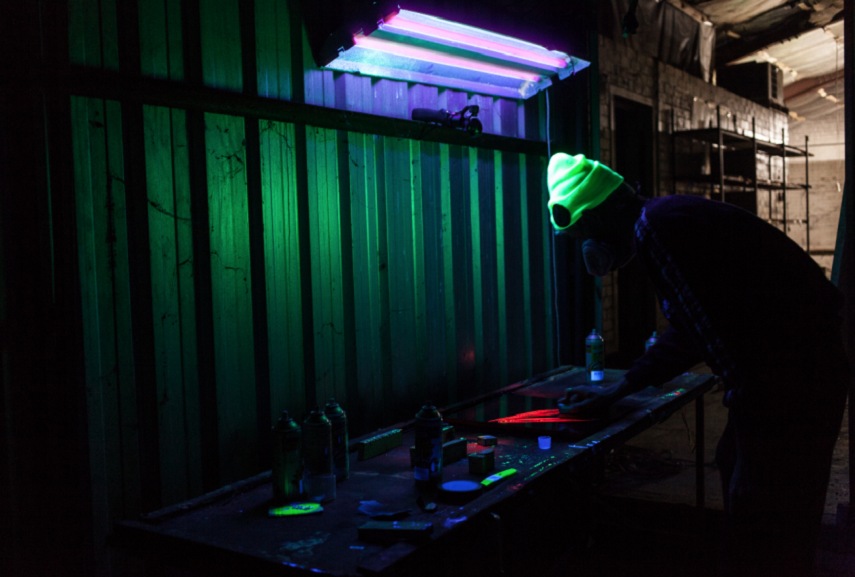 Art of Shida – From Street Art to Gallery Walls
Hailed from Melbourne's urban and graffiti scene, Shida's street art is well-known and recognized both in Australia and overseas. Starting around 2004 Shida emerged on the Melbourne urban art scene as a graffiti artist known for his large murals. He continued to evolve and to include other artistic techniques in his work, such as sculpture and painting. From 2006 he is making paintings which resemble in style and motifs his mural works. Along with large-scale works and paintings Shida is active in sculpture, video art, installation, and light-drawing. He exhibited his works in collective and solo exhibitions around Australia and overseas, from Melbourne, Sydney and Brisbane, to Vienna, Hong Kong, Munich and New York. Documentary film RUSH about street art scene in Melbourne also features some of his early works.
Exhibition Teaser - Room Edit
Ritual and Mysticism in Shida Street Art
Motifs and subjects Shida picks for his work are mainly imaginary, often sci-fi in nature and with different visual references. As he himself states, he is often inspired by Australian Indigenous art, science fiction and Classical painting. For the present exhibition his inspiration is grounded in interactions between ritual, sexuality and love. Psychedelic figures of his works engage in eternal battle between order and chaos through which they constantly seek balance between the two. Working like an ancient shaman, Shida creates energetic visual manifestations that are incantations for joy.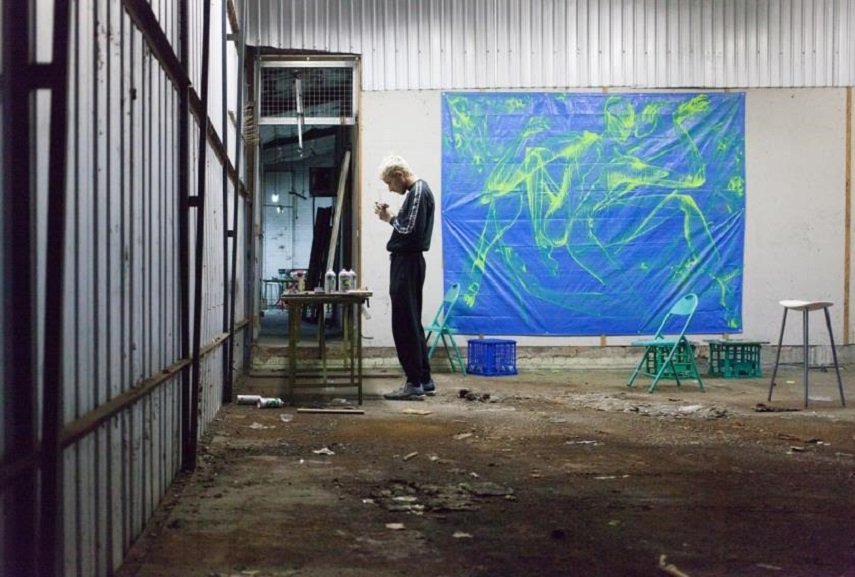 Shida's Aesthetics of Expressive Line and Color
Famous for his thematic scope, Shida's work also possesses a translucent quality achieved through meticulous application of colors in thin, expressive lines. Colored fields are also present but much less and in a lighter manner than usually expected from street art and graffiti, which adds to the general allure of his work. Often resembling blown-up sketches, Shida's murals rely on the expressive power of line which he generously uses in creation of his imaginary world. Similarly to murals, his work in other techniques depends on the expressive power of lines, only now applied in a more deliberate manner. Often created with few swift lines, his phantasmagoric figures seem to be in a constant process of becoming; in constant clashes with each other and the world they inhabit. Verging on abstraction, these figures are archetypal representations of different states of being summoned out of time.
The exhibition Summoning Lovers Out of Time by Shida will be open for one weekend only, from 16th to 18th September 2016 in Backwoods Studios, 40 Moreland Street, Footscray.
Featured images: Untitled; Shida at work 1; Shida at work 2; Untitled 2. All images courtesy of Backwoods Gallery.