A delicate, sophisticated and beautifully done immersive installation of a boat positioned underneath a huge red surface made of rope and keys was one of the landmarks of the 56th Venice Biennale in 2015. That was the work made by the prolific Berlin-based Japanese artist Shiota Chiharu aimed to question the notion of memory, as well as to articulate the subject of contemporary migrations. The artist is known for her multimedia practice, and especially large-scale installations devoted to the investigations of anxiety, dreams, memories, and silence.
Currently on display at Mori Art Museum is the greatest ever survey of Chiharu's work titled The Soul Trembles that encompasses the mentioned installations, sculptural interventions, video footage of performances, photographs, drawings, archival documentation.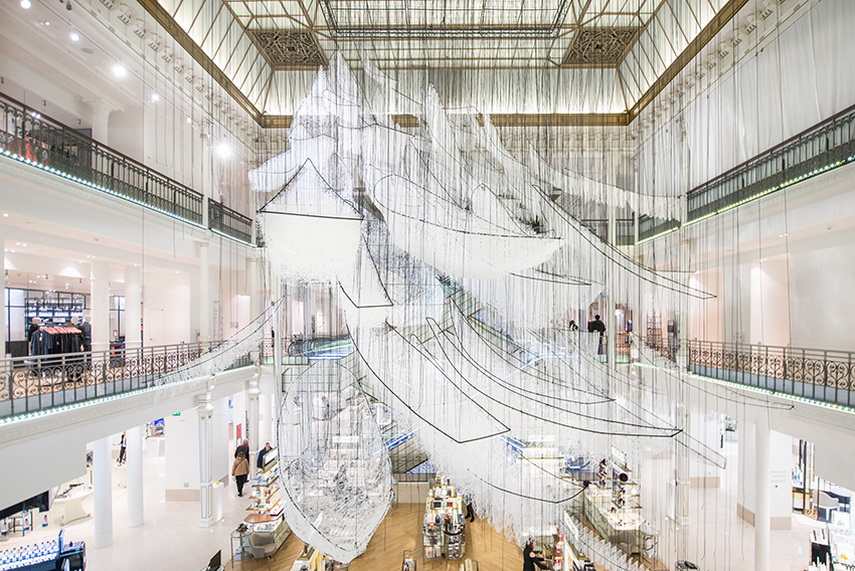 The Retrospective Format
The exhibition is based on the prevailing theme presence in absence. Namely, throughout her work, Shiota Chiharu strives to shape the auras and energies of visions that possess no physical presence which can be found only in memories and dreams. She underlines the inseparableness of her soma and her works as a leading factor, as well as the lack of her physical presence the fact with the exception of a few early videos. The title is also affiliated with Chiharu's personal struggle - she was informed last year that her cancer returned and started dominating the process of hospital treatment, which forced the artist to wonder about the location of the soul. She states:
I have always been creating works out of my passion and love for exhibitions, and it was the only thing that I could live for. Helpless conflicts of minds, uncommunicable emotions, and my inexplicable existence; these feelings give all my works form and shape. The year before last, I was diagnosed with cancer again after twelve years, but it struck me that perhaps the painful treatment along with the confrontation with death is a tribulation to create honest works. This exhibition will present works from the past that perhaps the painful treatment along with the confrontation with death is a tribulation to create honest works. This exhibition will present works from the past twenty-five years. It is a dialogue with my unveiled, naked soul.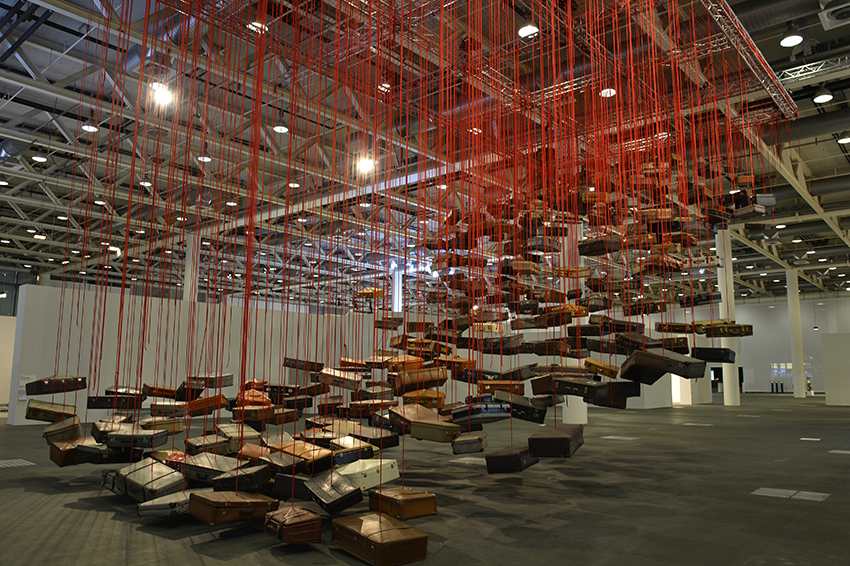 The Installment
On display are her early works of the 1990s, along with documentation of her performances, as well as major installations and the recent projects. As it was already mentioned, Chiharu gained critical acclaim and popularity for her signature immersive installations that cover entire space is with thread, usually red or black. The artist stated that the black thread can be interpreted as the night sky or cosmos, and the red as blood or as a "red thread of fate" which according to the East Asian belief keeps people together.
Archive plays an important role in the sense of interpretation since it provides the audience a chance to follow the development and consistency of Shiota's practice, from early drawings to installations and performances, and stage design for numerous dance and opera productions.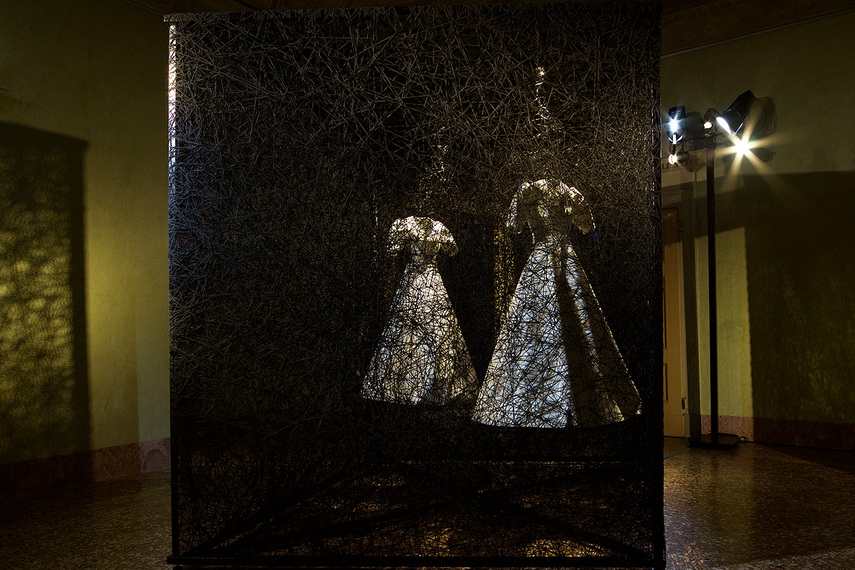 Shiota Chiharu at Mori Art Museum
Finally, this exhibition sheds a new light on Chiharu's three-decades-long oeuvre saturated with subtleness, transformation and contemplative potential. It will also include a program of artist talks, guided tours and performances.
Shiota Chiharu: The Soul Trembles will be on display at the Mori Art Museum in Tokyo until 27 October 2019.
Featured images: Shiota Chiharu - Uncertain Journey, 2016. Metal frame, red wool. Installation view: Uncertain Journey, Blain | Southern, Berlin, 2016. Photo: Christian Glaeser; In Silence, 2008. Burnt piano, burnt chair, black wool. Installation view: State of Being, Art Centre Pasquart, Biel/Bienne, Switzerland, 2008. Photo: Sunhi Mang; Where Are We Going?, 2017/2019. White wool, wire, rope. Installation view: Shiota Chiharu: The Soul Trembles, Mori Art Museum, Tokyo, 2019. Courtesy: Galerie Templon, Paris/Brussels. Photo: Kioku Keizo. All images courtesy Mori Art Museum.