Over the last couple of years, East London district of Shoreditch has become a synonym of gentrification, a phenomenon that has become an apparently inevitable part of the mainstream consumerist culture. Like many changes resulting from the evolution of society, it tends to bring improvement, although like it often happens, many of those who are directly affected by it would strongly disagree. The truth is that gentrification, by now a familiar concept, has an impact on everyone, but the kind of that impact is what makes all the difference. In many big cities, "regular" urban areas that are not doing all that well get discovered by wealthy investors and property developers. This draws attention to the neighbourhood and causes the prices to soar. By consequence, there's now a double effect: as house prices and rents go up, lower-income families are forced out, while those who can afford the new cost of living come in and take their place. Before long, the new destiny of Shoreditch matched the one of other areas like Dalston and Peckham, and this reflected in all aspects of everyday life, culture and art.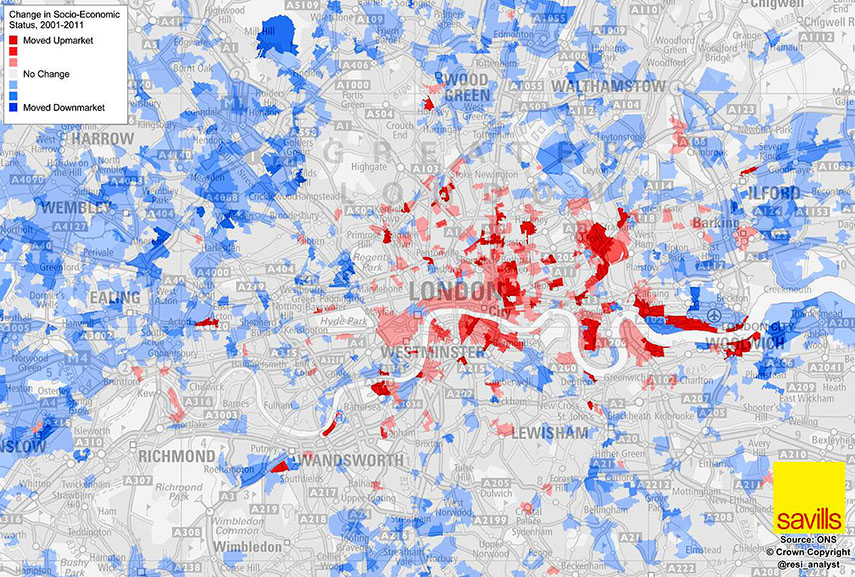 The Gentrification of Shoreditch London
One of the businesses that took part in the "hipster renaissance" of Shoreditch was the Cereal Killer, a cafe which was attacked by hundreds of angry residents protesting what was now called Shoreditchification. Shop windows were broken, small fires were set and innocent cafe-goers were trapped inside, terrified for their lives. While many agree that a small business like the Cereal Killer is not the target, desperate protestors saw a symbol of their anti-gentrification movement in the £4.40 this place asked for a bowl of cereal, while they are being evicted from their homes. While places like that represent a part of the problem, Shoreditch is facing a complete make-over, as the plans for an £800 million redevelopment in form of six building towers with (unaffordable) apartments and offices threaten to change its face and soul for good. What has long been a creativity hub and home to many talented artists in search for a cheap, interesting place to live and work in could now be all about trendy & cool hipster hangouts and overpriced rents.
A Video of Street Art Tour in Shoreditch
Shoreditched - The Impact on Street Art
The longstanding, fruitful relationship between Shoreditch and the art that still carries out the unique atmosphere of the neighbourhood has been going strong for the past three decades. "In Shoreditch, the heyday of the 1960's crime families has long been over and in the late 80's early 90's, cheap warehouse space was an attraction for cash-poor and time-rich artists" says Leon Seesix, much better known by his art moniker The Dotmaster. He is one of the street artists that witnessed the process of gentrification and saw its influence on the area firsthand.
While the beginning of the 1990s saw the arrival of YBAs and Joshua Richard Compston's Factual Nonsense gallery, yet another new wave of artists started painting on the streets. "Brick Lane flourished slowly, and the area became synonymous with counter culture art, jungle and drugs. In the late 1990's, Banksy was resident, Pictures on Walls was the hub of street art printing in Europe and artists like Ben Eine, Sickboy, D*Face and Paul Insect were seen on many street corners. It was home-grown to some extent, local people were painting in the area they lived.. Of course, friendships with other artists pulled them into the area too and in this way a scene started to evolve and take root."
The Dotmaster arrived to Shoreditch in the late 1990s from Brighton and started having shows under the name C6 in and around Brick Lane. His fight against gentrification started with the painting of anti-new media slogans aimed at the latest wave of invaders (the dot coms) that were helping push up the low-rents the artists were chasing. Graffiti writings like New Media New Arse appeared on multiple walls in Hoxton and Shoreditch in 2000, in a campaign against the internet.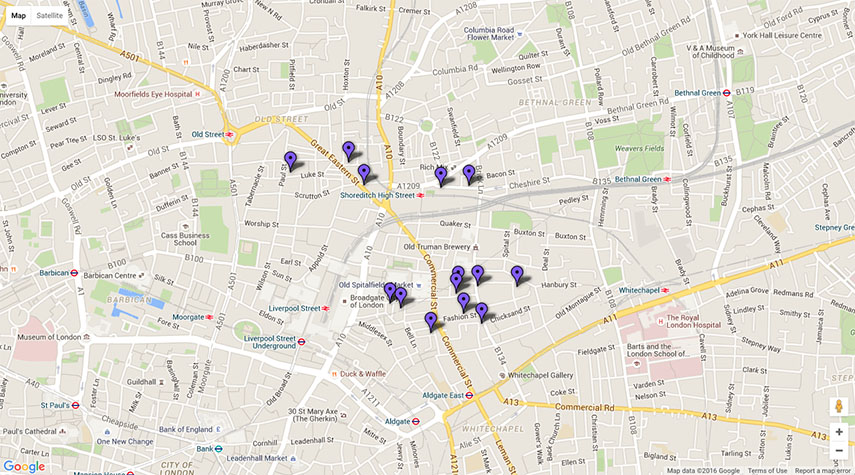 Resisting the Change - The EndoftheLine Collective
The Dotmaster himself had to move further and further from the centre of Shoreditch due to expensive rent and the influx of a different kind of crowd. "The creep of costs soon forced me to Dalston, which now is undergoing a similar experience to those early days of Shoreditch. I was not alone, many of those that had moved to the area had thought the same and moved there, many have now moved again, further out and into the outskirts of London past Stratford, the post-Olympic victim of the sports gentrification."
But some of his friends and colleagues decided to stay and fight it out. One such collective was Endoftheline, whose members were initially painting abandoned spaces across East London and hosted raves in squats in the eponymous Cablestreet warehouse in Limehouse. According to Dotmasters, the original Cablestreet exhibitions at Leonard Street's Dragon Bar were a brilliant mix of graffiti, illustration, street art and comic book artists. They provided a platform to the best and brightest from across the scene, at a time conventional galleries ignored their creativity. "The paintings carried out by Endoftheline have positively changed the landscape of East London and paved the way for the current Street Art scene in Shoreditch. By supporting international artists as they attempt to conquer London and bringing people together for cultural exchanges, they have encouraged a new generation of artists," says Dotmasters.
Today, Endoftheline runs Meeting of Styles UK, an international painting festival that originated in Germany back in 2002 and is now taking place in 22 cities across the world. Their festival has been going around London each year, bringing together from 50 to 100 artists from everywhere over a one-weekend spectacle.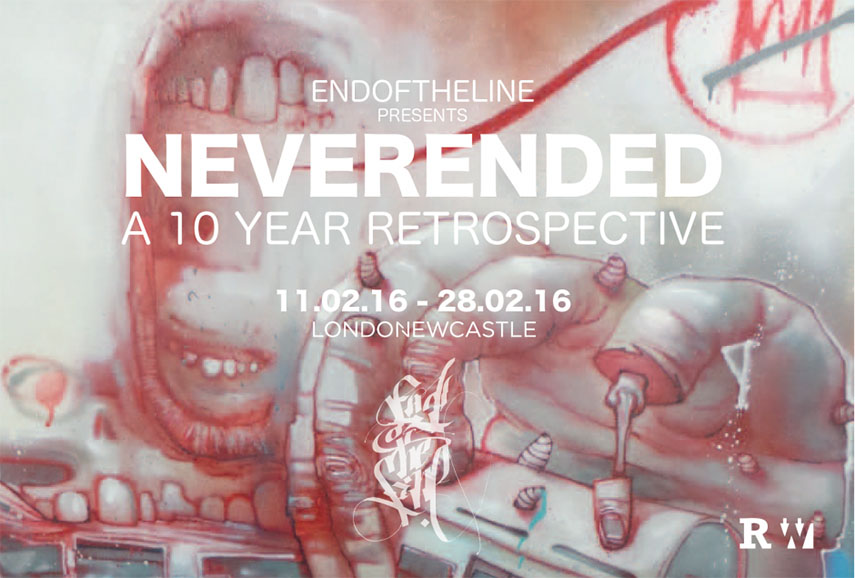 What Does the Future Hold?
Many artists whose artworks have given Shoreditch its unique artistic flare were forced to leave the district, in search for an affordable housing. "Gentrification, rising living costs and things like that will push street artists out of the area eventually, because they can't compete with people with lots more money," said Jim Rockwell, also known as Jim Vision, a graffiti artist and the creative director of EndoftheLine. This gentrification has a human toll, the stress and hardship of moving our organisation destroyed our ability to survive in this climate, a source of revenue removed and replaced with shiny boxes for foreign and corporate investment."
While the outcome of the gentrification of Shoreditch continues to float in the limbo of uncertainty for its residents and art, the efforts to preserve its treasures are still going strong. Jim Vision is one of the artist taking part in a grand exhibition of the EndoftheLine collection from ten years of work in Shoreditch, as a result of the sad loss of the Rockwell house in the neighbourhood centre. The event will take place at the Londonewcastle Project Space at 28 Redchurch St, Shoreditch, London, E2 7DP through February 28th, 2016, and it features the work from 123Klan, Will Barras, Mr Jago, Sickboy, Bom.k, Sowat, Dotmasters, Faile, Tizer, Xenz, Sheone, Dan Chase, Ed Hicks, 45RPM, Candy Lo, Imaone, Suiko, Zoer, Does LoveLetters, Odisy and Dr Zadok.
Artists have left their mark on the area and it will continue to be a hub for some while, I remember Clerkenwell being much the same as Hoxton and Shoreditch back in the early 90's. Now it's high-end design shops with a well heeled wealthy community, perhaps this is the way things will go, says Dotmasters. "What is clear is that there is a pattern to the way London regenerates its run-down and poorer areas with only those in property development benefiting." Jim Vision agrees. "We struggle and we fight but we learn that this is just one step in the foregone conclusion of the globalisation of this area." But if anything, such attitude is an inspiration to continue the fight. "The commodification of our culture through tourism and trade, the industrialisation of our skills through our hard work, will not stop us being valued as worthless by property developers who reap the rewards of our creative input to the local environment with not even a 'thank you so very much.'"
  Editors' Tip: London Calling: The Middle Classes and the Remaking of Inner London
This book is the first to explore the powerful impact of globalization on London's economy and those who are caught up in it. More and more people are responding to the negative effects of working life as well as the lack of structure in their lives and particularly those of their children. The gentrification of certain areas and the differences among them directly reflects this desire to impose cultural values and structure on urban surroundings. How do these areas reflect middle-class values, ideologies, lifestyles, social backgrounds and occupational choices, and how have old neighbourhoods been refashioned and made amenable to middle-class life? In what ways has family life been affected by this new emphasis on values, structure and security, and what does the future hold?
Featured images in slider: street art in Shoreditch via stjohnstreet.co.uk and copyright Dave Stuart. All images used for illustrative purposes only.