Shortly before leaving StolenSpace the gallery assistant Maria told us about the mural that Reka painted complementary to his exhibition. We had our next destination. We walked down Shoreditch High Street and found the artwork that Maria told us about. The astonishing piece is located on the corner Chance Street and Whitby Street. Reka's mural covered up an old mural the artist had created earlier. The new mural was painted on a redbrick house but the background was entirely ground coated in black. By using his signature color palette Reka was able to paint separate objects that nonetheless formed an harmonious overall image. The mural contained small items like a chess figure and a locket as well as a fish, a human eye and a woman's profile.  The mural seemed to roundup all exhibits on display at StolenSpace, not only Reka's works but also the pieces by TwoOne.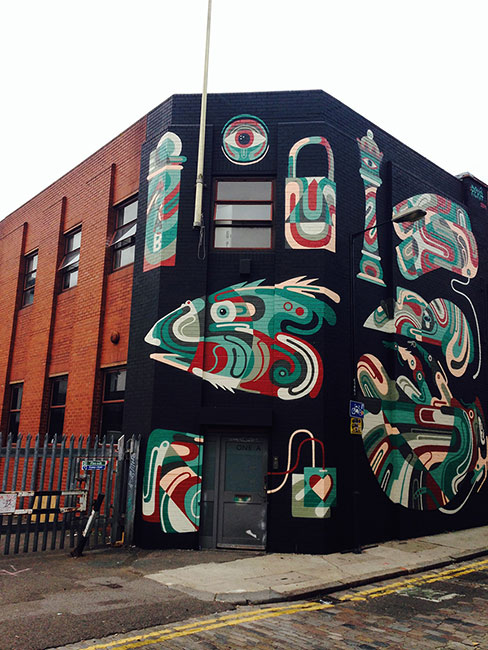 Roa and Eine
On the left-hand side of Reka's mural we discovered a well-known piece by Belgian street artist ROA. The monochromatic Hedgehog was unfortunately tagged over by "Koe", "Furce" and "Free Your Spirit" but that didn't diminish the power a ROA piece has when seeing it live. Only a block away, on the way to our next gallery, we found an amazing piece by Ben Eine on the façade of Shoreditch House. The first part of the typographic mural read was a colorful "PRO" while the second part completed the word "PROTAGONISTS" and was held in a red and blue color palette.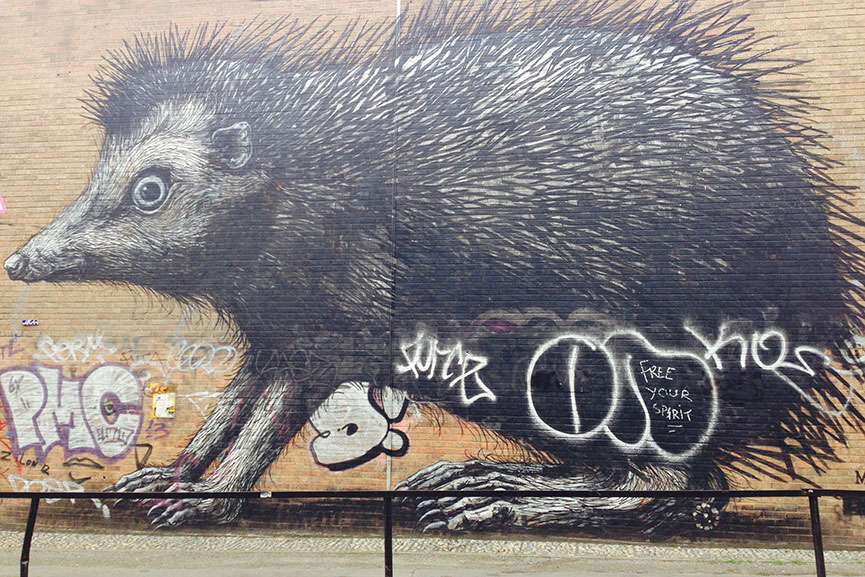 Howard Griffin Gallery
Our next and final stop before we left London to fly back to Berlin was Howard Griffin Gallery on Shoreditch High Street. Arriving there we were welcomed not only by two lovely ladies and gallery owner Grif but also by George, probably the most famous dog in East-London. George and his owner John Dolan visited the gallery to take another look at the success of their exhibition that was unfortunately coming to an end.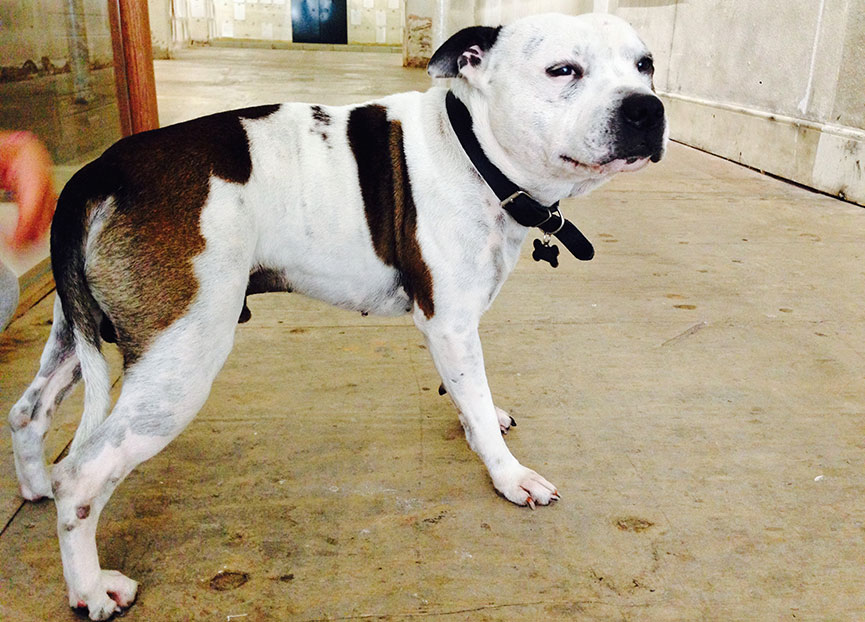 After too short a period of HOURS petting and playing with George we went downstairs to visit Grif in his office. The gallery owner was speaking to a couple from the US that was looking to buy a rare Thierry Noir artwork but that was indecisive which one to buy. After we also engaged in the discourse about what to buy the couple made up their mind and decided on a bright yellow large-scale canvas of Noir's signature character. The couple was happy, Grif was happy, George was wagging his tail and we took off for the airport with the deep regret we didn't have more time and the firm determination to return to London very soon.