With an objective to revitalize urban space through art, the Sibiu International Street Art Festival is coming back for its fourth edition this July. Over 30 international and local artists will adorn the walls of the City of Sibiu, Romania with some amazing street art projects.
A festival unique for its most extensive Street Art Tour, SISAF Romania is founded by the Transilvania Art Factory with an intent to contribute to the raising the aesthetic level of the city as well as to improving the desolate aspect of less favored areas.
This year's projects will add to already existing 47 mural paintings and over 3500 square meters of colors. Working under this edition's theme #CanYouFeel?, talented street artists will contribute to enlivening the grey walls and to regenerating the entire urban space.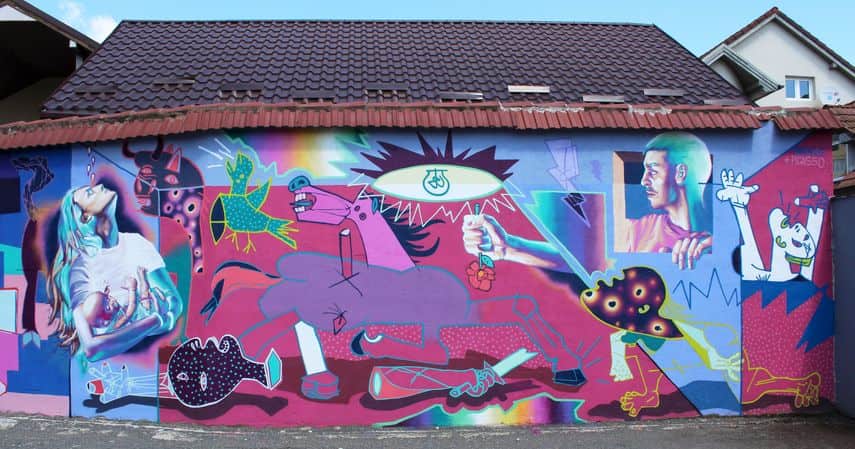 #CanYouFeel?
The 2018 SISAF invites artists to create murals on the grey walls of a few schools in the city, as well as some walls in unique alternative locations, greatly contributing to the Open Air Art Gallery of Sibiu.
As Andrei Oltean, the president of ART Factory Transylvania Association explains, each edition of the festival contributed to balancing the emptiness of the walls, not only serving as decoration but conveying a powerful message.
We started naturally with the schools and high schools and we continue with enthusiasm to complete their walls, although the first project made on a block of flats last year motivates us to bring the street art closer to people from the community, in new urban spaces. We wish for art in the city / a city filled with art!
In addition to a series of amazing murals, the festival brings together a team of artists from France who will participate in the experience exchange. A part of participants will express their creativity on a board which will be placed in the main area of the festival.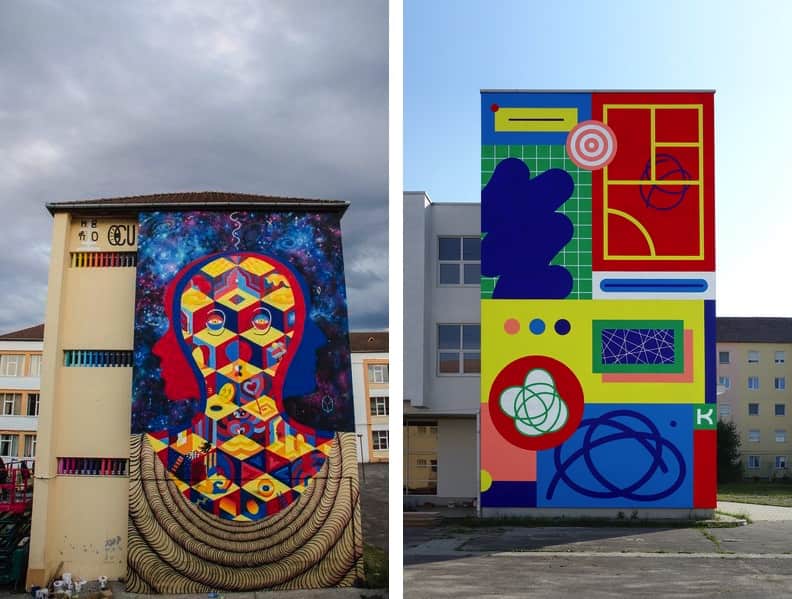 Participating Artists
After an open call for the Festival, there were propositions of over 100 sketches coming from 20 countries. A jury of the Festival shortlisted artists who will make 18 new murals.
This year's edition of the Festival will welcome 22 Romanian artists and 3 international ones, all of them dedicated to the local community. The list of artists includes Sweet Damage Crew, Robert Obert or Ortaku, among many others from Romania, but also Dinho Bento from Brasil, Kirill Stefanov from Russia and Wasp Elder from England.

SISAF Romania 2018
Co-funded by the City Council Sibiu and the City Hall of Sibiu, Sibiu International Street Art Festival will take place at Sibiu, Romania from July 2nd until July 8th, 2018.
In addition to street art projects, SISAF will present an alternative program which will include concerts, conferences and dialogues about art, meeting with the artists, workshops, a movie night and a photography exhibition.
The full list of participants is as follows: Alin Trif, Cage - Sweet Damage Crew, Cazacincu Bogdan, Dinho Bento (Brazil), Florin Radu Spoitoru, Irina - Graffete, John.S, Kirill Stefanov (Russia), Luchian, Maria Bălan, Mircea Popescu, Optics Crew - Lost.Optics și Pren, Ortaku Otto Constantin, Pandele - Sweet Damage Crew, Paula Duță, Pisica Pătrată, Recis - Sweet Damage Crew, Robert Obert, Robert Roca, Roxie Netea, Scutaru Cristian, Taci - Sweet Damage Crew, The Orion, Vonbutch and Wasp Elder (England).
Featured images: SISAF Romania 2018. All images courtesy of SISAF Romania.