What relevance does an artist have in today's technological society? Ask this question to any of your artist friends, and you will be the cause of their immanent heart attacks. Once they recover, your friends might answer with a detailed explanation on visual art's ability to rewire how we perceive reality, providing a suitable antidote to the flat sameness of our computer screens. Others might simply point to the intrinsically tangible nature of art; often, it is something that must be experienced firsthand to be truly understood. But painters have the worst time justifying their practice, relying on old Hegelian notions of painterliness and authority that were ousted in the early 20th-century by the arrival of photography and Walter Benjamin's seminal essay on mechanical reproduction.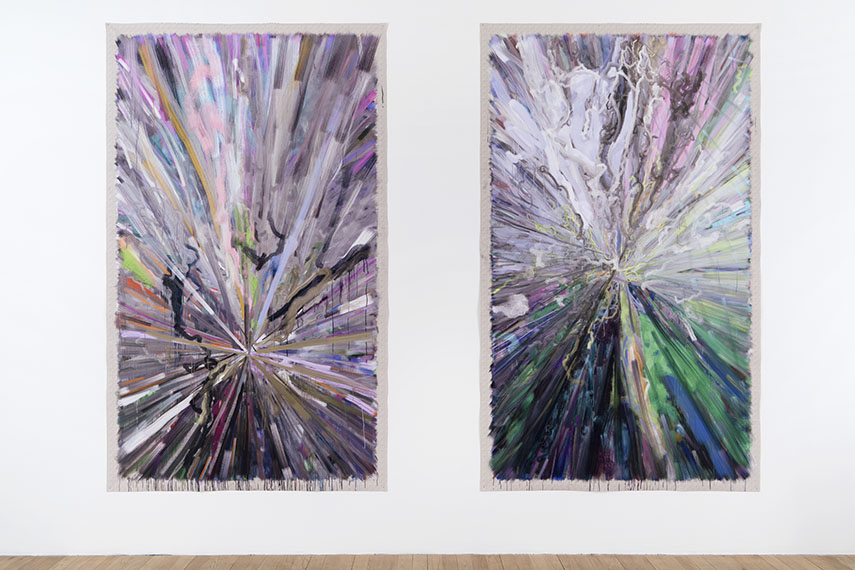 Algorithms, Worktables and Dummies
On view at bitforms gallery in New York City's Chinatown neighborhood, Eternal Reflections attempts to answer our question of existential dread with a collision of digital and painterly strategies. Here, Siebren Versteeg's computer-automated paintings wrestle with the artist's own crisis of relevance, sputtering into a full-throated lament of humanity's infinitesimal mortality vis-à-vis technology's hulking omnipotence.
Despite the appearance of impasto brushstrokes and seemingly spontaneous color choices, everything in Versteeg's paintings relates to an algorithm - three algorithms, in fact, which are presented on a worktable placed at the center of the gallery. How these computer programs work exactly is left a mystery, but each plays with the notion that technology has the potential to convincingly replace true artistic spontaneity with a charade of planned entropy.
For example, see Versteeg's Ubiquity, a meditative swirl of paint that forms an endlessly repeating wallpaper pattern. Each composition made with this work's algorithm is different yet exactly the same, gesturing toward technology's unsettling ability to endlessly recycle input and output until we lose ourselves in the process.
Elsewhere in the gallery, we have three examples from Versteeg's A Rose series, which takes its name from Jay Defeo's famous painting that accrued greater and greater density over eight years of her layering pigments. And yet, I think Versteeg's work owes a larger debt to Gertrude Stein, who famously coined the saying, "A rose is a rose is a rose." That simple identity of mathematical logic (A = A) is at the heart of Versteeg's thesis. Can the painter outlast technology, and does it affect our perception of art when we know it was mechanically produced? Eternal Reflection answers this question with a resounding, "No."
His own pessimism aside, Versteeg unfortunately weakens the power of his canvases by theatrically presenting their algorithmic sources in a cheap, explanatory way. Videos play on iPads and Macs throughout the gallery, proverbially pulling back the curtain on the automated artistic process at hand. Watching these videos on loop adds nothing to Versteeg's intriguing canvases; rather, it undercuts the mystery behind their creation. In turn, Versteeg reduces our fun in examining his paintings and contradicts his thesis on technology's assault against traditional painting. The problem is compounded by the overly maudlin stage dressing that surrounds these videos - whether by means of skull-shaped cinderblocks supporting the computers or the anthropomorphic hands of the steel-bent Dummies that hold Versteeg's tablets.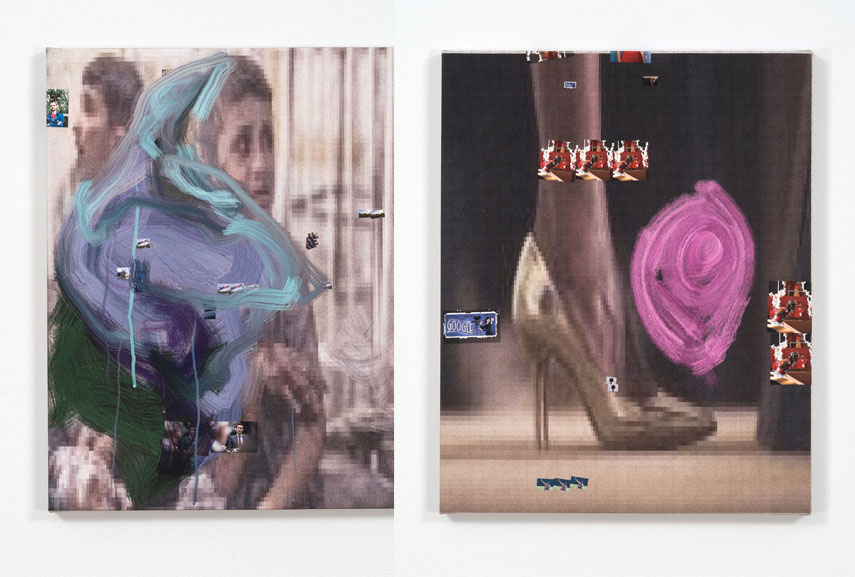 Can Paintings and Technology Coexist?
Undoubtedly, the best series in Reflection Eternal is the Today series, which sources its vocabulary from the image feeds of search engines, like Google. These paintings stare into the digital void, retrieving something wholly unexpected in Versteeg's otherwise sullen exhibition: hope, the possibility that painting and technology can coexist and collaborate. The canvases of Today are composed of three elements: abstraction, pixilation, and reproduced digital images. Abstraction and pixilation occupy the background space, haphazardly combining drips and smudges with fragmented snippets of a woman's high heel or a man's frightened face. Atop this unstable field of vision are tiny "snapshots" from the internet culled the same day as the painting's creation. Mostly, we see images of generic politicians, visa application, and yes, Donald Trump.
Presented on a single picture plane. Versteeg creates a productive dialogue between painting and technology, mortality and immortality. The specters of our global political instability are unavoidable here, even amidst a sea of abstraction. Regardless of technology's fabled robotic threat, the surprise of Versteeg's exhibition is its humanity, its ability to create a form of painting that's as up-to-date as your Facebook newsfeed.
Featured images: Siebren Versteeg, Reflection Eternal, bitforms gallery, 2017; A Rose, 2017. Custom software (color, silent), computer Dimensions variable, landscape orientation Edition of 1, 1 AP. Courtesy bitforms gallery, New York. Photos: John Berens.