The virtual self of the 28-year-old American artist Signe Pierce is currently on display at the Nathalie Halgand Galerie in Vienna, her first European solo show. Her ambitious, hyper stimulating show displays a selection of her neon-coloured performances that were either captured with a professional film camera or originally produced to appear on Snapshot, Instagram and Facebook. But Signe's artistic persona is not only represented on temporarily installed (mostly Apple) devices inside the gallery, the artist herself was also physically present for the show's opening. The day after, she proceeded to film a 24-hours live performance made publicly available on Instagram. The performance included, of course, a lot of Pierce starring at her other electronic devices, replying to her messages, looking at her exhibited work, but also approaching and talking to the people around her, eating gallery-made food, and sleeping peacefully on the double bed that stands in the centre of the now techno neon pink illuminated room of the gallery.
The gallery space (a converted apartment) and Signe's durational and mediatised work approach one another with tongue firmly in cheek. The (re)presentation of Signe's hyper-real self inside this now fluorescently illuminated three-dimensional space inflicts her artistic strategy of continuously crossing over from the real and physical to the fictional and digital world. That is why Signe fittingly and boldly calls herself a reality artist — a digital virtuoso who attempts to approximate the notions of performance and post-internet art.
American Reflexxx
Signe's face, and sometimes her whole body, wallpaper her social media products. But the hype around her mediatised performances actually started out with her documentary video American Reflexxx (2013). After studying photography at the School of Visual Arts in New York, Signe moved to LA, to get out of the "conceptual art" dominated world of America's capitalist centre, as the reality artist put it during her public talk with Vienna-based art historian Noit Banai at the opening night.
One summer evening, Alli filmed Signe walking on the Myrtle Beach strip in South Carolina in a provocatively tight bright blue elastic dress and a silver mirrored mask, concealing her identity, while sexually posing for Alli's film camera. The young blonde "cyborg", as referred to by Signe, was either verbally harassed by men, who hit on her, or by people who provokingly asked her whether she was a man. These harassments finally climaxed with violent physical attacks: first from a teenage girl, who throughout the performance attempted to trip the neon yellow high healed wearer Signe, and finally from the girl's stocky mother, who actually threw Signe to the ground, successfully causing Signe's knee to split open and generously bleed.
Shocked by the aggressively transphobic, sexist reactions to her provocative public appearance, Signe started to delve deeper into the lascivious character that she performed in American Reflexxx.
AMERICAN REFLEXXX
Hypersexualism
Alongside exploring feminine aesthetics in her real life, the artist also started to expose her feminine self to a larger virtual mass audience. Tall, dyed blond hair, pink neon lights and naked legs have since then formed the signature style of her sensual cyborgian self. In a selection of videos displayed on iPads, exhibited beside her bed in Vienna, the artist, engulfs in bright techno neon colours, licks the screen of an iPhone with her tongue, while seductively playing with the camera lens that captures an indefinable white slimy liquid running down the backside of the phone that she holds in her hand. In contrast to the hypersexualism of this performance, another of her appearances on Snapshot is rather comical as she used the application's special feature to lick another iPhone with a hyperreal doggy tongue, making her large animal ears wobble.
Some might naturally be reminded of Donna Haraway's fictional figure of the cyborg — a creature that is simultaneously animal, human and machine. In a broader sense, Signe's (not solely digital) work alludes to the canon of cyberfeminism and the concept of biopolitics, according to which, sovereign power regulates men-as-living-beings. Inside the only completely dark room of the exhibition, Signe installed an aquarium, enlightened with neon-tropical light, that contains a small collection of mobile phones that now appear to belong to a dinosaur-like age. Looking back in time, nothing has changed our daily routines more than the portable technology that has firstly enabled us to communicate verbally, and now constantly visually, wherever and whenever we are connected to the mobile network.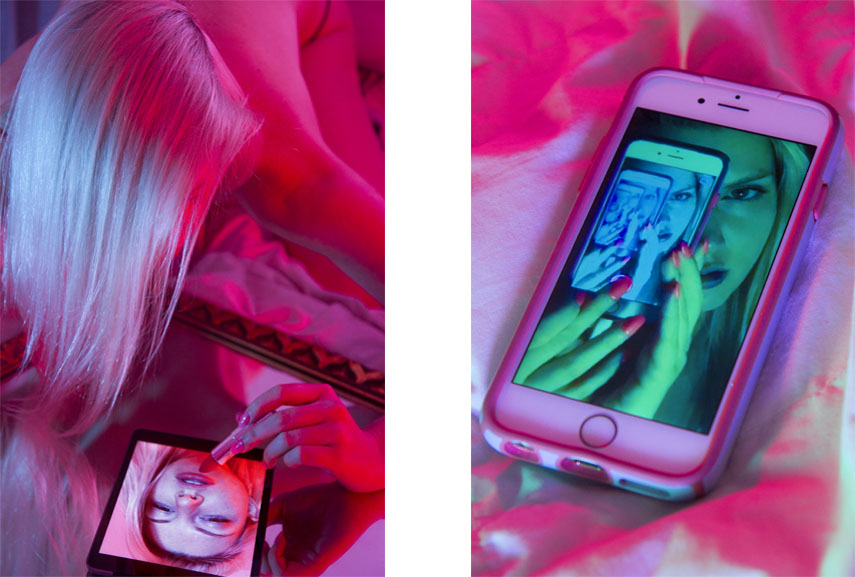 "You wanna grab this pussy? Well, pussy grabs back."
Another notion Signe professionally fleshed out during her talk with Dr. Banai in relation to one of her latest works is techno-fascism. In early March, Signe again dressed up in an extremely short dress, pink this time, and rode down the street from Times Square all the way to the Trump Tower on a pink Barbie jeep with her right foot operating the gas pedal. Once having reached the opposite side of the building, she closed her performance by repeatedly yelling into a loud speaker "You wanna grab this pussy? Well, pussy grabs back." Disappointingly, no politician came out of the Tower to grab Signe (or her pussy), and her daring performance, however filmed by many street bystanders, merely remained a stimulating live art event on Instagram.
At the Nathalie Halgand Galerie, Signe draws our attention to what extent our public perception of reality and personal engagements with digital images have become blurred through our fast-speed electronic network of circulation. Signe's solo show operates as a détournement from one hot virtual normality back to our shared physical reality. Here in Vienna, we clearly cannot get enough of Signe's refreshing stage presence. And luckily, as she constantly puts herself under her own surveillance via social media, her virtual self can continue to stimulate us from a far greater physical distance in the not so distant future.
VIRTUAL NORMALITY
Signe Pierce
17 March – 6 May 2017
Galerie Nathalie Halgand, Stiegengasse 2/3, 1060 Vienna, Austria
Featured images: Signe Pierce and Alli Coates - American Reflexxx. Video still. Courtesy the artists.