How would you react if you had an access to the Playboy archives? Or, what would you do? Acclaimed British artist Simon Claridge was lucky enough to see the old Playboy editions. He teamed up with Playboy to launch a new collection which pays homage to some of the magazine's most iconic cover images. And he has chosen six images dating from 1967 to 1982 to appear in this collection, each one embellished with the artist's signature "diamond dust" finish. Many would argue that original Playboy covers are works of art – beautiful examples of great photography mixed with erotica; but even with these pieces of art, one can make great interventions to create new works of art, which is precisely what Simon Claridge has done.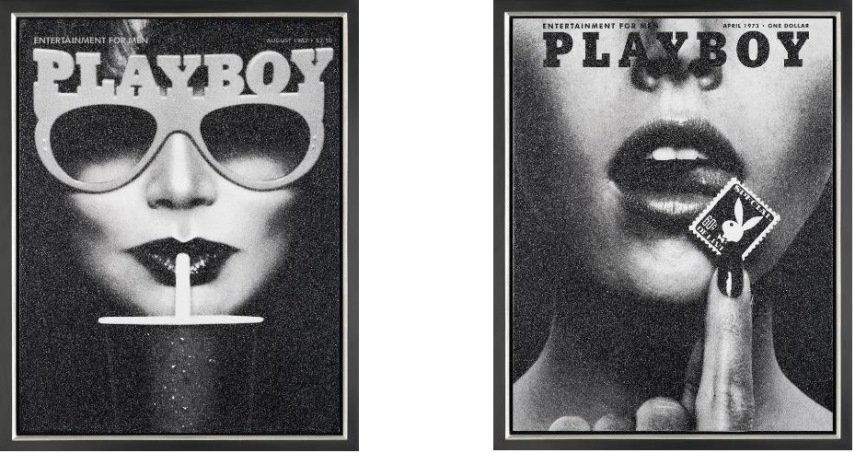 Simon Claridge and Playboy
Simon Claridge has teamed up with Playboy, launching a new collection of six images. As the artist himself told, it wasn't easy to choose what Playboy covers would recreate. He was granted access to the Playboy archives – which hold every cover printed since the first issue in 1953. Claridge stated that whittling them down from 700 covers wasn't easy but I have had more difficult days at work. The covers I have picked are sensual rather than sexual. My personal favourite is November 1967, which features a woman in a white dress. It is a gorgeous piece of design. After all, he picked six of them, and these iconic covers have then been transformed into a series of limited edition silkscreen prints – hand signed by the artist – and embellished with Claridge's signature 'diamond dust' finish. The unique technique that is used ensures that no two people will view Claridge's art in the same way as light is reflected and refracted off the shiny particles of the 'diamond dust'– an incredibly rare material that was handmade to order for this project.
High-Class Vintage Playboy Covers
The new collection was unveiled at a VIP launch event at the Playboy Club in London on January 14, and is available to buy at Castle Fine Art galleries across the UK. Prices start from £995. Claridge is known for his fine art interpretations of iconic figures on silkscreen, including female stars such as Twiggy, Bridget Bardot and Marilyn Monroe. So, the artist certainly enjoyed working on the new collection, particularly if we have in mind that Playboy has influenced his art in the past few years. As he says: Playboy, to me, represents so many firsts… It's progressive, revolutionary…I cannot emphasize enough the reach and scope of Playboy's influence. Andy Warhol is the primary influence in my career; he famously created a Playboy cover cementing the relationship between Playboy and Pop Art, and paving the way for artists like me. I am so proud that my diamond dust collection is to be part of Playboy's lineage in 20th century culture. This new collection could certainly be labeled as vintage erotica, and it definitely celebrates the influence Playboy has had in the past seven decades.
We would like to hear your opinion! Please comment on our Facebook Page!
Featured Image: Playboy cover, July 1973, detail. Silkscreen on Canvas. All Images via Castle Fine Art. They are used for illustrative purposes only.