The American art of the second half of the 20th century is marked by an array of artists using different media, thematizing different themes and expressing different standpoints. However, the ones who were not affiliated with any particular movement or style were always slightly marginalized regardless of their deeds and innovative approaches. One such figure is Simon Dinnerstein, whose painterly practice was developed in a stance from the dominant tendencies.
As a matter of fact, this particular artist gradually became critically acclaimed for his signature figuration that is almost hyper-real rooted in expressionistic, surrealist and folk influences. By combining genres such as still life, landscape, and portrait, Dinnerstein explores various aspects of human behavior in a concise and psychologically inclined manner. His works evoke Mexican art, Northern European art, especially the works of Albrecht Dürer and Hieronymus Bosch, and are often inspired by literature and film.
In 1971 Dinnerstein produced his most celebrated work – The Fulbright Triptych. The piece was, as the title suggests, made during the Fulbright fellowship that the artist obtained in Germany. It is primarily a portrait of himself and his young family focused on Dinnerstein's self-articulation – as an artist, a husband/father, and a citizen of the world.
Although the composition came out as a result of a masterful appropriation the Old Masters (especially of the medieval altars), and possesses a great symbolical value in regards to the socio-political context of the time, it remained somehow overlooked due to its apparent hybridity almost unprecedented at the time Dinnerstein finished it in 1974 when the art world was centered on performance, minimal and video art.
Currently, this astonishing artwork is on display in the Monan Gallery at the McMullen Museum of Art in Boston, MA where visitors can see it until 8 December 2019.
For us, this was the perfect occasion to speak with Simon Dinnerstein, who was kind to explain the context of the triptych and why it remained unknown for such a long time.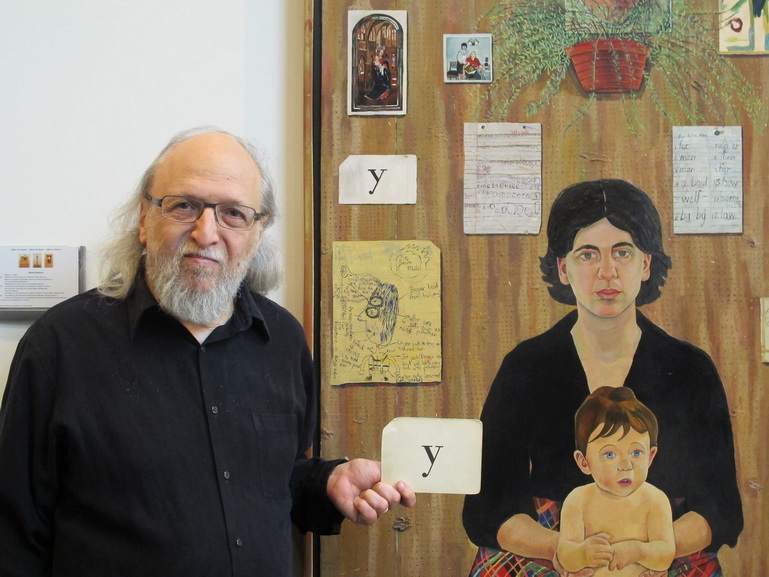 Simon Dinnerstein, Re-Thinking Art History
Widewalls: This interview has to start with a small observation. Namely, by looking closely your entire oeuvre, not only The Fulbright Triptych, one comes to the impression that your starting point of exploration comes directly from art history, especially the Old masters. Having in mind it was made in Germany, my first visual reference is the production of New Objectivity and the works of Otto Dix, Georg Grosz, and Christian Schad, while on the other hand there is a long tradition of sacral art to which the triptych belongs. Could you emphasize a bit more on that flux of influences?
Simon Dinnerstein: I agree with you about New Objectivity as being an influence. What interests me in artists such as Otto Dix, Georg Grosz, Christian Schad is the way that they take the tradition of figurative art and enliven it or freshen it in some modern or contemporary sort of way. Some of their works seem almost to be exploding or perhaps are electrifying.
It seems to me that artists such as Balthus, Felix Nussbaum, Stanley Spencer, Felice Casorati, Max Beckmann, Lucian Freud have been affected by New Objectivity. The figurative direction in these works has been heightened. The works pulse with energy and aura. I can understand you're connecting my work with art history and via the triptych, with sacral art. However, a bigger theme in my opinion that occupies the Triptych is a search for identity. The painting is a kind of visual memoir. The closest thing that I get to writing a novel.
The process is also a key theme in this artwork. All the objects (and individuals) within this very large 14-foot painting, point to the plate that is on the table. It seems to me that the plate is the subject of the painting. The reproductions on the wall, the tools on the table, the landscape, the people, all act as vectors pointing in the direction of the plate. The plate glows and shimmers and is the point where art is being created and born. It is the location of the process (a verb) and the work of art (a noun). It is a key point of reverence in the painting and has sometimes been described as a wafer.
Continuing with the images on the wall, these reproductions were meant to echo something of the way human beings think and think of themselves. For instance, in the painting, grade A taste is combined with grade C taste. In the case of the children's drawings, which might be called low art, I was intrigued by combining these images of a child with images of Van Eyck and Holbein and Bellini's Saint Francis, which are usually described as high art. Aren't most of us the sum of many diverse threads, pushes and pulls, the result of the high and low in life and art?
I have sometimes been asked if the reproductions and articles on the wall are collaged. Or are they trompe l'eoil? All the images are painted. Perhaps one could say they are collaged, but clearly not pasted on in what would be the usual collage idea. In trompe l'eoil, the end that is sought in the art form is to fool the idea by some sort of brilliant magic trip. My take is that the images in the Triptych act as portals, not as trompe l'eoil. One enters these pictures, walks through them and wonders and wanders, becoming something of a detective trying to figure out the logic, the identity of the artist.
I can see a great deal of Holbein in the Triptych, especially a painting such as the Merchant Georg Gisze (also Two Ambassadors). In Holbein's painting, the merchant is surrounded by the accouterments of his life and work. Suppose the artist is the same and even more, a worker, an art worker, in pursuit of singular artistic wisdom and on a journey. In a sense, the painting deals with a journey. Perhaps the secret in the painting is not in the pictures on the wall or in the people and table, but in the space between these elements. Here in this space, we find out who we really are.
Widewalls: I find the tile of the grand work quite ironic, as a pinpoint to what is actually happening on a broader social and political landscape. What was your German experience like and how come you ended up there?
SD: I am not sure what you mean here by ironic... We didn't live in Berlin. We lived in a small town, Hess. Lichtenau, about a half-hour from Kassel, where I was assigned, as the Hochschule fur bildende Kunste is located in Kassel.
In 1968 I had seen a fantastic exhibit in New York of Antonio Lopez Garcia. It was the best exhibit I had seen up to that time and perhaps even now would be one on my top ten exhibits. Why? The work had a great heart and humility. It depicted the figurative spirit without going back to figurative art of the 19th century. It had a mystery and an insistent, stubborn and haunted presence and speaks in modern or modernist terms in a natural and communicative way. The very next year, with some encouragement of an artist friend, I applied for a Fulbright Grant to study with Lopez in Madrid at the Escuela Superior de Bellas Artes de San Fernando in Madrid. Asked to list a second choice, I chose Germany to study graphics and the art of Dürer. A number of months passed and a letter arrived from the Fulbright Program. The grant to Spain, unfortunately, did not work out. However, I was awarded a fellowship to study in Germany.
I was quite disappointed by this turn of events. It was only in retrospect that I came to the realization that given these two choices, the better one was chosen by the fates.
Lopez is a fantastic artist and if I had gone in that direction, I would have joined a group of acolytes who followed this great Spanish artist and whose work was clearly influenced by his. Germany brought me into a situation, which was upending, problematic and open (for myself) to great personal growth and questioning. It forced me to lean back onto my own resources and strengths.
Going to Germany in 1970: This was just 25 years after the Second World War had ended. Going to Germany in 1970 is much different than going to Germany in 2019. What would Germany bring for us? Was this decision the right one to make? Renee's father was quite ill at the time. Did this award make sense for this particular moment? If I had been asked what the chances were of returning from Germany with The Fulbright Triptych, I would have said: no way, not at all possible. On the other hand, I would never have worked out painting like the triptych had I been living in Madrid. This is an example of irony. Though we are not religious, the choice of Germany gave us some amount of pause. We took a deep breath and we sailed for Germany on the S.S. Bremen.
I was brought up Jewish in Brooklyn, New York. However, my father was a paid in full member of the American Communist Party and an atheist. I do think of myself as Jewish, although I don't follow the holidays or rituals and did not have a bar mitzvah. It is possible, I believe, to be Jewish and not know anything about these details. I think I have been in a temple four times in my life and two of these visits were by accident. Another example of irony.
There is something about The Fulbright Triptych that deals with knowledge, learning, bearing witness, wondering, consciousness. One could make some sort of argument that all of these threads provide some sort of Jewish way of thinking. Perhaps it is Kabbalistic, that is, seeking the truth that is inside of things, that is underneath the surface or between. Possibly this mystery that I am describing, lies, as I have mentioned before, between the pictures and objects. The painting's location is rural but its mental location is cosmopolitan. It could very well be that the study of Torah has been replaced in my life by the study of art and its mysteries. The very fine American essayist and writer, Guy Davenport put it this way:
I must think and think again about the Triptych. Obviously, you have put everything into it. My immediate feeling about it –and practically all your work -- is that it is a perfect register (narrative, if you will, art-as equivalent at-the-highest articulateness) of the Jewish soul. Fred Siegel once gave me a poster from a school. It is a lesson in the letter aleph, showing that the upper yod symbolizes Torah and God, the lower one is human life, and the diagonal is the boundary between the two. The illustration is of a family studying Torah at the kitchen (or dining room) table, father, mother, daughter, and son. The triptych says something of the same thing - and lots more.

It is an iconographer's heaven! That's Germany - out the windows. "Here we are, a family. We have been civilized for five thousand years. We have experienced everything; we have survived. We flourish." Images of Assyria and Babylonia to the right; children's drawings - renewal - to the left." Zukofsky's "A" in paint!" - Guy Davenport, The Geography of the Imagination
The Fulbright Triptych Effect
Widewalls: What kind of reaction did you receive after reveling the piece for the first time?
On the very last day of my exhibit at Staempfli Gallery in 1975, a very enthusiastic review came out, written by John Russell, the Senior Art Critic of The New York Times. Many people came to visit the exhibit on that day. I remember talking with Lloyd Goodrich (former Director of the Whitney Museum) and with Tom Messer (then director of the Guggenheim Museum, a position he held from 1961-1987). It was a very exciting moment. I am sure Russell's review had something to do with my receiving the Rome Prize and spending the next 3 years at the American Academy in Rome.
Widewalls: Is it the case that, for a long time, this artwork was underestimated due to the fact it is a stylistic hybrid?
SD: Perhaps this is correct. My interpretation would differ somewhat. Many critics have trouble with work that is created which is figurative. The catch-all is to describe this work as an illustration. Much of the time, the title is correct. However, the blurring of the lines here indicates the inability of critical thought to understand what illustration is. In 2011, a book, The Suspension of Time, was published by Milkweed Editions (Minneapolis).
The book consisted of 45 essays written on the Triptych by different writers, which included Jhumpa Lahiri, Anthony Doerr, Rudolf Arnheim, Thomas Messer, Guy Davenport, Edward Sullivan, John Turturro. This publication is now the only book-length treatment of a single painting out today of a living American artist. In tandem, a wonderfully passionate review came out in 2011, from Roberta Smith, the current Senior Art Critic of The New York Times.
Both these responses brought the Triptych to the awareness of a great many people. There has been a great burst of critical thinking about this painting which can be seen here.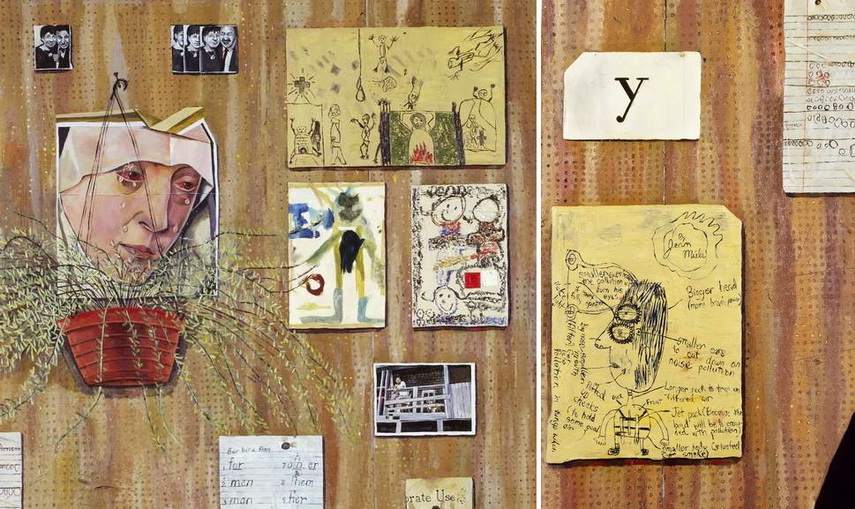 The Modern Times And Further Plans
Widewalls: What do you think of the contemporary painting? Is there hope for a painting to be conceptually and formally striking in a digital era?
SD: I am quite open to various trends in contemporary art. When I first encountered Antonio Lopez's art, I was quite surprised to learn that he often exhibited with non-objective artists. His take was very refreshing in that it indicated that he wasn't defensive about his art. Good art is good art.
In terms of artists working now, I find the work of Anselm Kiefer, Ron Mueck, Antonio Lopez to be of particular interest. If they were still alive at this moment, I would include Gregory Gillespie, Balthus and Lucian Freud in this list.
Widewalls: Are we about to expect an exhibition including new works, or a proper and comprehensive retrospective?
SD: This is a wonderful idea. Any suggestions?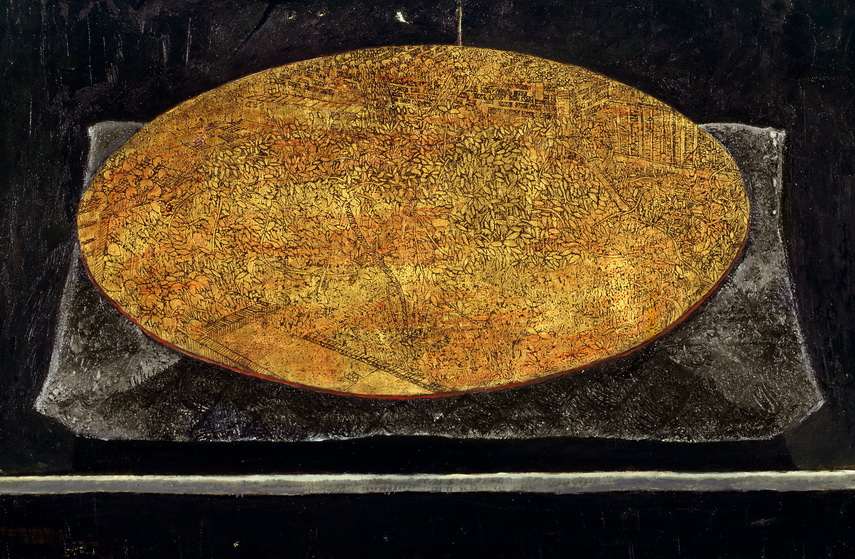 Featured images: Simon Dinnerstein - The Fulbright Triptych, 1971–74. Oil on wood panels, 79.5 x 168 in. (overall, separately framed), Palmer Museum of Art, the Pennsylvania State University, Purchased with funds provided by the Friends of the Palmer Museum of Art, 82.14; Details; Simon Dinnerstein - Night, 1985 , conté crayon, colored pencil, pastel, wax crayon, oil pastel , 36 1/2 x 76 3/8". Image courtesy of the artist; Simon Dinnerstein - In Sleep , 1983 , Conté crayon, colored pencil, pastel , 33 1/2 x 59 1/8". Images courtesy of the artist.