Have you ever heard of the phrase "going postal"? Today, it usually means that someone is about to go nuts or off the deep end, but its origins are much darker than we think - it was coined from a series of real life shootings in the United States Postal Service. London-based Simon WG Butler went on to explore these devastating events through a three-year long project of the same name, which will now culminate in the artist's first solo exhibition at Vertical Gallery. The Chicago art space just concluded their Miami Art Week adventure where, among other things, they presented an exhibition of works by Australian artist Ben Frost.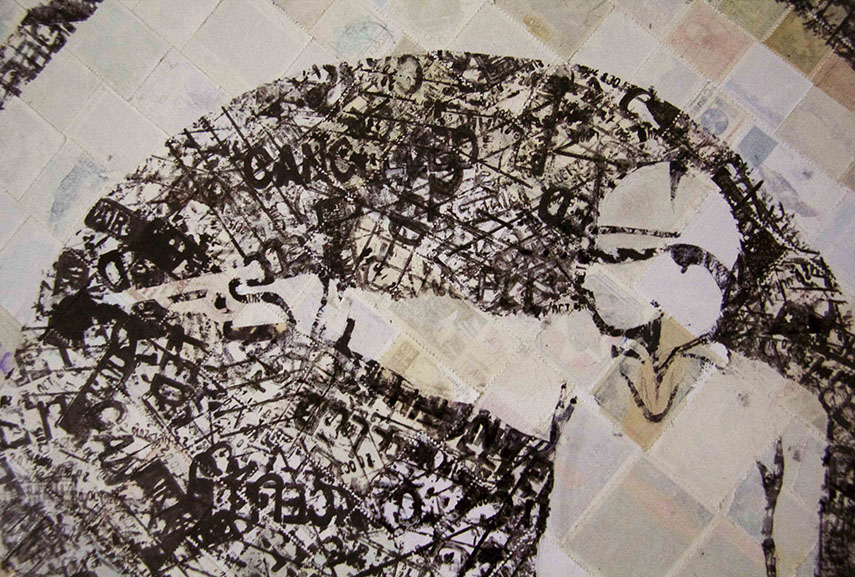 Going Postal
Between the years 1986 and 2006, as many as thirty five Postal Service workers were killed by their co-workers in a series of mass murders which stunned America, and the world. Without any apparent reason or a terrorist connection, postmen across the states would walk in their workplace and randomly shoot their colleagues before taking their own lives with a firearm. By 1993, 23 people died and dozens were wounded at work, which resulted in a nation-wide investigation by the FBI, an extensive media coverage and the creation of eighty five Workplace Environment Analysts positions within the Postal Service, through which the post office staff would be monitored for signs of depression and possible violence outbreak.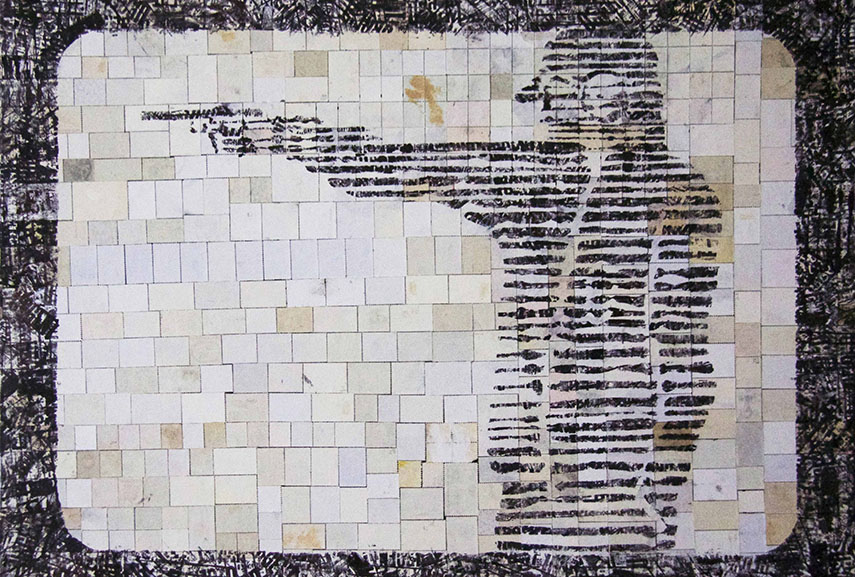 A Tribute to the Victims and History
Interested in this dreadful phenomenon, British artist Simon WG Butler worked on his Going Postal project for the last three years. Using cancelled postage stamps, he pays tribute to the rich history of the Postal Service, an an iconic institution that is slowly losing its importance due to the development of the digital technologies. For Simon WG Butler, stamps are not only fascinating because of their marvellous graphic depiction of historical events and personalities, but also for their variety of viewpoints and theories, which the artist sets out to discover in his work. He examines their reverse, putting on display the traces of their use, such as scraps of their envelope and the ink from a cancellation mark.
Simon WG Butler Exhibition Going Postal at Vertical Gallery Chicago
Simon WG Butler Exhibition at Vertical Gallery
Postal stamps are, thus, the backbone in the creation of Simon WG Butler's artworks, as they become the carrying elements of his collages and ink drawings. On them, the artist depicts eerie portraits of shooters and the logo of the US Postal Service, like a preserver of their everlasting treasure and a mourner of the tangible forms of communication bound to sink into oblivion under evolving times. Going Postal, the exhibition of works by Simon WG Butler, will be on view from December 12th 2015 through January 2nd, 2016 at Vertical Gallery in Chicago, USA. The opening reception is scheduled for December 12th from 6pm to 10pm, and the artist will be present.
Featured images in slider: Letter Carriers, 2015; Going Postal 3; 12; 34, 2015. All images courtesy of Vertical Gallery.