Despite the fact that the summer is usually a slower period for the gallery world, Fabien Castanier Gallery is not slowing down. The gallery is hosting two group exhibitions in their spaces in Los Angeles and Miami. Titled Mark Making, the exhibition in Los Angeles will feature the latest work from Aaron De La Cruz, Alex Kizu aka Defer, and Mark Dean Veca. Recalling a variety of styles, including abstraction, design and graffiti, each of these artists will present paintings, sculptures and installations that are built on a foundation of mark making. On the other hand, the exhibition in Miami titled Ciudad Mágica will present local artists Hoxxoh, Andrew Antonaccio and Michael Vasquez. Despite conveying vastly different styles, these particularly prolific image makers create works inspired by the city's rich cultural history and dynamic aesthetics. Often described as Ciudad Mágica (a magic city), Miami is known for its burgeoning art scene that continues to evolve.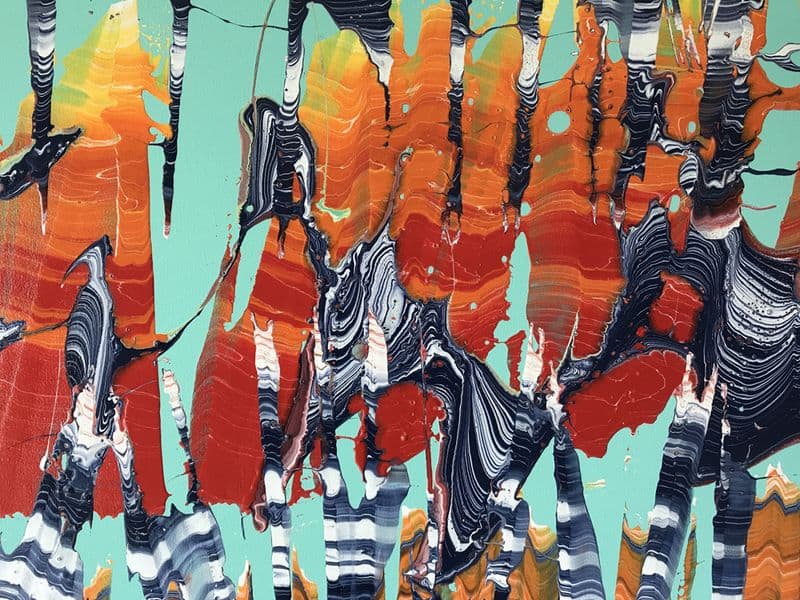 Mark Making - Aaron De La Cruz, Alex Kizu and Mark Dean Veca
Each of the artists featured in the exhibition is familiar with creating large-scale installations, pieces that envelope the viewer in realms of meticulously detailed line-work and hypnotizing compositions. Paintings and sculptures from Aaron De La Cruz incorporate simple patterns and motifs that together form complex labyrinthine compositions. Using bold lines and colors, he reduces his expression into its most minimal form, making marks that are often unplanned and instinctual. On the other hand, Alex Kizu draws from his culture and connection to graffiti and the urban landscape to create pieces that distort the lines between street art and fine art. Highly detailed examinations of lines and color, his abstract pieces incorporate not only typographic but also cultural motifs, and complex patterning. The paintings and installations by Mark Dean Veca focus upon the mark-making which has grown organically from his oeuvre. Using spontaneous tessellations as visual motifs, he creates forms that express a refined organic geometry and a sense of depth and illusion.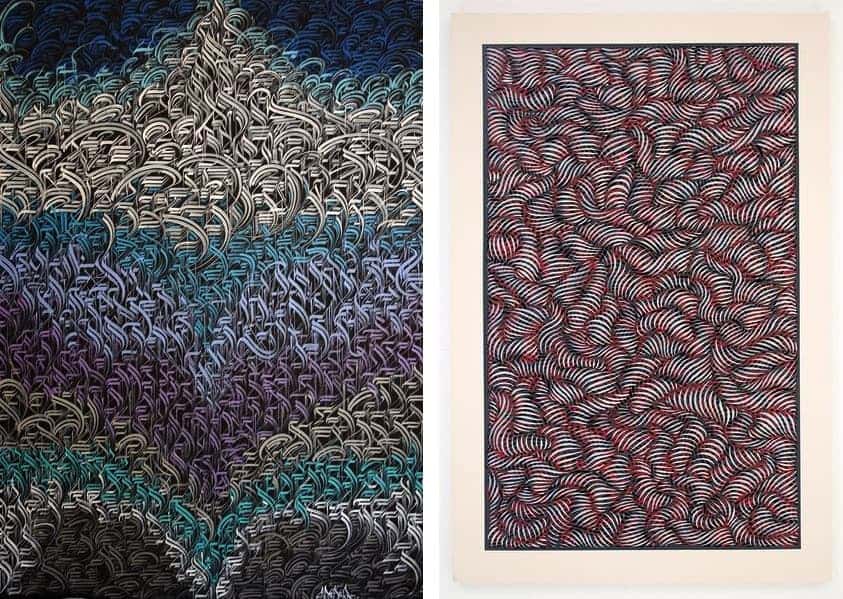 Ciudad Magica - Hoxxoh, Andrew Antonaccio and Michael Vasquez
The Miami-based artist Hoxxoh creates multidimensional abstract pieces combining geometric and linear forms with an organic aesthetic. This latest body of work highlights his technique and mode of creation, examining an intuitive manipulation of paint on canvas. Creating moments of controlled chaos, he attempts to show us a different way of viewing time through a means of exploring its natural fabric. Focusing on the juxtaposition of traditional aesthetics and the digital medium, Andrew Antonaccio creates abstract compositions out of archived images and modern photography. In this way, he comments on the overwhelming digital experience of our current generation. Exploring a world of misguided youth, Michael Vasquez creates portraits that present groups of "extended families", governed by their own sets of values and social codes. Using a variety of signs and symbols, he explores subjects of masculinity, identity and community.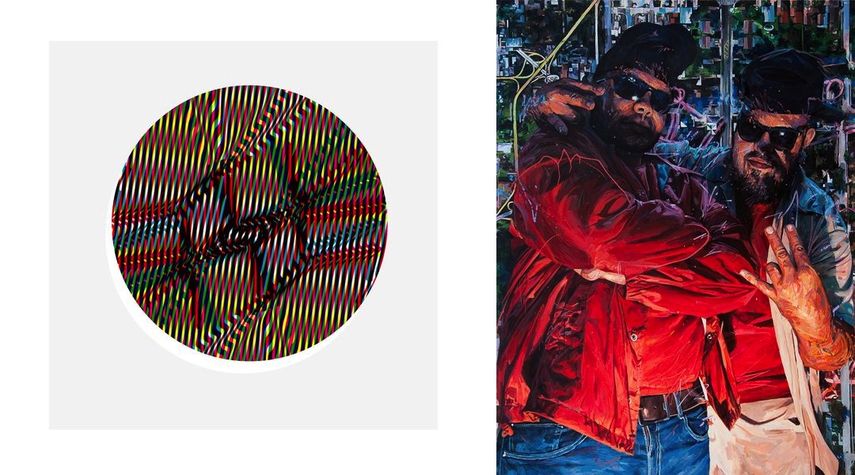 Group Exhibitions at Fabien Castanier Gallery
The exhibition Ciudad Mágica will be on view at Fabien Castanier Gallery in Miami from September 30th until November 4th, 2017. The opening reception will be held on Saturday, September 30th, from 6 to 9 p.m. The exhibition Mark Making will be on view at Fabien Castanier Gallery in Culver City, California from September 16th until October 14th, 2017. The opening reception will be held on Saturday, September 16th, from 6 to 9 p.m. All three artists will be present.
Featured image: Aaron De La Cruz - Untitled; All images courtesy of Fabien Castanier Gallery.