The Learn & Skate organization set out to develop the practice of skateboarding in disadvantaged places of the world. Launched in September 2012 by Jean Claude Geraud with the help of Richard Schenten, the association aims at providing the opportunity for young people interested in skateboarding to develop their practice, at the same time encouraging them to pursue their dreams.
After building a skate park in the Ugandan countryside, they have decided to realize their next project in Ulaanbaatar, Mongolia in August 2018. In order to fund their activities, the association collaborated with a wide range of international artists to produce customized skate decks.
Partnering with Mongolian "Uukhai" Skateboarding Association, Learn & Skate will soon present over 50 customized skate decks in an exhibition at the MADE Hotel, New York. Created and donated by a range of acclaimed street artists from all over the world, the decks will be offered in an auction to raise the funds for the construction of the skate park in Ulaanbaatar.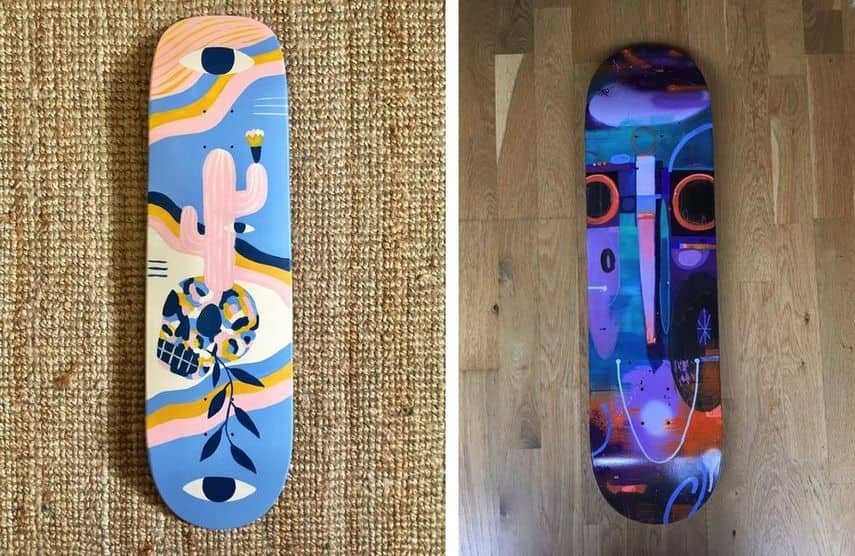 Learn and Skate
Being passionate about skateboarding, Jean Claude Geraud invested a lot of time and energy in exploring different skate routes and cultures around the world. When he came across a video on skateboarding in the Ugandan countryside in Africa, he was stunned by their poor conditions and infrastructure and decided to do something about it. This is how the organization Learn & Skate came to life.
They soon realized that skateboarding had a great power. It allowed youth to aspire to better life, access education, and develop sound bases and values. Skateboarding proved to be a powerful tool that helps build communities and strengthen friendships worldwide.
Standing for equality and unity, Learn & Skate joined forces with the Uukhai Skateboarding Association to provide the children of Mongolia with an awesome outlet to express themselves. As the organizers explain, "talent is everywhere, we simply hope to give them a little push."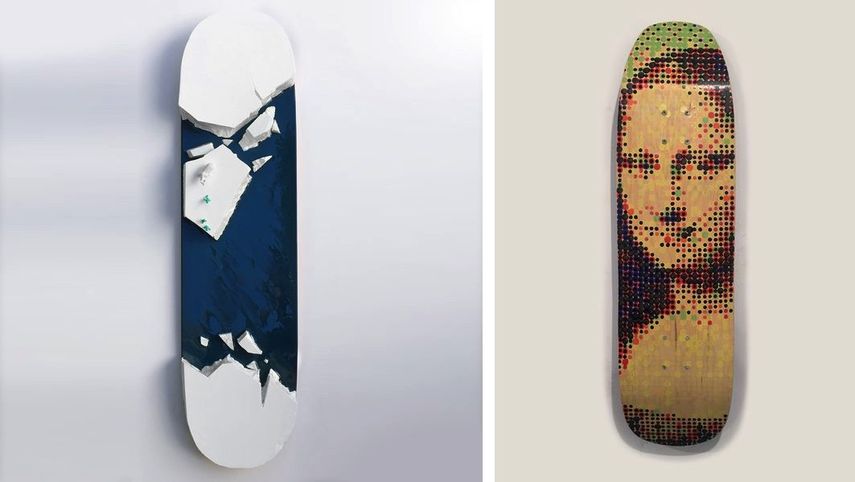 66 Amazing Artists on View
The Ride for Mongolia exhibition and charity auction in New York will present over 50 customized skate decks created by big names in the international world of street art. These amazing skate decks will go up for sale that will last two weeks. By taking part, the public will help Learn & Skate to make their next project in Mongolia a reality.
Participating artists are Bezt (Etam Crew), Zéphyr, Tkid, Blade, Daze, Cope2, Claw Money, Billi Kid, Nick Qalker, Miles Toland, Martin Whatson, Soone, Sfhir, Cranio, Hopare, El Xupe Negre, 2alas, Little Madi, Daim, Indie 184, Roid, Kan, Thirsty Bastard, Zenoy, Lenz, Siker, Superstop, Zeklo, Cf88, Malefic Heart, Skeme, Oak Oak, Jaune, Sliks, Phoebe Nyc, Ces, Ricardo Cavolo, Zurik, Lucy Lucy, Futura2000, Alex Senna, Carl Krull, Rosh333, Nuno Viegas, Aiko, Martha Cooper, Fenx, Bault, Eelco, Jay Kay, Pixel Pancho, Tober, Hien, Sidka, Smithe, Woizo, James Colomina, Pure Evil, Katrin Fridriks, Pure Evil, Inlander, Hoxxoh, Meggs, Sebo Walker, Theo Lopez, and Ma2j.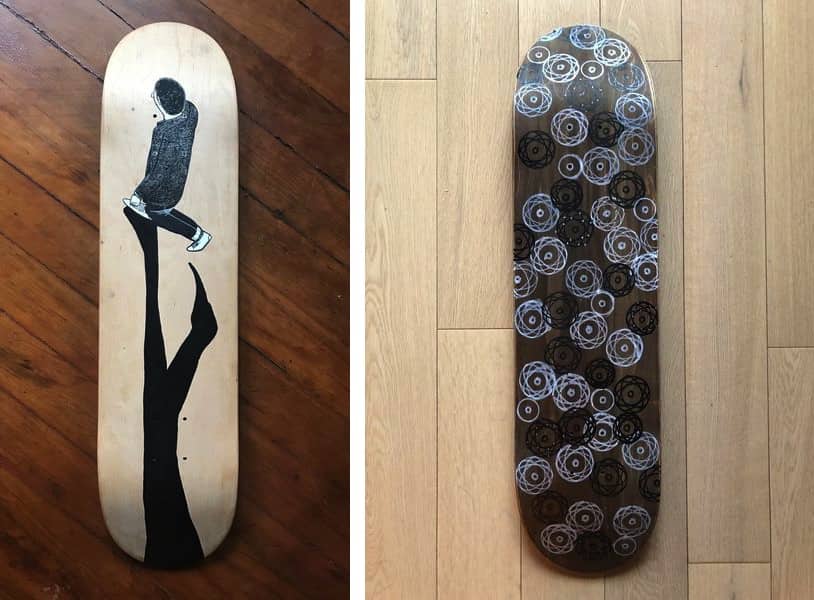 Learn and Skate Exhibition and Auction
The exhibition Ride for Mongolia will be on view at MADE Hotel in New York from May 28th until June 3rd, 2018. The official opening will take place on May 31st, starting with the Meet and Greet at 6 p.m., proceeding with The Uukhai Documentary screening at the lovely rooftop bar of the hotel, all concluding with a party.
The online charity auction will last from May 29th until June 12th, 2018.
This is the fourth charity auction organized by Learn & Skate. Previous ones took place in Toulouse, Zurich and Madrid.
Featured image: Left to Right: Bault - Grigri, Mcairo - Emerald Roots, ThirstyBstrd - Fragile Liberty, Sebo Walker - Tricks Are For Kids. All images courtesy of Learn & Skate.