The art market is going in summer hiatus, so it's time to check out how it performed during a period covering the second half of June and the beginning of July. To provide us with interesting information there's Skate's, as always, whose Top 10,000 Masterpieces Database - all artworks sold for over $1.5 million at public auctions since 1985 - just got some new members. In their latest summer art sales report, Skate's states that the market remained strong, that art sellers had their money's worth, and gives a look at major summer auctions and the unsold lots. Let's check out the details.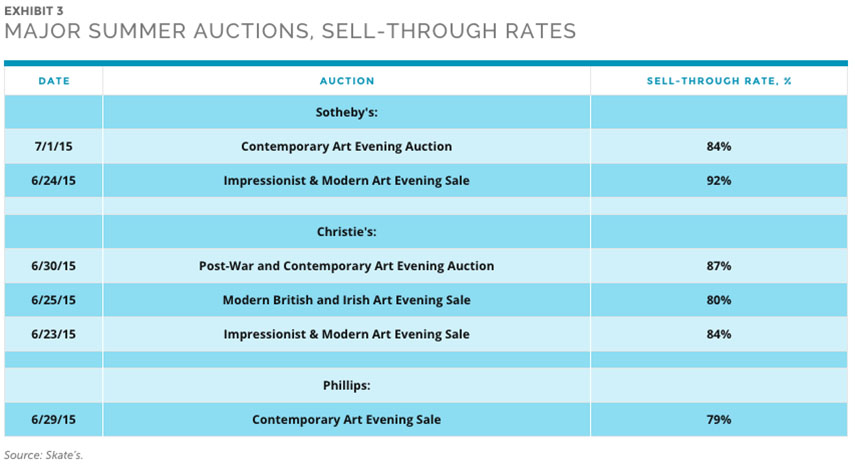 The Art Market in Numbers
Going back to the $1.5 million + artworks, 107 new ones ended up a part Skate's Top 10,000: the highest-priced new entry being Gustav Klimt's Bildnis Gertrud Loew (Gertha Pelsőványi) (Portrait of Gertrud Loew – Gertha Felsőványi) at number 124 with #39.1 million, and the lowest-priced Going to Work Laurence Stephen Lowry, ranking 9,833rd with $1.6 million purchase price. According to the summer art sales report, the artworks generally sold above the estimate range, with the total low end of the pre-auction estimates for those works being $476 million and the high end $682 million. Thus, the market achieved total sales of $698 million, retaining its force. This summer also brought strong liquidity: every third artwork sold over $1.5 million was a repeat sale - 10 of those, or about 9% of total masterpieces, have already been flipped within five years, resulting in a total of 35 repeat sales in the high end of the art market.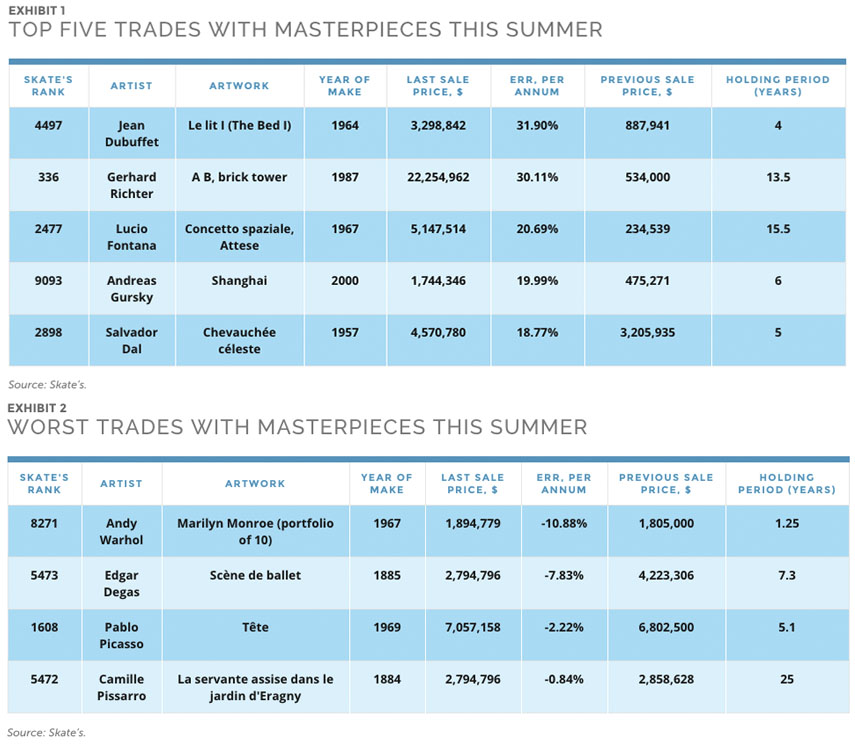 Masterpiece Trades - Who Sold and Who Didn't
When it comes to art sellers, they managed to make money on all but four repeat-sale transactions. The top five trades saw the works of Jean Dubuffet and Gerhard Richter as best-selling, delivering over 30% annualized return. Producing negative returns were only four trades this summer, including the works of Andy Warhol, Edgar Degas, Pablo Picasso and Camille Pissarro. Warhol's Marilyn Monroe generated 11% loss to a seller over a holding period of just over a year, while Pissarro's La servants assist dans le garden d'Eragny completely destroyed the invested capital by delivering negative return in terms over 25-year span.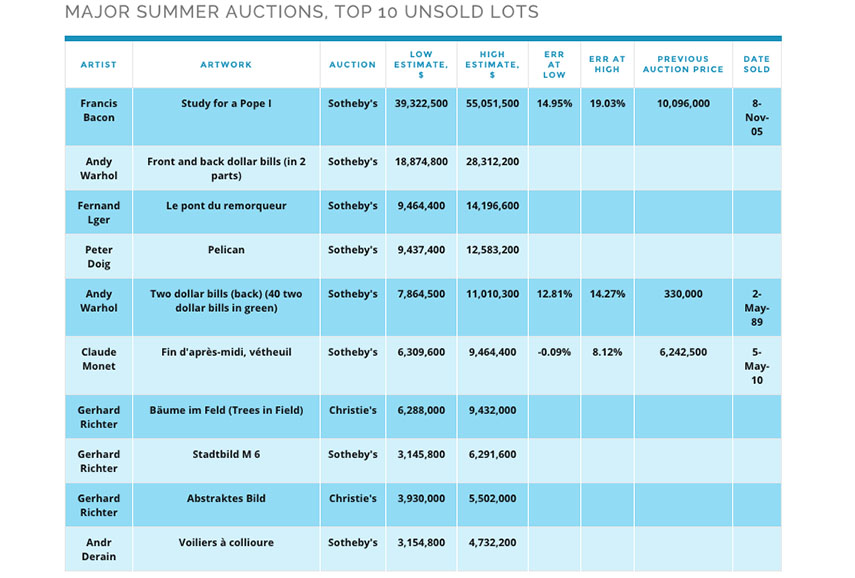 Major Summer Auctions and The Unsuccessful Lots
Coming as no surprise, the top three auction houses of the summer art sales report were Sotheby's, Christie's and Phillips, all achieving over 75% of sell-through rate. The most successful sale, with 92%, was Sotheby's Impressionist & Modern Art Evening Sale held on June 24th - also known for having the second-highest total for a sale in London, while Christie's Post-War and Contemporary Art Evening Auction of June 30th followed closely with 87%. Although generally speaking, the sales went more than well, there were still some surprises in forms of unsold lots. Interestingly enough, the names we usually see in the best-selling list now occupy the top 10 of those which failed to sell, and here we're talking Gerhard Richter and Andy Warhol, yet again. The number one spot goes to Francis Bacon's Study for a Pope I, offered at Sotheby's, previously sold at $10 million in 2005. This artwork, together with Warhol's Front and back dollar bills and Fernand Leger's Le pont du remorqueur would have all been repeat sales.
If you're interested, you can check out Skate's complete list of 10,000 Artworks.
While we wait for the art market's vacation to be over, there's always more art on Widewalls! Sign up today for FREE!
All images courtesy of Skate's.