The isolated jungle utopia in SkullBoy art, together with the minimalist musical indietronica in Felix Laband art will soon be on view at Kalashnikovv Gallery. New visual works by SkullBoy in his first solo show The Preoccupied Lives of Islands explore the possibility of connection in a digitalized and isolated world which is ironically placed into a jungle landscape, reminding us of the tribal, primary human community life. On the other side, the emotional, light and otherworldly style of Felix Laband music will be presented through a surprise performance in a new and special part of the gallery, The Wreck Room.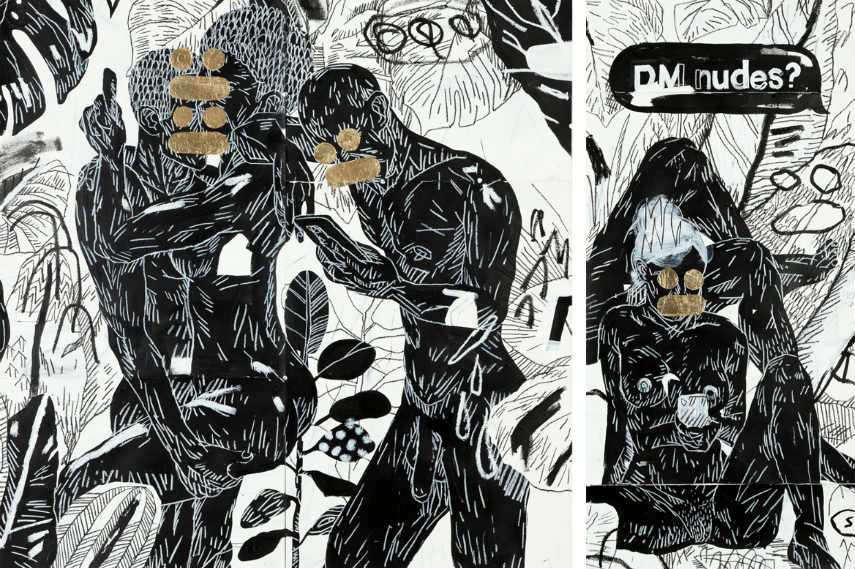 Thrown from the Garden of Eden into a Celluar Garden
Stating that every human group is a society of island universes, new works from the SkullBoy ironic series Cellular Garden present a digitalized tribe of people who use their cellphones to connect to the global online civilization, rather than the real one, from their direct surrounding. The only way these characters can validate their own existence is by constantly capturing and sharing their daily life, and following the digital lives of others. Even though they are surrounded by the perfection of nature which reminds us of the Garden of Eden, this space becomes a true Cellular Garden which can only be enjoyed with the help of technology.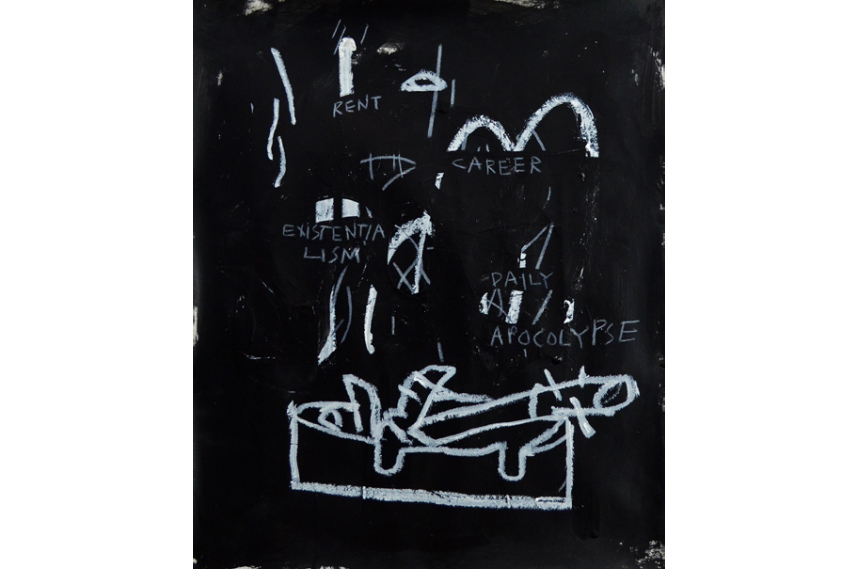 Between Indie and Electronica with Felix Laband
Felix Laband has previously been creating artworks for personal inspiration and interest with which he mostly explored the fields of music, where he experimented with different influences, merging a truly indie sound with electronic elements, but also experimental noise, sound, speech and much more. Known for having a distinctive and original approach, he uses a rich variety of soundscapes, combining samples from jazz, classical music and old radio and TV recordings which he overlays with his own compositions. Felix Laband used The Wreck Room, a new space in Kalashnikovv gallery to explore his cohesive style of artworks alongside his music and to prepare a surprise performance for the audience.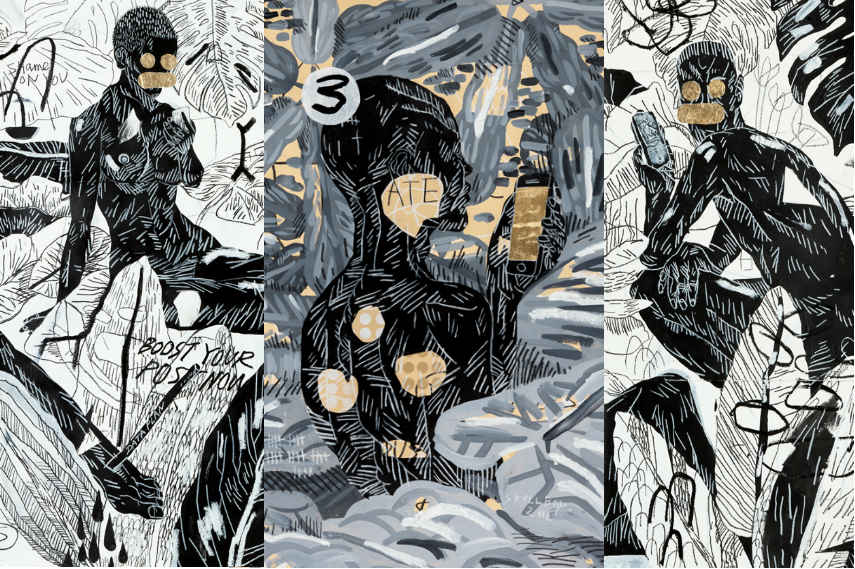 SkullBoy Art and Felix Laband Art at Kalashnikovv Gallery
Besides presenting the works of these two artists, there will also be a third factor of this collaborative development expressed as the cinematic work by Emma Tollman, titled RE-VOLV-ER. Both solo shows open on April 6th, 2017, at Kalashnikovv Gallery, Johannesburg. SkullBoy art will be presented in the Main Gallery Space,  Felix Laband's works will be shown at The Wreck Room. The exhibition opening will happen from 18.30h till 22h.
Featured images: SkullBoy - So Nice to See You Friend, Left: SkullBoy - Whishful Thinking While At the Bank / Right: SkullBoy - You Will Know Him by His Grace and Goodness, Left: SkullBoy - Wrong Number / Right: Skull Boy - You UP. All images courtesy of Kalashnikovv Gallery.