The French graffiti and street art scene is saturated with various artists of different aesthetics and approaches, and one of the most recognizable proponents of the same is Skunkdog.
This figure is best known for appropriating different elements from art brut, figurative and pop art in order to produce trashy and colorful works full of punk sentiment. In two decades, Skunkdog has established himself as the leader of the new free figuration Marseille. Therefore, David Pluskwa gallery, which represents the artist, decided to organize his solo exhibition of new works under the title U.R.S.S.S., for United Robot Space Syndicated.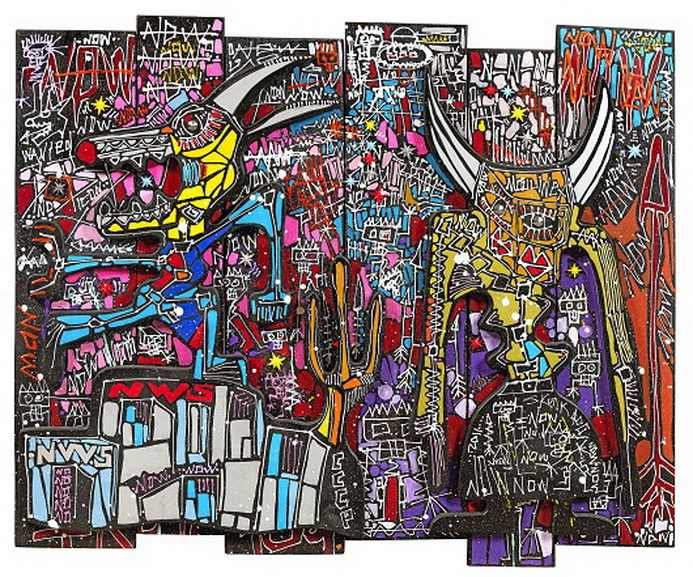 The Rise of a Graffiti Star
David Negri aka $kunkdog was born in 1968 in Marseille, where he lives and works. Initially, he was approached by the painter Dijonnais Robelin who offered him to exhibit for the first time in a courtyard in Provence. Throughout the years, the artist has embraced a specific style which is inspired by love, excess, megalomania, violence, and generosity. $kunkdog emphasizes his approach by saying:
I'm hungry for techniques. After the gouache, I quickly went to the oil, the acrylic, the gleaning of pieces of posters or stickers directly pulled from the street, then to the poskas and to the bomb, following my meeting with an important team of graffiti artists and vandals Marseille... Each contribution does not hunt others so far, and all these materials accumulate today in each of my works.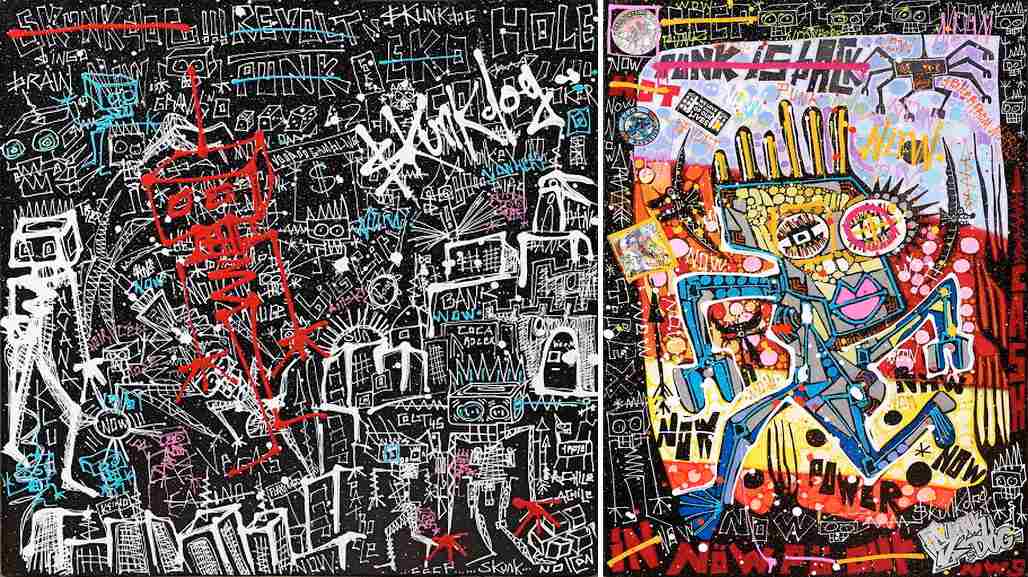 About The Works
After producing a series of large-format totems, $kunkdog started experimenting with new assemblies. The black panels are actual anthracites carved in wood are inhabited with a myriad of strange creatures:
Beasts with horns, space-painters, birds of woes, drones-humanoids without missions ... My bestiary is half-pneumatic, half-lecherous.
This statement tells much about these imposing wooden panels, bas-reliefs drawn from the artist's imaginary archaeology. Furthermore, these bold, linear and colorful paintings, somehow reminiscent of Basquiat's works, function as peculiar urban interventions cut out of the city streets, which is achieved with uneven edges in the upper plane of the surface.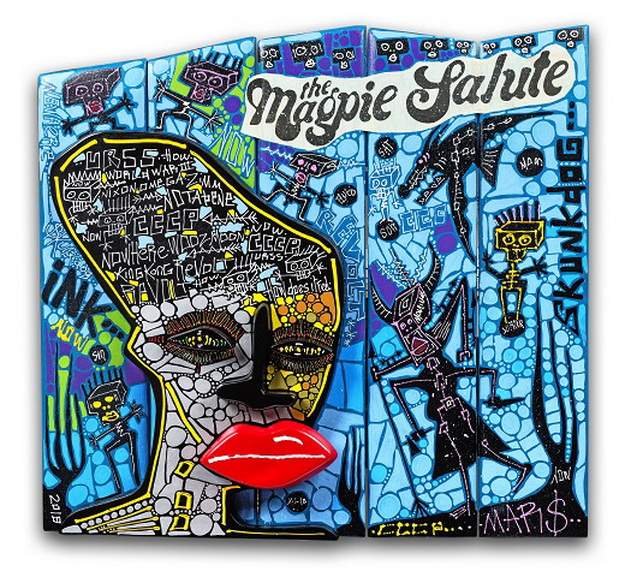 Skunkdog at Galerie David Pluskwa
This exhibition will be practically the first solo show of the artist organized at the gallery. The collaboration Skunkdog and David Pluskwa started with the artist's residency in Morocco, where he revealed one of its most important progressions.
U.R.S.S.S., for United Robot Space Syndicated will be on display at David Pluskwa Gallery in Marseilles from 22 November until 22 December 2018.
Featured image: Skunkdog – Life on Mars. Mixed media on canvas, 162 x 213 cm. All the images courtesy of the artist and David Pluskwa Gallery.