A street artist from Marseille, David Negri aka $kunkdog has pursued art since he was a kid. Using all mediums and materials, he today produces figurative works characterized by bold strokes of color. Although created in the studio, his work draws from the street.
After an incursion into tridimensional objects, which gave way to painted palisades and cut out robots, $kunkdog has come back to drawing and painting more determined than ever. His recent body of work will soon be on view at Galerie David Pluskwa. Titled What a Blast From the Past!, the exhibition will bring together about thirty drawings and as many oil paintings in which the artist assimilated and synthesized the heritage of the great masters.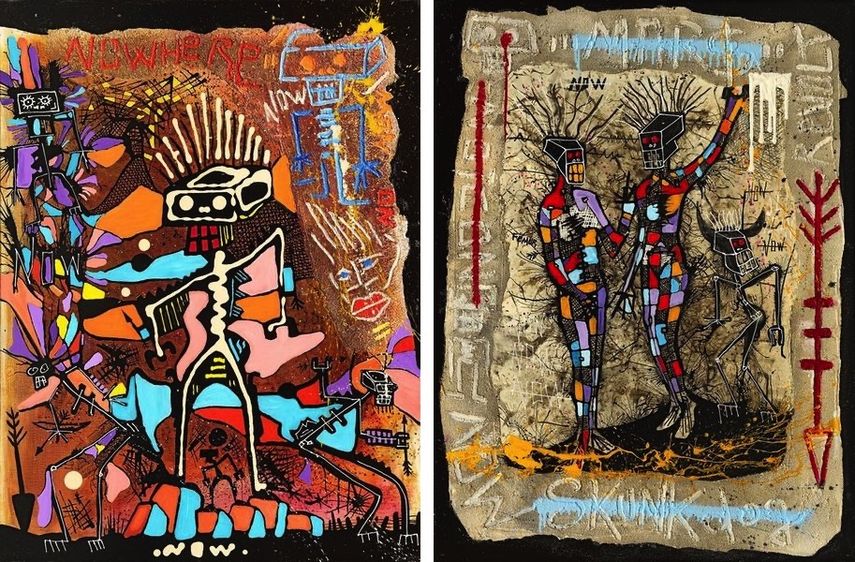 The Practice of $kunkdog
$kunkdog is an artist with an unconventional career path. He first started painting at the time his daughter was born. After meeting Françoise Siffrein-Blanc, who organized an exhibition in her home, his career took up. Although he paints in the studio, his work draws energy from the street - its constant hustle and bustle, advertisements and graffiti.
With drawing being the foundation of his work, $kunkdog constantly looks to challenge and and make it more complex through the controlled use of colors and drips. He fills up every inch of his canvas, making it the space of his imaginary projections. Turning each work into research on material, he mixes clay, coffee and resin while scratching and ripping the surface of his paintings like a wall tagged and erased over and over. His works absorb, transform and reflect his experiences and surroundings, from fantasies, memories and cultural references to poetic quotes.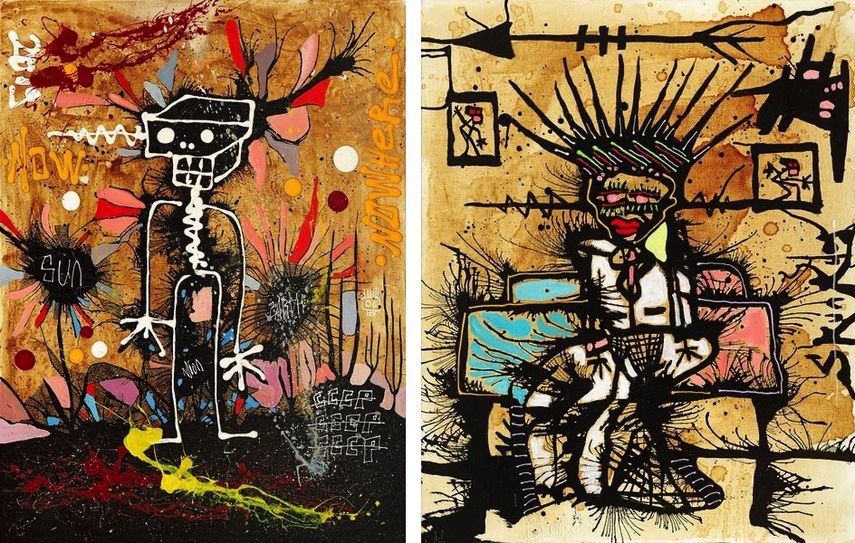 The Return to Drawing and Painting
The title of the show, What a Blast From the Past!, refers to the artist's return to drawing and painting. In this new body of work, $kunkdog takes the heritage of the great masters as the seeds of his own creations, incorporating it into his distinct pictorial style marked by urban modernity.
There is a range of religious motifs in these works, such as Adam and Eve, the crucifixion, Saint Sebastian, the virtuous Lucretius, directly pointing to some of the Nordic masters like Dürer, Grunewald and Cranach. However, these works also highlight his ironic distancing and the exclusively aesthetic dimension of his approach. Women are also an important motif in these works, including the very eroticized figure of the prostitute with eyes heavily made up, snake-like hairs, fallen angel wings and Arlequin costumes, as well as robots, possibly speaking of our frightening future.
In each of these works, times seem to collide and vanish in a perpetual present, serving to think and tackle immemorial questions. This frantic body of work should be approached with the same mindset as one has in front of an old and mysterious grimoire: free from all prejudices, with curiosity as a guide.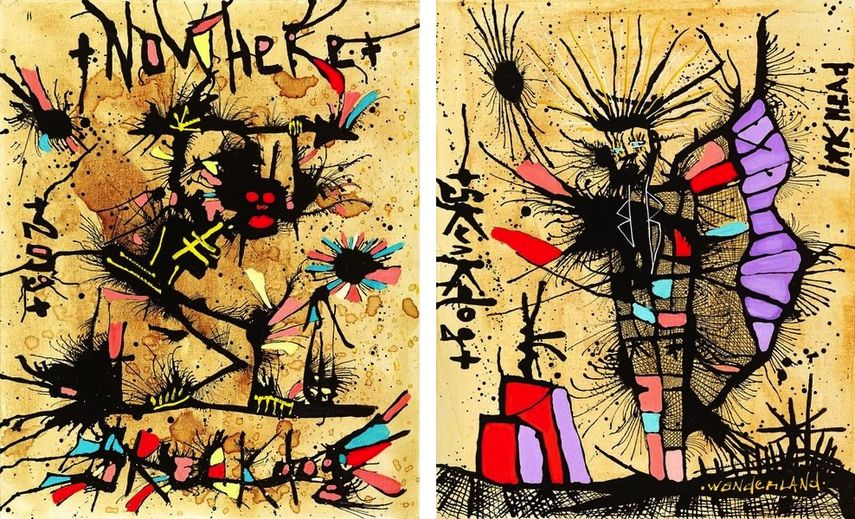 $kunkdog at Galerie David Pluskwa
With this new body of work, $kunkdog progressively returns to the most ancestral artistic gestures, revisiting the great myths that shape our collective sensitivity and appropriating them in his flat-tint paintings.
The exhibition What a Blast From the Past! will be on view at Galerie David Pluskwa in Marseille until March 28th, 2020.
Featured images: Left: $kunkdog - Puta Punk, 2020 / Right: $kunkdog - Now Yellow, 2020. All images courtesy of Galerie David Pluskwa.