To write it in the words of Alex Scordelis "the greatest Renaissance man of our era was Snoop Dogg".  There is a lot of truth in this statement. Like no other artist Snoop Dogg has undergone tremendous changes, developments and re-orientations. His career began in 1992 when Dr. Dre featured him on the legendary solo debut album The Chronic. What followed is one of the most impressive and diverse careers in the hip-hop music business. Snoop not only sold millions of records, but stared in numerous movies and TV shows. He also produced a pornographic movie, moderated wrestling matches, created his own merchandise and in 2012 renamed himself Snoop Lion. Now he is back to Snoop Dogg and has a new project to present to the public: Snoop the painter.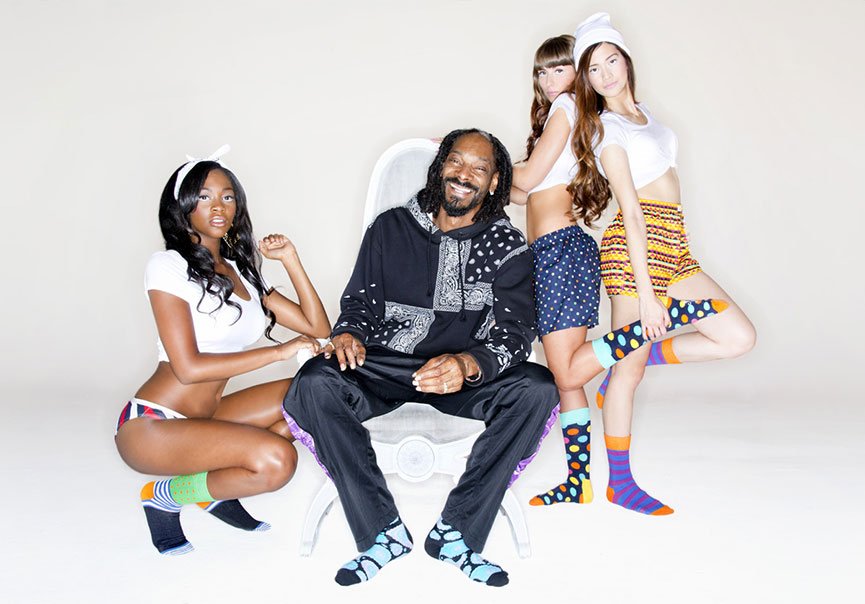 Interview
In an interview with Alex Scordelis of Paper Mag Snoop Dogg talked about his newly formed venture with the Swedish brand Happy Socks, revealed why he always leaves a blunt burning in the ash tray and allowed the public insight into his artistic inspiration.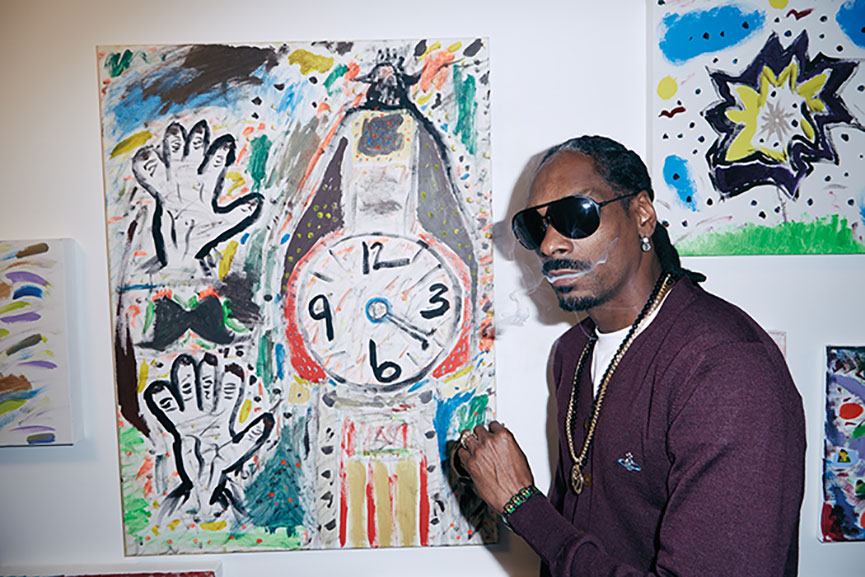 Inspiration
Snoop Dogg learned his first steps as a painter while staying at the Versace Hotel in Main Beach, Australia. Inspired by the high-end art at the five-star hotel (Snoop says it's a seven star hotel) he sent out one of his assistants to fetch all the necessary materials to begin painting. Snoop still maintains this form of inspiration when he sees artwork at hotels while he is on the road he says, "Damn, that shit is dope" and starts painting again. When he does, Snoop not only produces one or two paintings, he submerges himself in a painting frenzy with an output of five to six paintings.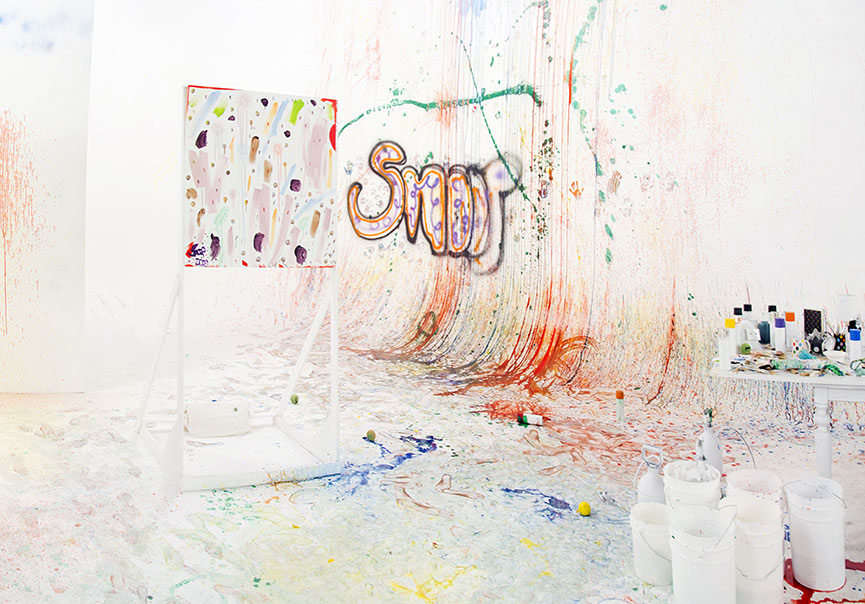 Motivation
The motivation to initiate a career as a painter comes from Snoop's unrestrained urge to try something new and boredom. He wanted to create something utterly unrelated to music. Music not necessarily always reveals the artist's inner feelings and emotions with adequate depth. Paintings, however, represent what is truly on Snoop's mind. Once he has transferred his sincerest emotions on a piece of canvas Snoop Dogg leans back, takes a look at his work and says, "Some motherfucker is gonna buy this piece of shit".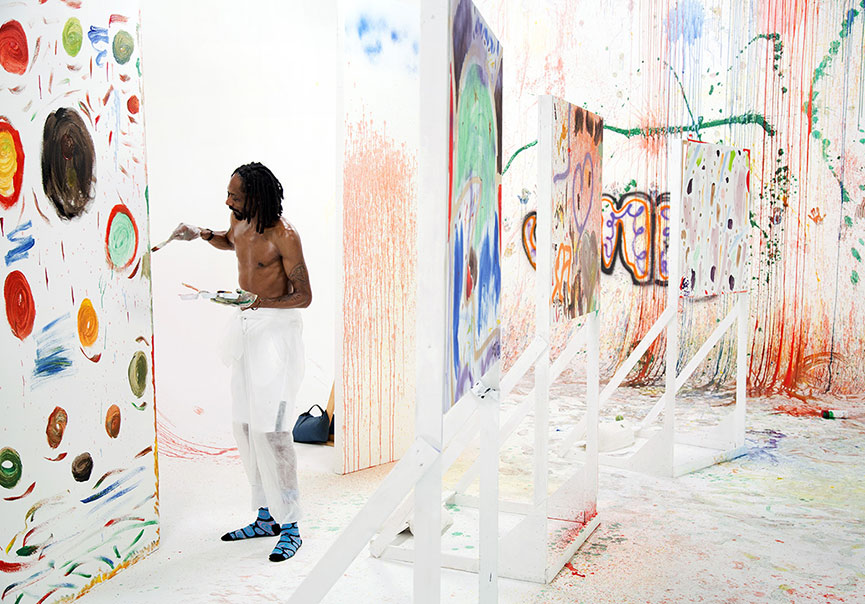 Happy Socks
Snoop doesn't stand alone with this assumption. As mentioned earlier the Hip-Hop legend collaborated with Happy Socks to create a line of fashionable socks. The Swedish company stumbled across Snoop's art on his Instagram account and immediately contacted the painter-in-the-making to transfer his works onto their socks. The outcome is an exclusive fashion line of socks inspired by the art of Snoop Dogg that they named The Art Of Inspiration.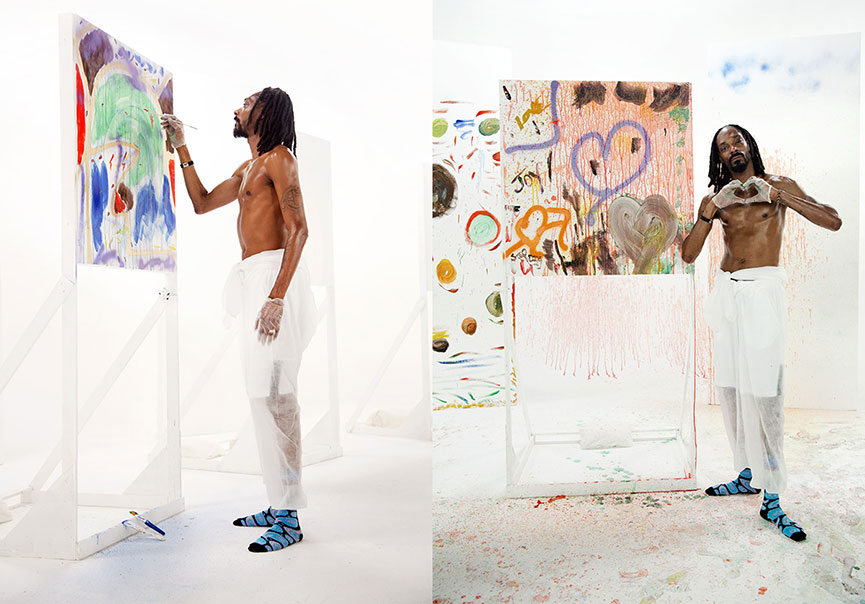 Jackson Pollock
It seems like the Hip-Hop entrepreneur is in his best way becoming the new Jackson Pollock. Where does this ambitious goal from you ask? When Snoop mentioned in the interview that he drops and ashes and blows smoke on the finished painting Scordelis informed him that Jackson Pollock used to do the same. Unaware of the existence of Jackson Pollock but obviously extremely impressed by the abstract expressionists conduct, Snoop turns to his manager Kevin and says "Get some footage on him, Kevin. I'm gonna be the new him. I like that shit. Bunch of roaches on the motherfuckin' painting. Cockroaches and weed roaches. That's gonna be my next painting: The Life of a Roach. "
Read the full interview at Paper Mag