The cycle of articles, "Chronicles of the Russian Activist Art" by Moscow-based researcher and curator Tatiana Volkova explores Russian contemporary artists and cultural practitioners' long-term involvement in various protest processes.
Another area where activist artists have been involved in political processes in Russia is providing support for political prisoners and the monitoring of other important social events. In the mid-2000s, trials of cultural workers became common, while involvement in rallies, pickets, exhibitions and concerts in their support became routine for their colleagues.
In connection with these trials, many artists have begun sketching and reporting them. For instance, Viktoria Lomasko and Anton Nikolaev released a book "Forbidden Art" that is a graphic reportage of the trial of Samodurov and Yerofeyev, the curators who were sentenced to fine for their exhibition Forbidden Art (2010). Lomasko has continued this work, producing a series of reports from high-profile trials and later from the mass protests in Moscow (2011-2012).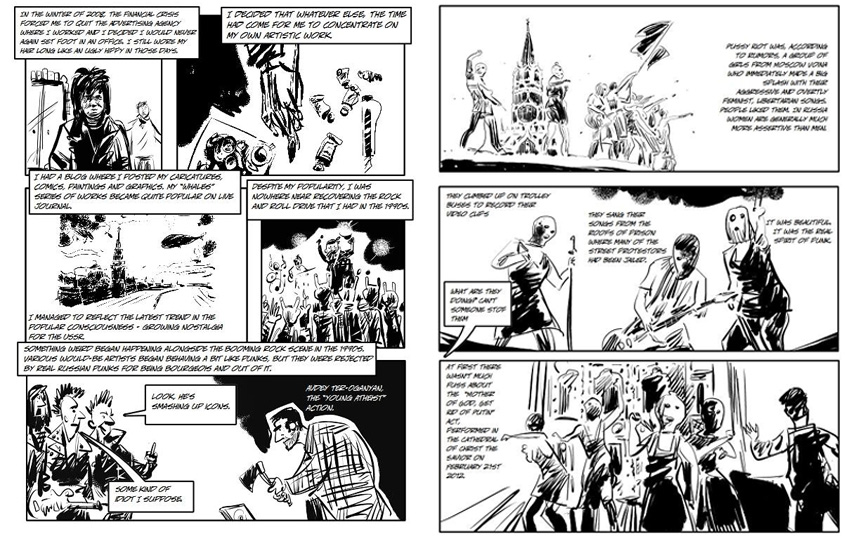 The History of Art Activism in Comics
One of the brighter figures in the field of social graph is Alexey Iorsh. The graphic artist engages in street art and makes performances and installations; however, what he is widely known for are his comics and caricatures. Alexey creates and promotes comics (graphic stories) that he believes communicate the real problems of ordinary people. As an activist artists, Iorsh must work quickly and therefore produces digital illustrations and comic layouts on the computer.
Alexey has been participating in informal art exhibitions since the 1980s. In the '90s, he became a member of the KOM Comics Studio and subsequently was made a member of the International Comics for Worldwide Respect project. Today, he is artistic director of the Respect Project and the Kommissiya Moscow Comics Festival. The aim of Respect Project, according to their manifesto, is to speak to young people in a language that they understand, and to touch the subjects such as respect for others, including people with different opinions and to other social groups.
In his History of Art Activism in Comics from 2014, Alexey Iorsh described the main figures and characters of art and political processes, starting from the mass protests in winter of 2011-2012 in Russia. Iorsh used both research and his own experience, and he says that while he was working on this project, the Pussy Riot case appeared and radically changed not only the project, but also his own artistic way. Iorsh joined the group campaigning in support of Pussy Riot; he worked on the visual materials for actions of solidarity while Pussy Riot was under investigation.
In his Warm House (2014) documental comics, he collaborated with "Volunteers to help orphans" foundation. He produced a series of stories about women who were forced to abandon their children. In the introduction he says: "Each third woman who abandons her child can change her decision if she receives help in time. One of the most common reasons to abandon a child is the lack of normal lodging". Russia has the largest number of migrant workers in Europe, and the second largest number in the world after the USA.
On one of the last projects of 2016, Alexey Iorsh tells the story of Birlant Kasaeva, a Chechen woman. Birlant graduated from the Chechen-Ingush State University and worked as a teacher of Russian and Chechen languages for 14 years. Birlant's orphanage was run from 1996 to 2007. During that time, with the assistance of the TV show "Wait for Me" she managed to find relatives of over 25 children, who were lost during the war. In 2006, she was awarded the UNICEF Golden Heart Award.
The phenomenon of social graph becomes actual in the critical moments of history, when its speed and understandable language are in demand. Artists can react quickly to what is going on in social and political life and attract media attention to important events and problems.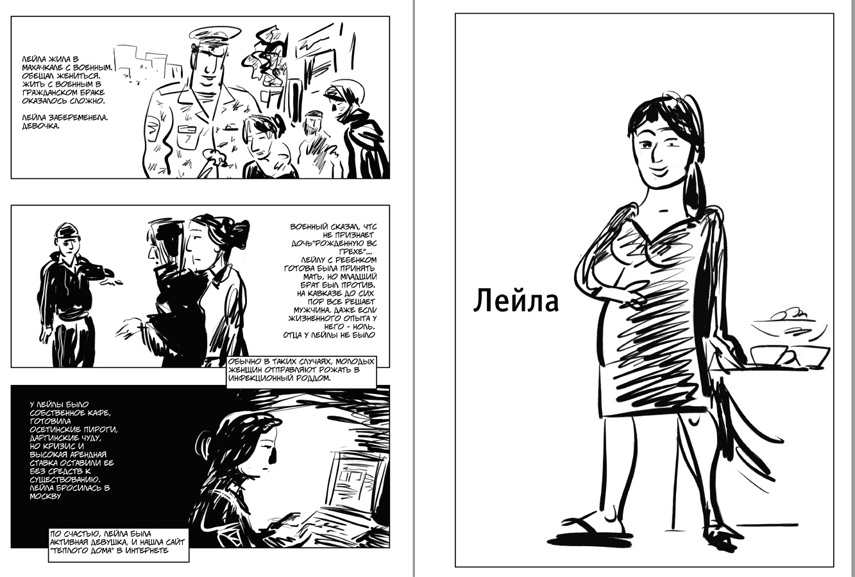 Featured image: Alexey Iorsh, from Art Activism in Comics. 2012, courtesy the artist.