Contemporary art does not shy away from referencing ancient mythology, mystical stories, and folklore. Materials, styles and mediums used for these purposes vary greatly, but there is rarely such a powerful visual and material reference to ancient stories as in Sonia Aniceto art. Her elegant, but also unsettling pieces done in pastel tones, do not illustrate these stories to the word, but appear as their esoteric gist that the artist recognizes and visually translates to us. However, she does not delve solely into ancient mythology, but is also interested in other, more contemporary themes surrounding identity, childhood memories, and personal narratives. Originally from Portugal, but today living and working in Brussels, Sonia Aniceto will have another introduction to the audience in Brussels at Galerie Martine Ehmer during her solo exhibition titled Under Pressure.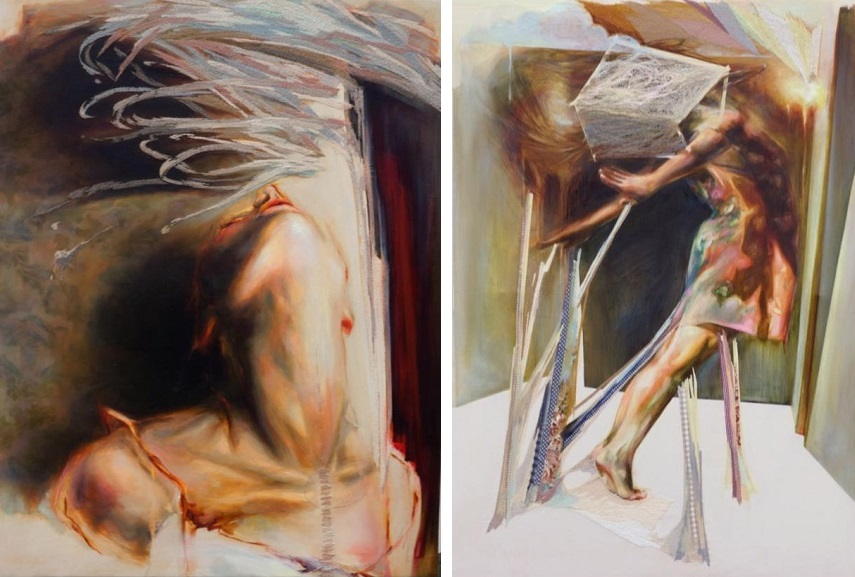 Sonia Aniceto Art Under Pressure
Under Pressure reveals a universe in mutation, in which materials blend together; express, and act at the same time. It is a universe filled with empty swimming pools, archaic figures, children, puppets and humans. The innocence of a childhood is monstrous, Daedalus is leaving, the windows are open to nowhere, and a whirling, textile sky reminds us of human conflicts and eternal, unresolved questions. A thread is present, and encompasses characters on their journeys; it is sometimes chaotic and tangled, recalling the Crete's labyrinth and the thread that meant life. Its tribulations reflect the ones of the man in the making, for whom Ariadne was the purveyor of salvation.
A quest for identity continues in the Textile Body series, where the female body is a battlefield and a playground. Sensuality and introspection combine in imagery, showing female figures torn by emotions but also literally torn, like the fabrics on which they are painted and stretched only to be repaired again. Torn and sewn back together, the bodies show us the hardship and turmoil of existence in a palpable and visceral manner, in which textile is the extension of the body.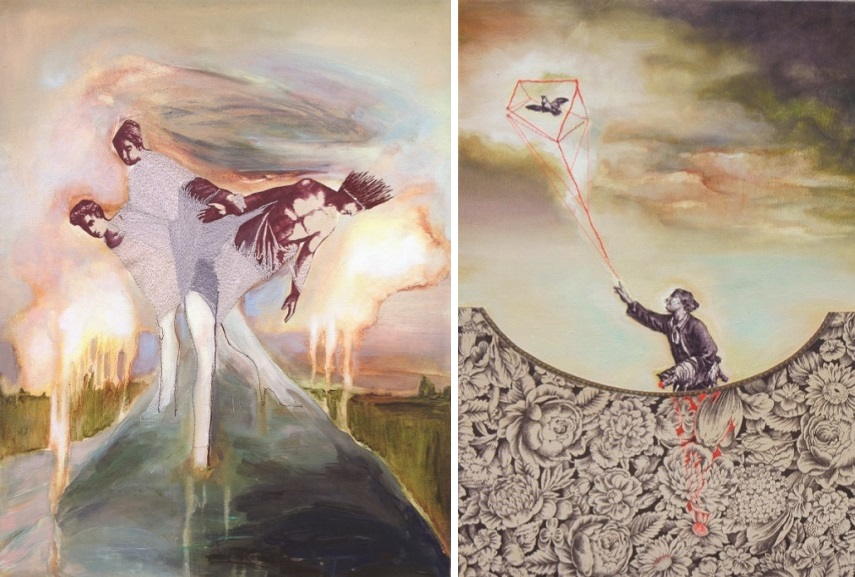 The Modern-Day Ariadne
Sonia Aniceto graduated from the Faculty of Fine Arts in Lisbon, in contemporary tapestry and painting. After finishing, she left Portugal and moved to Brussels, where she continued her training in tapestry at the Royal Academy of Fine Arts. She was an artist resident in many cultural centers, and she is also pursuing a pedagogical path, working as both a visual arts and scenography teacher, as well as for MUS-E, as an invited artist. Her art is part of many private and public collections.
Considering the topics she explores, Aniceto's fascination with ancient stories is complemented with her interest in present-day issues. Old and new are mixed on her pieces, made in a combination of paint and textile. The use of different fabrics, threads and color is not just for the expressive purpose of the represented story. The materials are subjects of these narratives as well – they oscillate between the medium and the subject. Red thread, a direct reference to Ariadne, is one of the recurring motifs on her pieces; it has a contemplative function, with its coils and points of amassed threading resonant of the tumultuous existence marked with vulnerability and uncertainty of memory.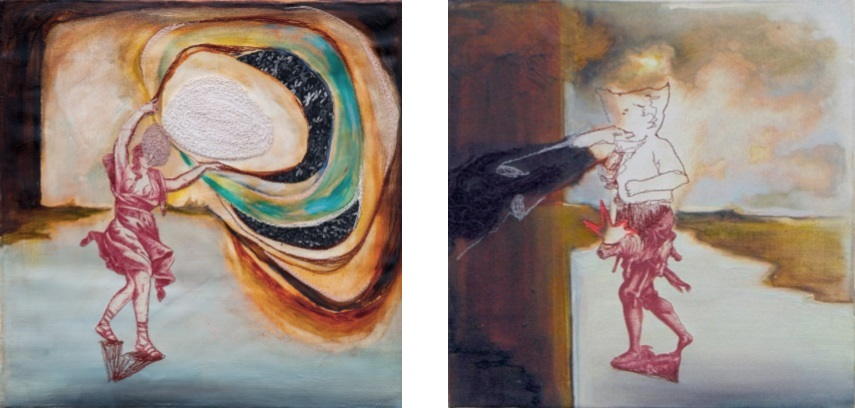 Under Pressure at Galerie Martine Ehmer
Sonia Aniceto combines different techniques and materials in her work, including painting, embroidery, textile, paper and color. The mixing of traditional techniques is the reflections on her roots and upbringing. Often described as feminine, textile art is Sonia Aniceto's choice of expression, but not rendered in traditional terms. Materials play with each other on her pieces, creating and acting in a world filled with characters that can be puppets and humans, phantoms and mannequins. It is a world rich in meaning, recognizable but also decontextualized, brought from a childhood of the creative, and mixed with archetypes of the past.
The exhibition Under Pressure of Sonia Aniceto art at Galerie Martine Ehmer, 200 Rue haute 1000, Bruxelles, opens on April 22nd, and will be on view through 21st of May, 2017. The opening is scheduled for April 22nd, from 18 to 21h.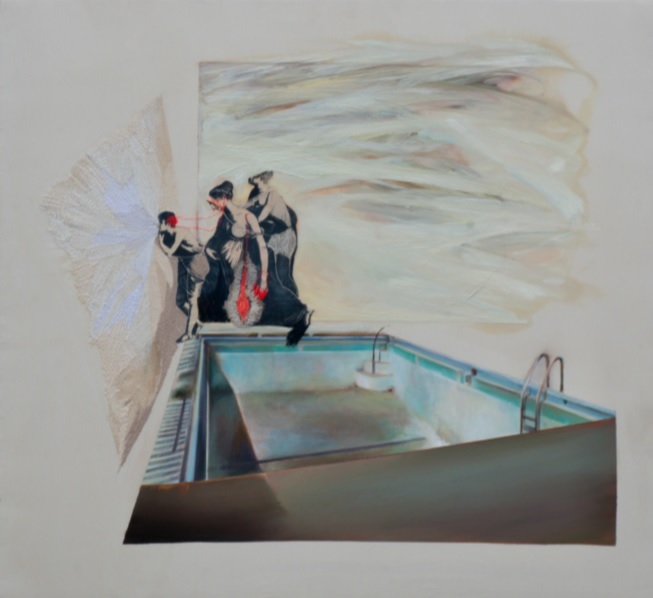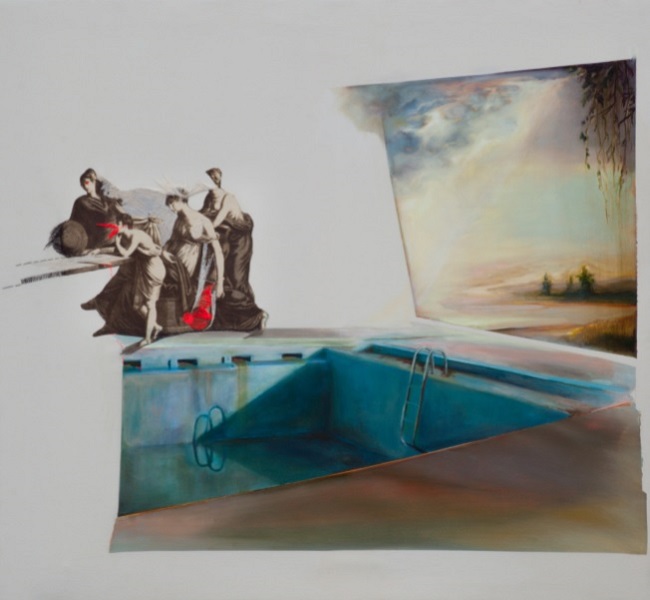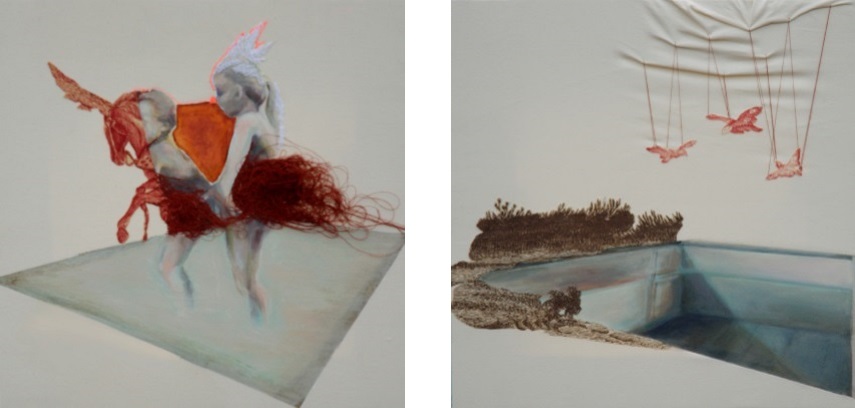 Featured images: Sonia Aniceto - Série Corps textile, Sortie de secours, detail; Série Dédale, Le départ. All images courtesy of Galerie Martine Ehmer.