Among the artists who in their work deal with emotional questions, in particular those of death, loss and love, Sophie Calle is surely one with a more memorable approach. A conceptual artist with detective skills, she has been creating distinctive narratives which often combine images and text.
The results of her intriguing dealing with the idea of losses and pain are now on view at the Château La Coste, a major international destination for contemporary art and architecture in Provence.
Aside from the two-part exhibition and a performance event by the artist, a permanent work of Calle will also be installed on the institution's property.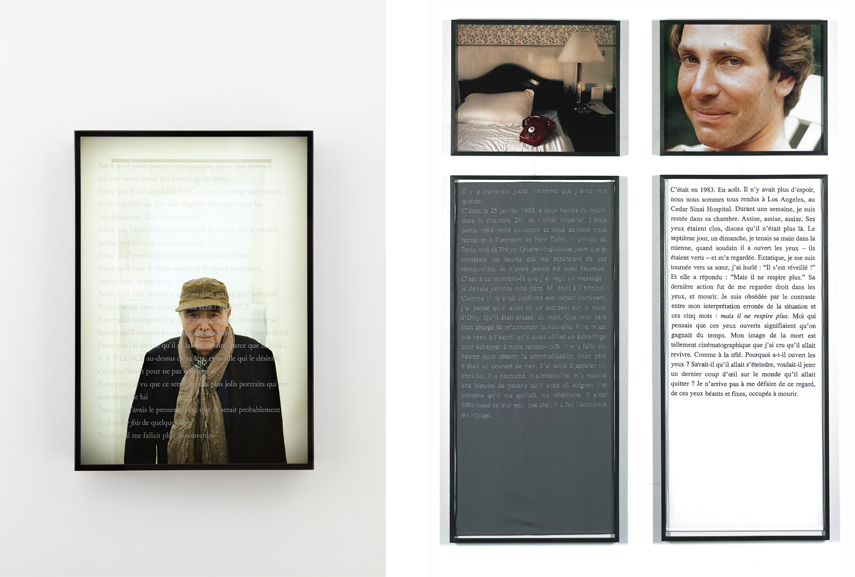 Dead End
For the piece entitled Dead End, Sophie Calle created something of a quite literal interpretation of that title - a grave.
Both an installation and a site for performance in the Provençal woods, it continues her practice of making art at cemeteries, like it was previously the case with Brooklyn and Geneva.
With this project, Sophie Calle questions the way we process love, loss and death, in public and in private, and it could be considered complementary to the two exhibitions that accompany it.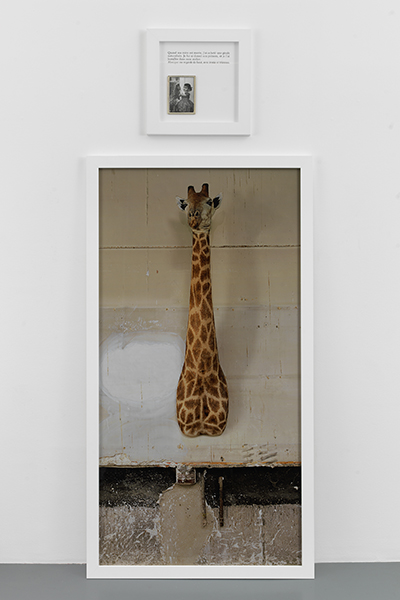 When my mother died I bought a taxidermied giraffe. I named it after my mother and hung it up in my studio. Monique looks down at me with sadness and irony.
Série Noire
In the Old Wine Storehouse, the visitors can find 46 framed books of Série Noire (Black Series), as well as Les Tombes (The Graves).
The former tend to ask a multitude of questions, from How do you deal with your dead ?, In an electronic address book, do you delete an acquaintance's name but do you keep your mother's ?, What do you feel when you hit the button: Delete contact ?, as well as pose statements like The Big Sleep, The Dead Don't Care, Farewell My Lovely, or Finish me Off.
The latter, as expected, represent images, in black and white, of tombstones installed on the floor. Created at the beginning of Sophie Calle's career, the series comprises photographs taken in a Californian cemetery.
Additionally, works from the series Ma mère, mon chat, mon père, dans cet ordre (My mother, my cat, my father, in that order) will also be exhibited, some of which have been made for the occasion of this exhibition.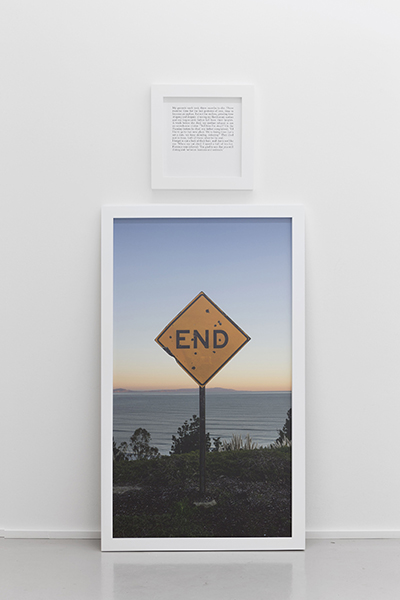 My mother, my cat, my father, in that order
My parents each took three months to die. Three months: time for the last gestures of love, time to become an orphan. But not the endless, grinding time of agony and despair, of seeing my flamboyant mother and my impeccable father fall from their heights. A week before she died, my mother refused to see an unwelcome visitor: "Tell him I'm dead!" On the Tuesday before he died, my father complained: "I'd like to go to that new place. We're losing time. Let's set a date, we keep delaying, delaying!"
 They died just in time, both of them: alive to the end.
I forgot to cut a lock of their hair, and that's not like me. When my cat died, I saved a tuft of his fur. Florence was relieved: "I'm glad to see that you still distinguish between humans and animals."
Douleur Exquise
In the Renzo Piano Pavilion of Château La Coste, shown for the first time in France since its conception in 2004 is Sophie Calle's Douleur Exquise (Exquisite Pain).
In 1984, the artist left for Japan to study on a scholarship. Ninety-two days later, she experienced a banal break, which turned out to be the most painful moment in her life.
In an effort to recount her suffering rather than her journey, Calle returned to France and started asking the question: When have you suffered the most? By exhausting her own story through telling it many times and releasing her pain in the company of friends and acquaintances who answered her question, she hoped that this exchange would cease.
Thus, the work is divided into Avant la douleur (Before pain) and Après la douleur (After pain).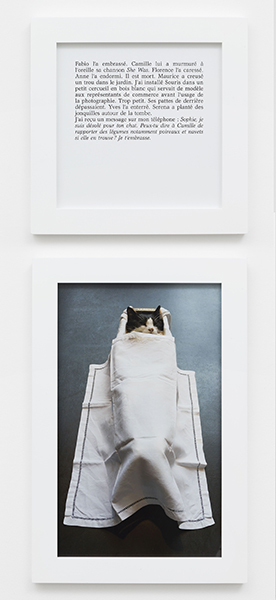 Fabio kissed him. Camille whispered her song, She Was, into his ear. Florence stroked him. Anne put him to sleep. He died. Maurice dug a hole in the garden. I laid Souris in a little white model coffin, the kind travelling sales reps would use before the advent of photography. Too small. His back paws were sticking out. Yves buried him. Serena planted daffodils around his grave.
 I received a message on my phone: Sophie, I am sorry about your cat. Could you ask Camille to pick up some vegetables maybe leeks or turnips if she sees any? Kisses.
Sophie Calle at Château La Coste
Once again, Sophie Calle blurs the boundaries between the public and the personal, the real and the artistic, the inner and outer experiences.
Dead End is on view from July 2 until August 15, 2018 at Château La Coste in Le Puy-Sainte-Réparade, France.
Featured image: Installation view, Sophie Calle, Dead End exhibition at Château La Coste, France. 2 Jul – 15 Aug 2018 © Stephane Abourdam, Wearecontent(s).