For years, Søren Solkær has been taking pictures of people, and not just any people - he is the man behind the iconic portraits of many musicians, rock bands and actors. Thanks to his ability to produce evocative, captivating, cinematic imagery, he was able to become one of the main contributors for world-renowned magazines like Q Magazine, Rolling Stone and GQ. But since quite recently, the Danish photographer devoted himself to street art in a particular way. Urban artists we all know and love, such as Blek le Rat, The London Police, Maya Hayuk, D*Face, Shepard Fairey and Borondo, have all posed for Søren Solkær, usually alongside their own artworks, murals and graffiti. The result is a comprehensive project called SURFACE, which evolved to be a marvellous book and a series of exhibitions that have been going around the planet for three years now.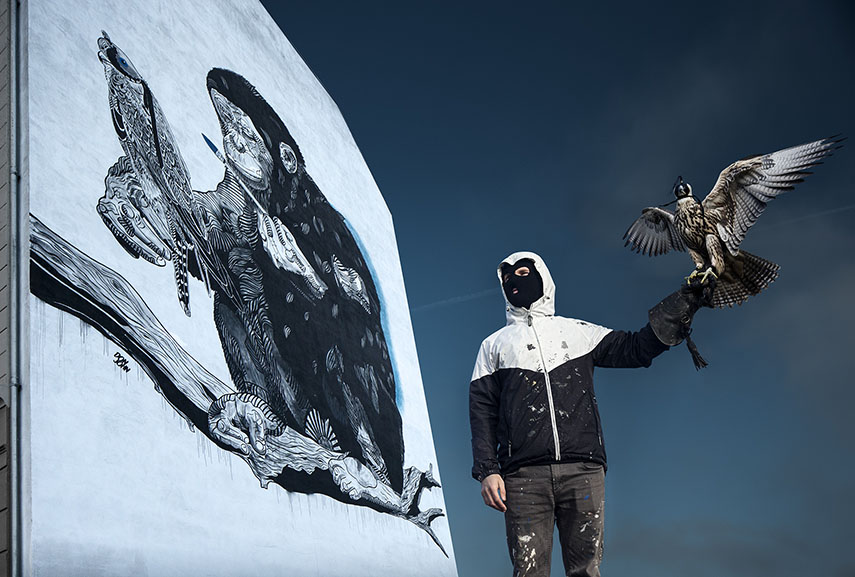 The Traveling Project of Søren Solkær
Since 2012, Søren Solkær has been on a journey to photograph leading artists who create art in public space. Recognizing the importance of this artistic movement, he visited cities like Berlin, London, Paris, New York, Los Angeles, Miami, Las Vegas, Stavanger, Athens, Sydney, Melbourne and Copenhagen in order to build a comprehensive portfolio of portraits. From roof tops, back alleys, studios and train stations everywhere, he transmitted the spirit of creation and provided us with a new look at how artists create and experience their work. In 2015, the exhibition was shown at galleries in Australia, the US, Denmark and Canada, while it will soon be on view at Vroom & Varossieau in Amsterdam and BLDG Gallery in Covington, Kentucky.
We talked to Søren Solkær about the idea behind SURFACE, the biggest challenges on the road, as well as the (bright) future of this remarkable project. Scroll down!
SURFACE by Søren Solkær
On the Creation of SURFACE
Widewalls: You're mostly known for your portraits of music legends. What made you go from photographing them to taking pictures of street artists?
Søren Solkær: I actually photograph both, but the last three to four years the main focus has been on street artists. It is a story that began in the early eighties when I discovered breakdance and graffiti. It was the first passion in my life and it was only natural for me to visit a lot of the artists that came from that same tradition.
Widewalls: Why SURFACE as the title of your latest show? What does it refer to exactly?
SS: The last book I did before SURFACE was called CLOSER. It was a lot of intimate personal portraits of artists. When I embarked on the SURFACE project I soon realized that I would not be doing psychological portraits, since half the artists wanted to cover their faces. Instead the challenge became portraying the artists through their urban surroundings, wall, textures and artwork.
Widewalls: How does an image come to life? Do you propose an idea to the artist or vice versa? Or both?
SS: Both. In some cases I have a very specific idea that requires props or masks that I need to prepare before the shoot. I then share those ideas with the artists and we collaborate on it together. Other times the artist is more involved in the creative process or has a great idea. I generally see my portraits as a sort of collaboration.
Widewalls: A hundred and forty artists is quite a collection. When it comes to these portraits, what are the elements that must come together in order for you to get what you want in an image?
SS: They must convey the story about the artist and his work. I aim for them to be surprising, creative and cinematic.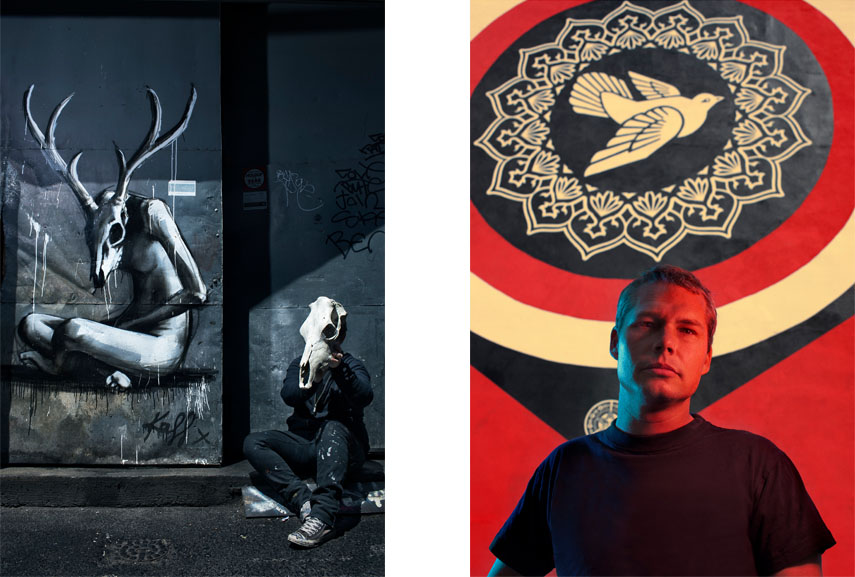 A Portrait of a Street Artist
Widewalls: What were the biggest challenges you had to encounter while working on SURFACE?
SS: The whole project has been a very long and hard chase. Trying to connect with a tribe of paranoid nomads must be on the hardest challenges I have ever taken on.
Widewalls: Can you name one (or a few) of your favorite sessions with a particular artist?
SS: Some of the sessions that are the most memorable were shooting Borondo, Elle, Seen, Blek Le Rat and Victor Ash.
Widewalls: Are there any artists you haven't had a chance to collaborate with so far, yet you'd like to?
SS: Yeah, there are still some on my list: Pixel Pancho, JR, Banksy, Retna, Blade and quite a few others.
Widewalls: What was the response to the book and all the exhibitions you've had last year?
SS: It has been really well received everywhere, both by the artists and the general audience. For many of the artists it is like the missing family album suddenly appeared.
Widewalls: Will we see more of SURFACE in the future?
SS: I have just started to take more photographs for Surface and have plans for exhibitions in Amsterdam, London and Beijing during the next year. I think there's plenty more to come.
Widewalls: What are the projects you're working on right now?
SS: I am working on a book with photographs of airplane wings from my last seven years of travelling. Quite an abstract project. And I am starting to think about a second edition of Surface.
 Editors' Tip: Surface
Traveling the globe with his camera, Søren Solkær created SURFACE, a collection that captures some of the most important names in street art and graffiti. Dynamic images of artists alongside their work provide an adrenaline-fueled look at street art culture and the creators that paint, tag and wheat paste every wall, bridge, building and sign they can reach. Street art aficionados will be captivated by the images of their favorite artists, while the uninitiated will be instantly drawn in by the unrelenting color and in-your-face design of every piece. Surface reaches down deep to capture the living, beating heart of the street art scene. Artists featured include COPE2, ELLE, DabsMyla, Shepard Fairey, LISTER, and more.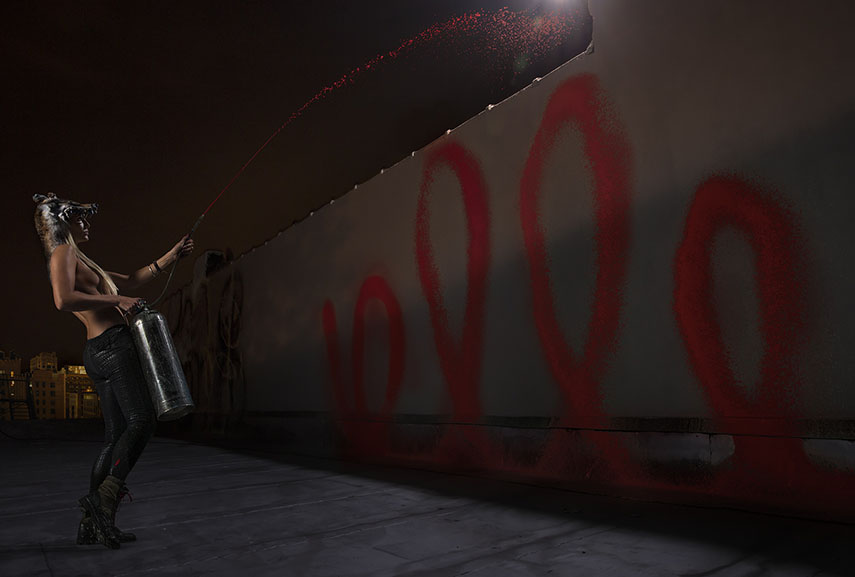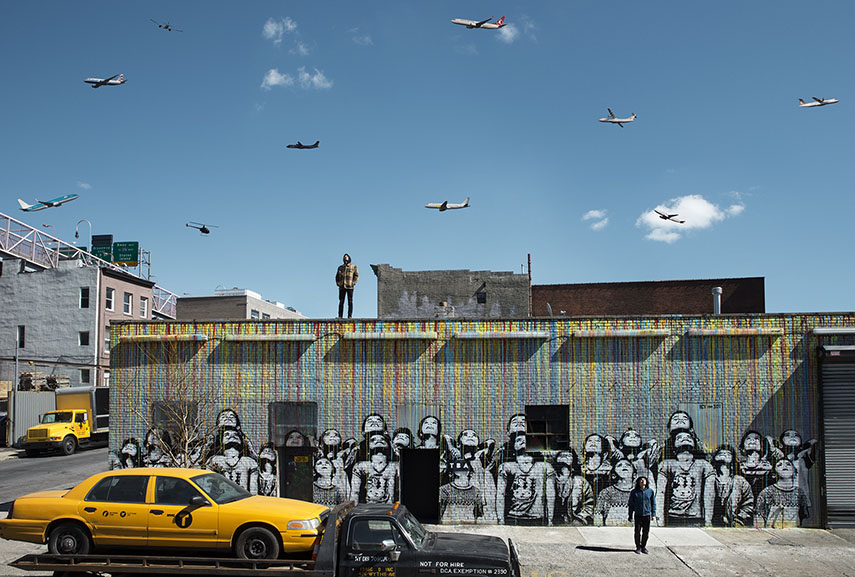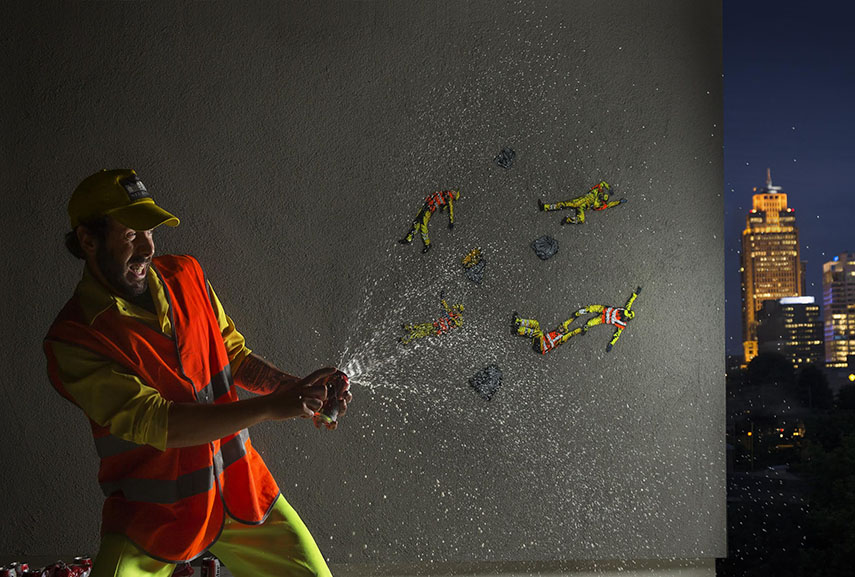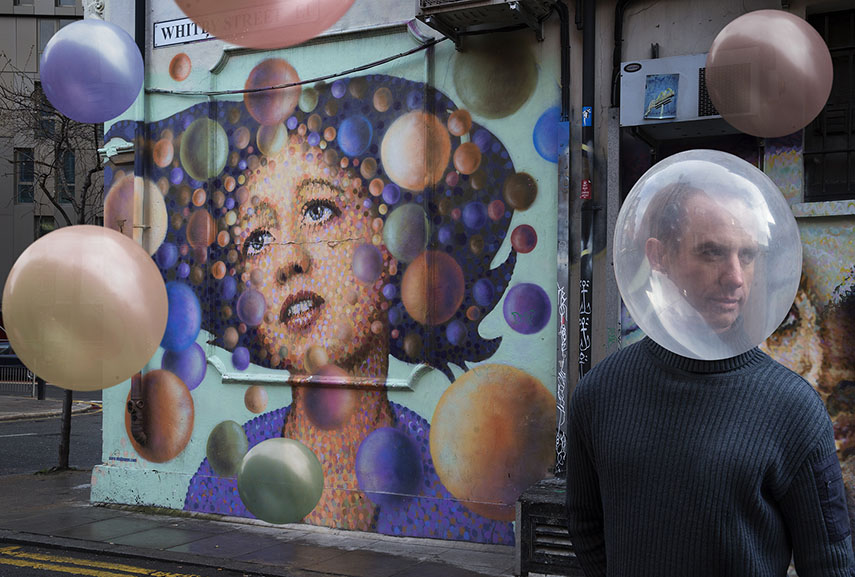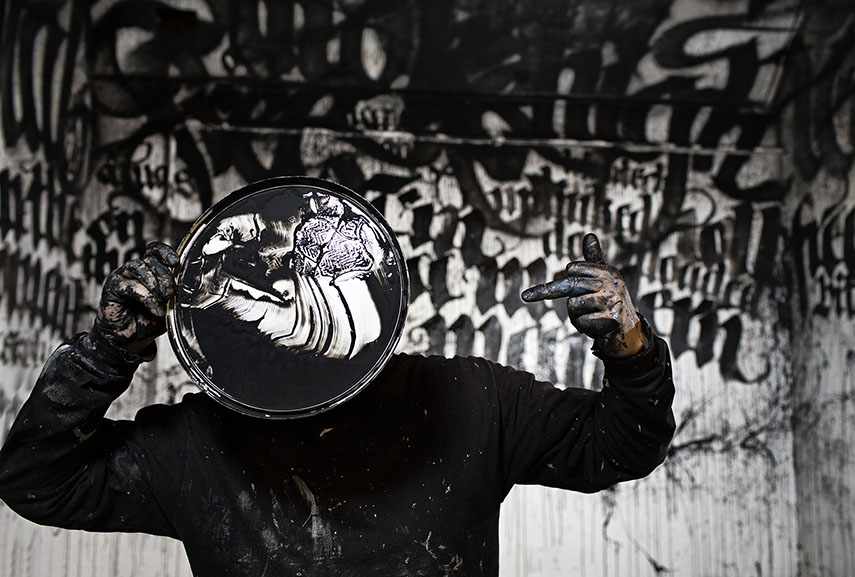 Featured images in slider: Victor Ash (France), Berlin 2013; Blek le Rat (France), Paris 2014; Borondo (Spain), London 2014; D*Face (England), London 2013; Dabs Myla (Australia), Los Angeles 2013; Lister (Australia), Miami 2013; Ludo (France), London 2012; Maya Hayuk (USA), New York City 2014; Seen (USA), Las Vegas 2014. All images courtesy of Søren Solkær.