Sotheby's has surely found a way to promote their upcoming Master Painting sale in a unique way! The auction house, along with New York's Fat Free Art gallery, invited a group of famous street artists working out there today to reimagine works from the sale using their trademark materials and styles! Prepare to see the paintings made between 15th and 17th century in a new light, in an exhibition titled Street Masters and taking place in the next two weeks at the gallery's Lower East side space.
Street Masters: Sotheby's & Fat Free Art Gallery
Street Masters
Anthonie de Lorme, Lucas Cranach the Elder, Johan Baptist Covaerts, Agnolo di Domenico del Mazziere, Giuseppe Maria Crespi. These are the painters whose notable works will now be re-interpreted by modern-day creatives, in their own spin. Among those who will be inspired by them are British street art legends Nick Walker, Fanakapan and Zeus, Japanese artist Lady Aiko, Lisbon-based Pang and Spaniards Belin and Sr. X, as well as Mariana Oushiro, Fumero, Jongmin Kim, Nailah Fuller, Nick Smith and Tomaso Albertini. The show represents a chance for the audience to witness the way Renaissance art and Master paintings get incorporated in the contemporary context, through the means of spray can, photography and even collage.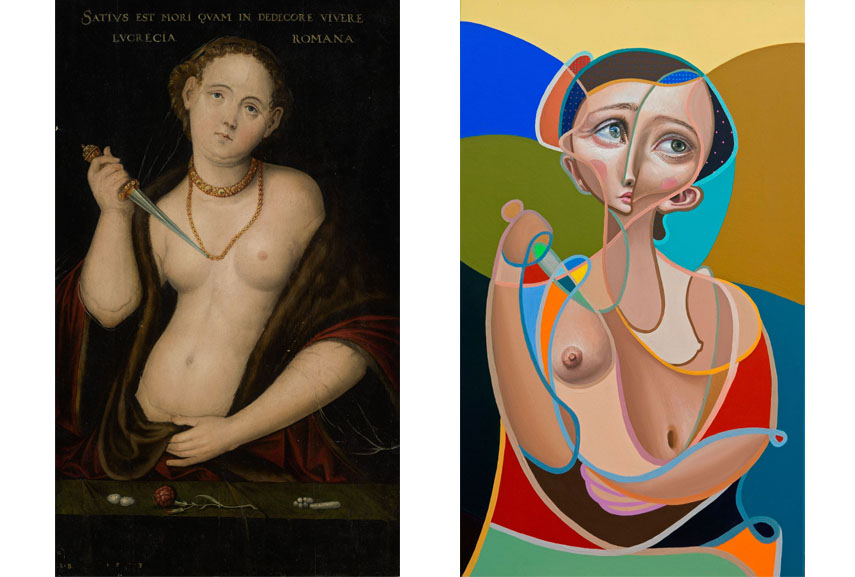 New Ways of Looking at Art
That artists pay tribute to other artists is hardly something new in the art world, and when it comes to street art in particular, we can all remember Banksy's own version of Girl with the Pearl Earring in Bristol from a few years ago as perhaps the most famous example to date. This latest move by Sotheby's only reaffirms Urban art's progressive position as one of the most exciting and fastest-growing contemporary art movements, followed by last month's remarkable sale of a Basquiat painting for $110.5 million at an auction. Street art is no longer a covert and neglected means of expression, and while not everyone supports that fact, we can all agree it is very much happening as we speak. It will certainly be interesting to see how the art world continues to embrace it.
The Street Masters exhibition will be on view between June 2nd and 14th, 2017, at Fat Free Art, while Sotheby's Master Paintings auction will be held on June 8th.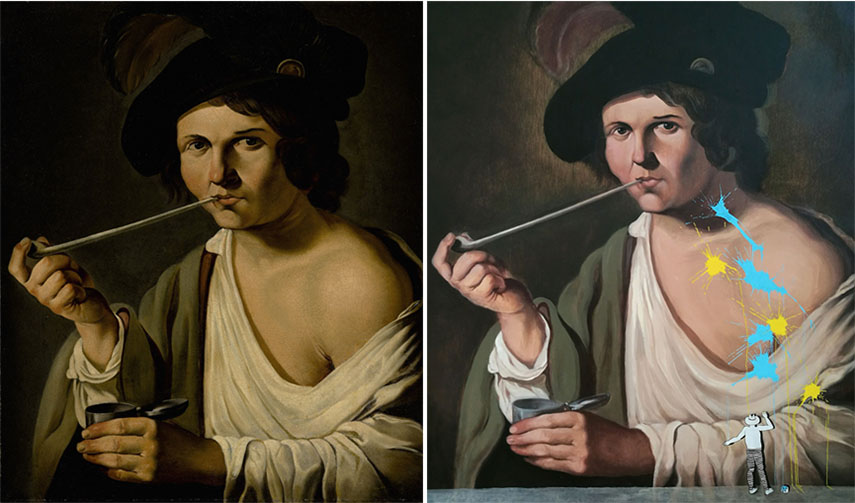 Featured images: Left: Agnolo di Domenico del Mazziere, Portrait of a Boy, Half Length, In a Landscape, Dressed in Black Robes and Cap / Right: Tomaso Albertini, Soul of a Boy; Anthonie de Lorme, The Interior of a Renaissance-Style Church; Lady Aiko, The Church of Aiko; Left: Johan Baptist Govaerts, Still Life of Flowers and a Bird's Nest on a Stone Ledge / Right: Jongmin Kim, Live Urban Flowers; Nailah Fuller, Untitled. All images courtesy Sotheby's.