Debuting an innovative new format for the live auction events, Sotheby's marquee evening auctions realized a stunning $363.2 million on Monday night. In an unprecedented series of three auctions, conducted remotely by Chairman and auctioneer Oliver Barker in London, the live global auction event achieved 93% lots sold. The sales were led by tree private collections, The Ginny Williams Collection, The Collection of Harry W. and Mary Margaret Anderson and The Vanguard Spirit Modern and Surrealist Masterworks from an Important Estate, and saw spirited bidding with Sotheby's specialists in New York, London and Hong Kong taking phone bids live on camera. Let's take a look at what sold.
The event was launched with The Ginny Williams Collection Evening Sale, achieving a total of $65.5 million in a white glove showing – soaring past its high estimate of $51.7 million. The sale featured works by Abstract Expressionist and contemporary artists – including artworks by pioneering female modernists. Among highlights are Lee Krasner's Re-Echo sold for $9 million, becoming the second-highest price for the artist at auction; three works by Joan Mitchell that brought $22.7 million; Helen Frankenthaler's Royal Fireworks sold foe $7.9 million, nearly $5 million past its estimate; and three sculptures by Louise Bourgeois that totaled &6.8 million.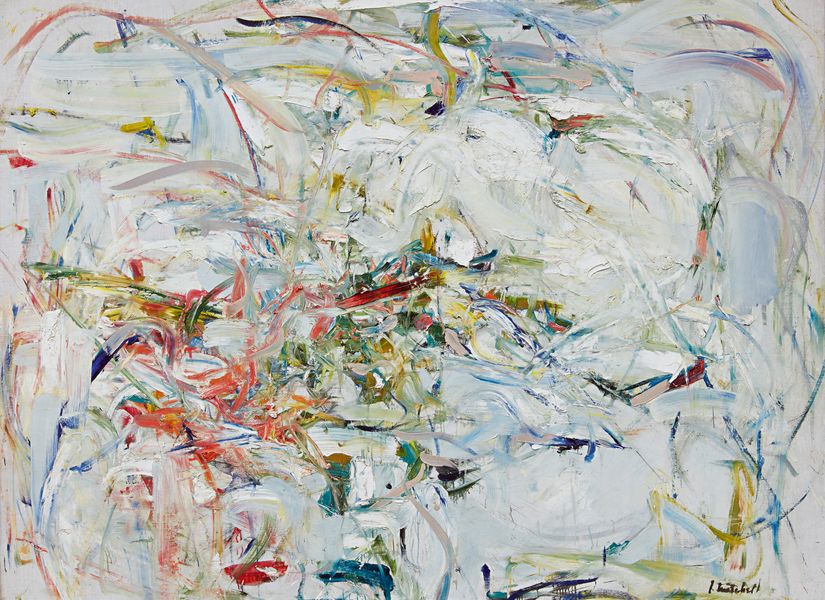 The Contemporary Art Evening Auction
Two Contemporary Art auctions together achieved $300.4 million - surpassing Sotheby's November 2019 evening total for the category.
The Evening sale was led by Francis Bacon's 1981 large-format masterwork Triptych Inspired by the Oresteia of Aeschylus, one of 28 large-format triptychs that the artist created between 1962 and 1991, and only the 6th example ever to appear at auction. This ambitious, enigmatic and important work, that was inspired by Aeschylus's trilogy of Greek tragedies dating to the 5th century B.C., was sold for $84.6 million, marking the artist's third-highest price ever at auction. which was sold to a phone bidder with Grégoire Billault of Sotheby's NY Contemporary Art Department following a ten-minute bidding battle with an online bidder participating from China.
Other highlights include Roy Lichtenstein's White Brushstroke I sold for $27 million; Jean-Michel Basquiat's invigorating Untitled (Head) that brought $15.2 million – a record for a work on paper by the artist and Sotheby's highest-ever price for a work sold to an online bidder; Matthew Wong's hypnotic 2018 work The Realm of Appearances, which achieved $1,8 million to set an auction record for the artist; and a spectacular group of ten abstract masterpieces from the Collection of Harry W. and Mary Margaret Anderson that sold for a total of $66.3 million, led by Clyfford Still's masterwork 1947-Y-No. 1, which realized $28.7 million.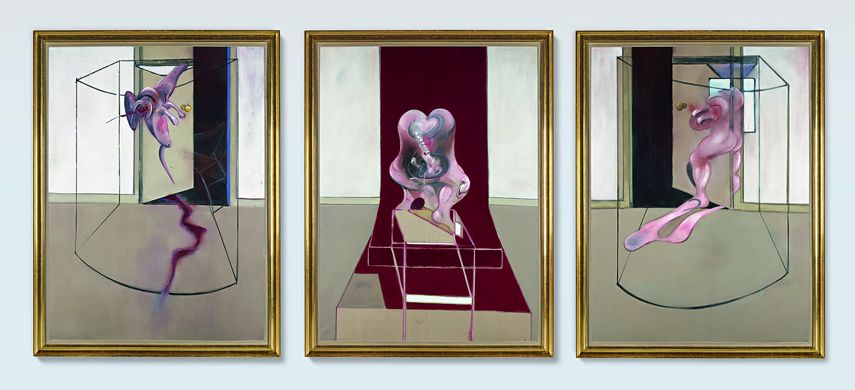 The Impressionist & Modern Art Evening Sale
The last auction of the night, the Impressionist & Modern Art Evening Sale brought 11 works from The Vanguard Spirit, one of the most distinguished private assemblages of Surrealist and Modern Art from Latin America ever to appear at auction. Together, the works achieved $26.6 million and set 5 new world auction records.
The auction was led by Wifredo Lam's Omi Obini from 1943, only comparable to his masterwork The Jungle, also from 1943, which resides in the Museum of Modern Art, New York's permanent collection. This stunning piece went for $9.6 million, setting a new world auction record for the artist.
A group of 7 works by women surrealists was led by two oils by Remedios Varo exemplary of her signature fantastical imagery and complex narratives - Armonía (Autorretrato Sugerente) from 1956 which brought $6.2 million, setting a new world auction record for the artist; and Microcosmos (or Determinismo) from 1959 which achieved $1.8 million. Other highlights from the group include Leonor Fini's Terrace (Composition with Figures on a Terrace; La Terrasse) from 1938 sold for $980,000 and Alice Rahon's Los Cuatro hijos del arco iris from 1960 that brought $512,000.
The sale also set a new world auction record for Mario Carreño, whose work Cortadores de caña from 1943 that was included in the landmark MoMA exhibition Modern Cuban Painters was sold for $2.7 million.
The final auction of the night was led by Pablo Picasso's 1934 depiction of his golden muse Marie-Thérèse Walter, Tête de femme endormie (Head of a Sleeping Woman), which sold for $11.2 million. Other two works by the artist that achieved strong prices are Femme assise from 1929, a Surrealist painting which depicts his first wife, Olga Khokhlova, sold for $4.8 million; and Le reservoir, one of his finest landscape paintings from the 1950s, achieved $2.9 million.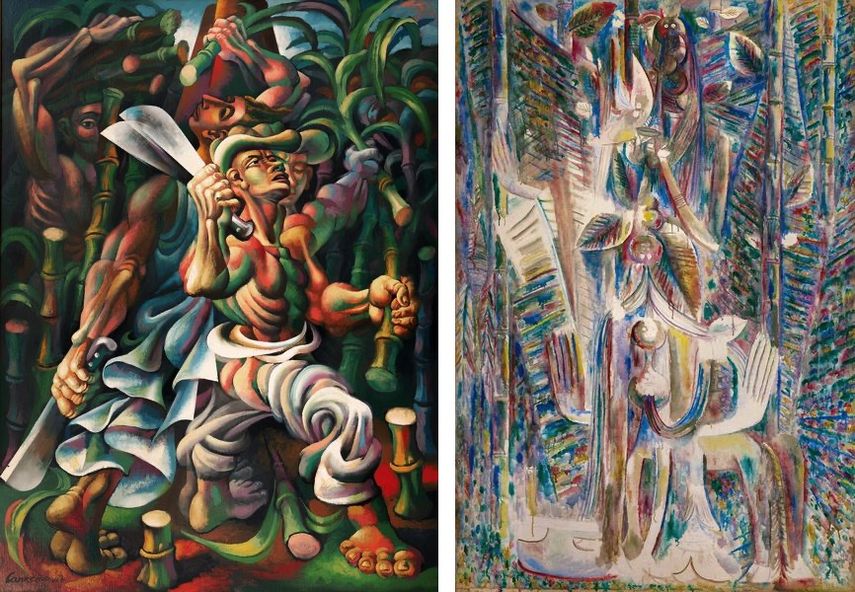 A New Era for Marquee Auctions
Revolutionizing its marquee auctions during these unprecedented, Sotheby's presented world-class artworks in a dynamic, multi-camera event live streamed around the world, capping off a season of digital innovation. Prior to the sales, clients could browse a new digital catalogue, plus view enhanced imagery, video for every lot and more multimedia features to facilitate a deeper exploration of the artworks.
Oliver Barker, Chairman of Sotheby's Europe, and the evening's auctioneer described the event as "being at the epicentre of a cinematic production" as Sotheby's "redefined the boundaries of what is possible."
We would never have envisioned, even a few months ago, that it would be possible to hold a series of flagship New York sales as an unprecedented live-streamed event, with banks of telephone- bidding colleagues beamed in from around the world.
David Galperin, Head of Sotheby's Evening Auctions of Contemporary Art in New York, said that "the depth of bidding was seriously impressive tonight, with heated competition for a wide range of works" with "moments we will all remember."
The enthusiasm for exceptional works of art reiterated the great demand for quality that stands strong in the market.
Julian Dawes, Sotheby's Head of the Impressionist & Modern Art Evening Sale in New York, remarked they were "thrilled with the results from tonight's sale, which was marked by tremendous lot-by-lot successes"
These results showcase how Surrealism continues to grow as a category to include more diverse artists from around the world and achieve new benchmarks that compete with their peers. As the market continues to embrace new artists, alongside strong results from established mainstays, there is no doubt the market remains resilient and growing, as tonight's sale clearly showed.
Featured image: Lot 1014 - Pablo Picasso, Head of a Sleeping Woman (Tête de femme endormie). All images courtesy of Sotheby's.