Revealing a tendency towards staging and clear lines, Sozyone art explores the dark world of futuristic Anarchy through a magnifying glass. Studying linear deformation, the "anti-bon-goût" and systematic opposition, Sozyone Million Gonzalez distances himself from the communication and deepens his unique sense of aesthetics, where colors become simple values of tones fighting each other in an unequal combat between the fluid outlines and their position in space. After participating in a group show together with Honet and Sixe Paredes in 2015, Sozyone returns to Golden Hands Gallery with a solo show to celebrate the gallery's second anniversary. Titled Forever Young, the exhibition is a result of an extended artistic journey born from the desire to reach a whole new level of artistic expression.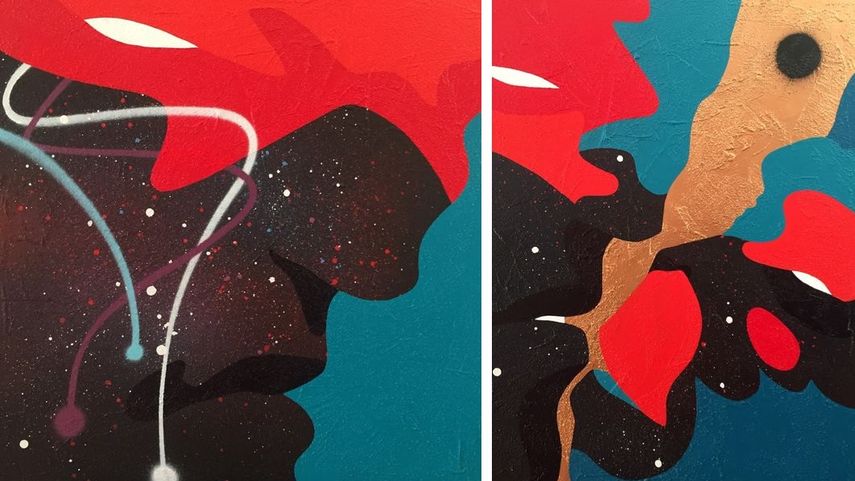 Forever Young - Sozyone Gonzalez
After having a feeling of being stuck in a repetition in his practice so far, Sozyone Mllion Gonzalez has returned to Santa Magnetica, taking his time to reflect on his work and the possibilities of escaping the circle he felt he was in. Feeling that he had gained inspiration for another twenty years from that experience, he came back with an exhibition concept for Forever Young, with a title referring to his clarity and perfection of nature. For this show, the artist samples collages, uses acrylic paints in layers, and works with spraypaint and brushes. Drawing, printing and cutting in his very own rhythm and flow, Gonzalez created intense artworks that are balanced between harmony and oppositions. This new body of work is brings a hard and rough attitude with a sensitive touch.

The Practice of Sozyone
A famous Belgian artist and musician who have been painting since '89, Pablo "Sozyone" Gonzales has lived through a decade saturated in culture: the break-dancing of the 80s, the graffiti of the 90s, the gallery crawl of the 00s. Born in Brussels, his art was influenced by his neighborhood, its stories and legends. His unique visual style is impregnated with Marvels, abstract futuristic mathematics, alphabetical contructivism, and facial Picassonic Cubism. At the same time brutal and refined, his paintings suggest the violence of the cities, its mechanism and the feline elegance of its cat-burglars. After various stays in different countries, his path has finally led him to Santa Magnetica – the place of his desire and a new source of inspiration.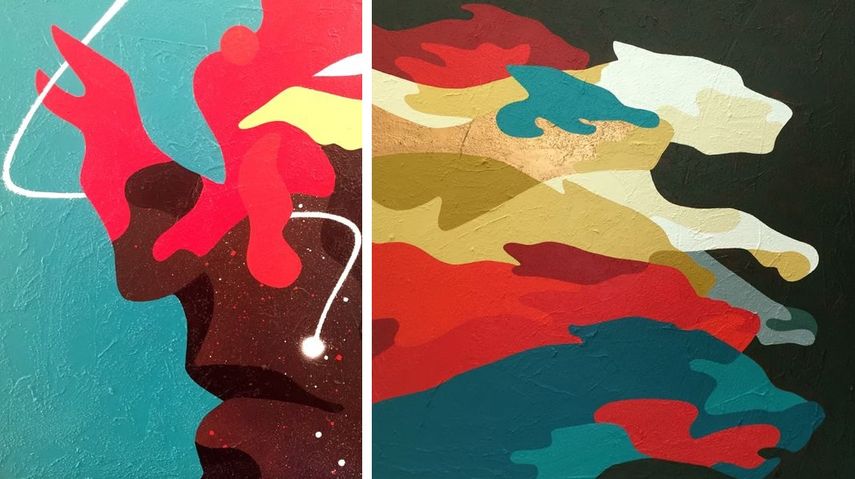 Sozyone Art at Golden Hands Gallery
The exhibition Forever Young by Sozyone Million Gonzalez will be on view at Golden Hands Gallery in Hamburg from March 23rd until May 25th, 2017. The opening with personal introduction by Pablo Sozyone Gonzales will be held on Thursday, March 23rd, from 4.30 p.m. After this show, the artist will have further solo shows in Paris and Zurich this year, besides further murals and publications.
Featured image: Sozyone Gonzalez - The Ghetto (detail). All images courtesy Golden Hands Gallery.