Originating in the 60s and strongly related to the hippie movement, psychedelic art is associated with the pictures seen or experienced while in the altered state of mind provoked by the use of various hallucinogens, such as LSD or mescaline. Hardly ever a separate style, psychedelic artistic expression was always overflowing with color, odd, organic or other repetitive shapes, image disintegration or hybridization, all together often related to kitsch. In a strict and uptight art world, the kaleidoscopic art was largely abandoned, but, according to the curator Phong Bui, it seems as if it's making a comeback, started around 2010. (The claim supports the popularity of the Superflat inventor Takashi Murakami, while his psychedelic creations can be seen, among other places, at his Milan Palazzo Reale exhibition we covered). An ongoing show he authored at Red Bull Studios is entitled Spaced Out: Migration To the Interior, is entirely dedicated to artistic trips of a very wide selection of artists born between 1920s and 1980s. The work represented is just as mind-blowing as expected, while the exhibition space supports it perfectly with its rainbow floors and colorful interior. So, put on your kaleidoscope glasses and step into the interior of shifted awareness.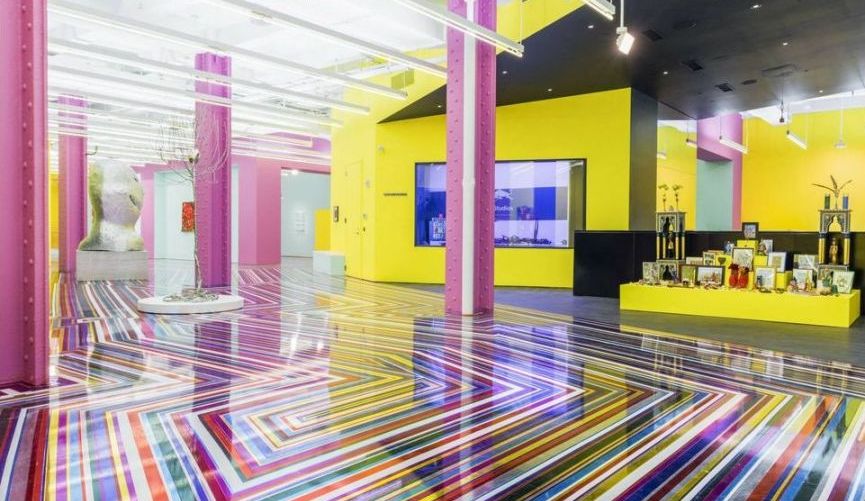 Phong Bui Migrates Into The Mind
The idea for the Spaced Out exhibition came to the curator after seeing the vivid space of Red Bull studios, which reminded him of Austin Powers movie set. Consolidated with his previous contemplations, psychedelically themed show caused even more transformation in the room, adding more fluorescent colors, textures, light and visually influential solutions pertinent to the artwork. Rainbow colored vinyl tape runs through the 3,000 sq ft space of the first floor gallery, a Jim Lambie installation, alludes to the optical abundance of the deliberately caused oneiric state, while also being the artist's first public tape installation since the one in MoMA New York in 2008. The lower gallery floor is adorned with pink cotton-candy carpet, making the whole space float in the seductive nowhere of candy-colored imaginarium. Artworks and installations set in the already crazy space attack all the senses, from the endless rows of colored patterns or objects, to the vibrating effects of an artificial mescaline cactus, all seasoned with lights, portray a different 'normal', the one which is omnipresent, but greatly tabooed.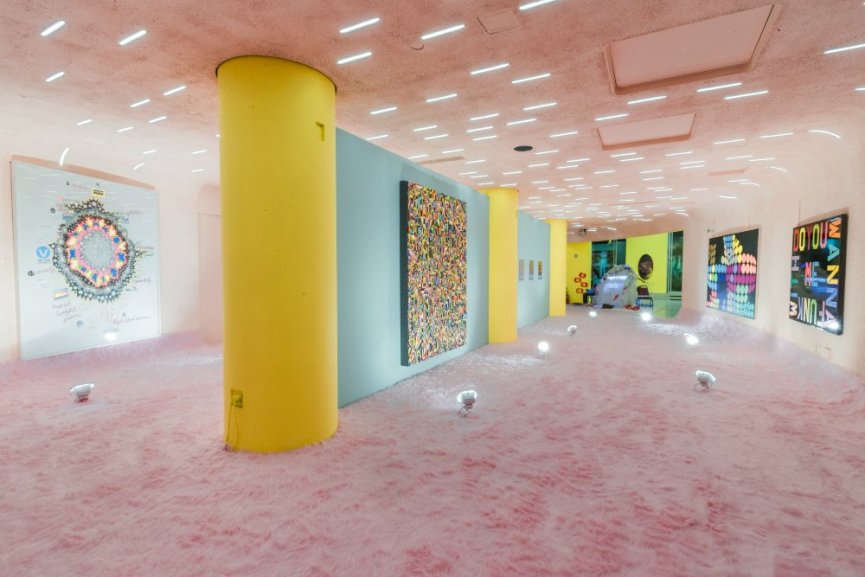 All Generations Hallucinate Together
In collaboration with Rail Curatorial Projects, Phong Bui chose a group of artists who share an interest in exploring psychedelic experiences, from confusion about time, trance induction, illusions, changed awareness, and psychonautic novelty theory. Considering psychedelia as a highly liberal place prone to creativity, the selected artists have created a range of works that challenge the observer's perception, through the bold usage of color, pattern, mangled shapes and forms, imagined characters and imagery, repetition or chaotic compositions.
The roster of artists at Spaced Out is impressive, including several big names of the previous century. Participating artists are Joe Amrhein, Gregory Crewdson, Cao Fei, Keltie Ferris, Sylvie Fleury, Robert Gober, Tamara Gonzales, Deborah Kass, Jon Kessler, Jim Lambie, Charles LeDray, Chris Martin, Takeshi Murata, John O'Connor, Roxy Paine, Bruce Pearson, Rona Pondick, Ugo Rondinone, Alexander Ross, Mika Rottenberg, Will Ryman, Peter Saul, James Siena, Philip Taaffe, Kazumi Tanaka, Fred Tomaselli, Ryan Trecartin, Richard Tuttle, Leo Villareal, Peter Lamborn Wilson, Lisa Yuskavage, Yoshihide Sodeoka, Eva Papamargariti, Faith Holland, Michael Mallis & Mikey McParlane, Alexander Dupuis, and Brenna Murphy, all belonging to different generations, but with this show all taking part in the demonstration that art and imagination, in combination with fully liberated human mind, are timeless.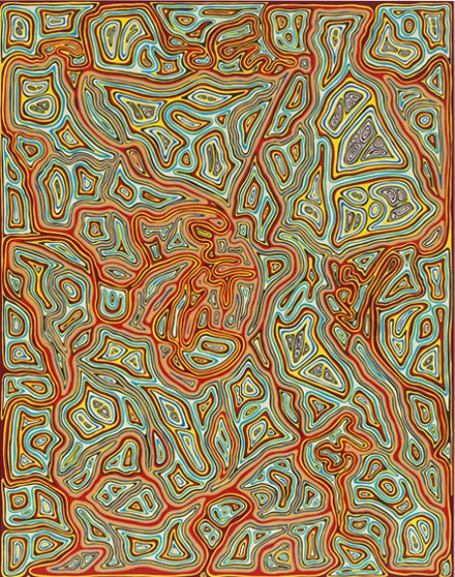 Space Out With the Help Of Art
Spaced Out: Migration To The Interior opened on October 10 at Red Bull Studios, and it will run through December 14, 2014. The show will be accompanied with various poetry readings, performances, films, discussions, keeping the subject of the psychedelic creativity alive and free.
More psychedelic art is made by Assume Vivid Astro Focus who thrive on color and craze, it makes the body of work of Artists Anonymous collective, or if perceived otherwise, art can be created with the use of hallucinogenic substances as the medium.