What if we told you that you could own an artwork by the likes of Grayson Perry or Tracey Emin for less than a dollar?
The Royal Academy of Arts in London is marking its 250th anniversary this year, by partnering up with the Royal Mail and 6 prominent British artists and Academicians to create a set of six Special Stamps.
The designs, all specially commissioned artworks, are also accompanied by a selection of collectibles and souvenirs you can also get your hands on!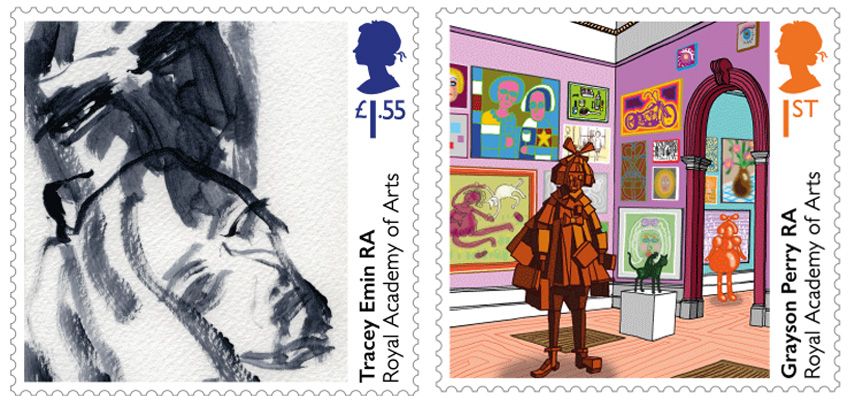 250 Years of the Royal Academy of Arts
The Royal Academy of Arts was founded back in 1768, with the aim of promoting the employment and appreciation of visual arts and giving a platform to artists.
As it was revealed on May 25, the original works for the anniversary were created by Royal Academicians: Norman Ackroyd CBE, RA; Tracey Emin CBE, RA; Grayson Perry CBE, RA; Fiona Rae RA; Barbara Rae CBE, RA and Yinka Shonibare MBE, RA.
The images produced for the stamps depict the artists' reflection on their works and the RA's most famous showcase - the Summer exhibition. Arguably "the only exhibition where some of the world's greatest artists show alongside amateurs", it includes works in a variety of genres and media.
Held for the 250th time in 2018, it will open on June 12 and will be co-ordinated with Grayson Perry.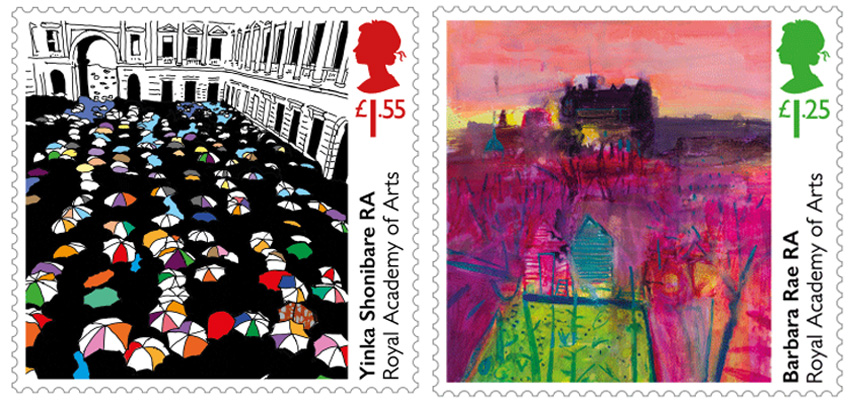 The Special Stamps
Each of the Special Stamps designs salutes the RA of course, but it also reflects on the style of its artist.
Norman Ackroyd's St Kilda: The Great Sea Stacs is in line with his monochromatic depictions of islands, coastlines and landscapes of the UK; in this case, we see a detail from the St Kilda archipelago in Scotland. Saying Goodbye by Tracey Emin carries a sad note within it, as it is a homage in form of a study dedicated to the artist's dying mother.
Grayson Perry donned a self-portrait, as if interpreted by Andy Warhol, in his Summer Exhibition stamp, while Fiona Rae's Queen of the Sky is an abstract piece soaked in bright colors.
Inverleith Allotments and Edinburgh Castle by printmaker Barbara Rae is, as suggested by the title, depicting an abstract picture of the Edinburgh Castle and the surrounding park. Finally, Yinka Shonibare's Queuing at the RA is based on his 2016 71-meter long collage of archival photographs, which served to "wrap" the scaffolding on the RA's Burlington Gardens.
The stamps and souvenir products can be pre-ordered now and are available from 7,000 Post Offices nationwide from 5 June 2018.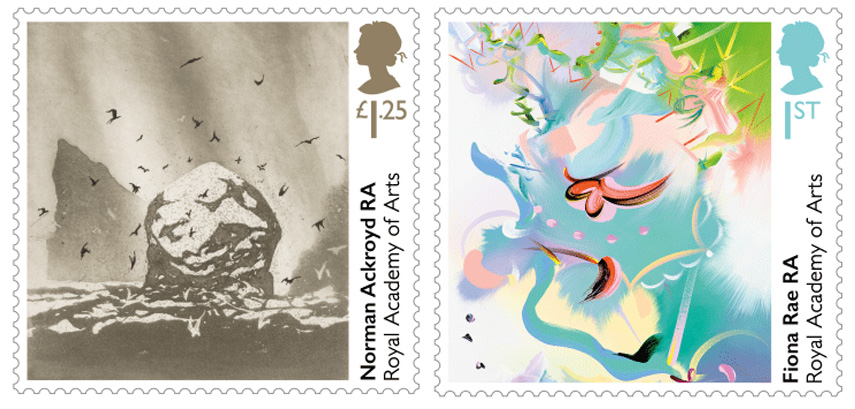 All images via the Royal Academy of Arts/Royal Mail.