Was there any doubt that Miami will be THE place to be in December? One more reason for that is the Spectrum Miami art show, taking place at a brand new location this year - in Miami's Performing Arts District, co-locating with Red Dot Art Fair. A Miami Art Week event not to be missed, Spectrum Miami is proclaimed much more than an art show, as over the years it has become a true five-day art experience. Expecting even more than last year's 26,000 visitors, the fair will present top galleries and artists from the United States and around the world, along with live performances, curated projects and late night parties, numerous talks, exhibitions and even a mural painting event.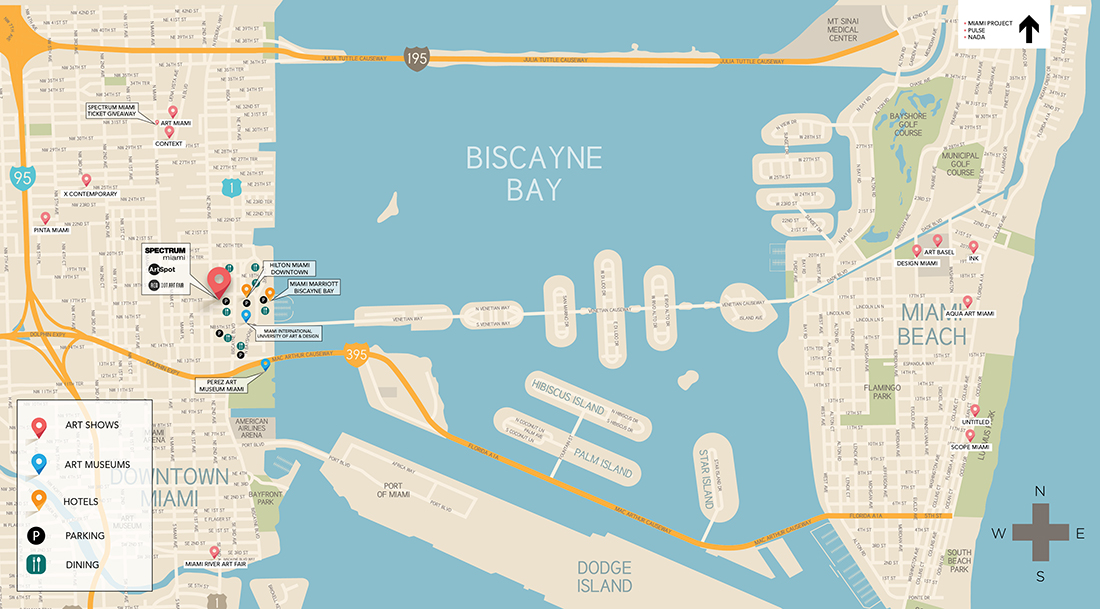 Participating Galleries
More than 160 artists, galleries and publishers will participate at the 2015 Spectrum Miami, bringing along a rich variety of artworks in all kinds of media. Deriving as a result of the influence of different historical movements, the visitors and collectors can find works ranging from Pop Art at galleries like Timmy Sneaks, Abstraction in the pieces by Sonali Kukreja, Abstract Expressionism at David Hart Studios, contemporary fine art photography at H. Allen Benowitz, drawings at BlinkGroup Gallery, surrealist sculpture at Anna Voloshko, fashion design at Originale Art + Design, to name just a few.
List of Exhibiting Galleries
The Program
As the sunny Florida city becomes a hub for collectors, gallery owners, dealers, curators, artists, and art lovers, Spectrum Miami will join the celebrations with an extensive program. The theme of this year's edition is [EMERGENCE], which explores the way artists affect and reflect each other's work and examines the nature of the response evoked by the attending audience. Under such thematic umbrella, there will be site-specific projects, talks and panel discussions, a selection of dynamic film, video and new media works, as well as a curated selection of emerging and spotlight artists.
Focusing on Cuban art, this year's special exhibition will be ARTE Cuba, curated by Stacy Conde, an established gallerist specializing in Cuban art. The show will present a curated group of modern and contemporary art from Cuba, represented by galleries, dealers and artists themselves, in celebration of recently re-established relationship between Cuba and the United States.
Returning to Spectrum Miami there's also ArtSpot International, described as "a show within a show". Curated by director Aldo Castillo, an esteemed figure within the world of the arts, it puts a strong emphasis on Latin-America through modern and contemporary art galleries working with painting, photography, sculpture, mixed media and ceramics.
Other program highlights include Art Loves Fashion, the syndicated fashion series hosted by Planet Fashion TV on opening night. This private event will feature fashion shows, cocktails, and a live performance by a special celebrity recording artist, as well as fashion shows from Burberry Collection and LA Fashion Week's emerging design star. Art Labs will feature special curated projects by several leading Miami-based art institutions, alternative spaces, and universities within the show. In ARTPLAY, a group of artists will create their next masterpiece before the Spectrum Miami public, inspired by the [EMERGENCE] theme. Light the Night will showcase video, light mapping and interactive installation by three artists, which will illuminate the facade, patio and Sculpture Garden of the fair. Spotlight Artists provides collectors with a selection of five up-and-coming artists, each creating a site-specific solo exhibition. Similarly, an unrepresented artist will get a show as well, as part of LaunchPad.
Spectrum Miami 2014 Show Recap Video
The Help Hope Nepal Mural
A special fundraising curated international call for artists, entitled Help-Hope-Nepal Mural will take place at Spectrum Miami art fair, organized by Contemporary Art Projects USA. As many as 400 artists will come together to create a mural to benefit the April 2015 Nepal Earthquake victims through the MAITIRELIEFFUND. This mix of innovative media will include, painting, photography, 3D printing, digital art, and mixed media. Among them, three international curators will choose 300 artworks (one per artist) based on artistic excellence, innovation and originality. For more information, visit their official website.
Spectrum Miami 2015 Floor Plan
Spectrum Miami - Practical Visitors Information
Spectrum Miami art fair will be held from December 2nd through 6th, 2015 at Spectrum Miami Tent. The opening preview is set for December 2nd from 6pm to 10pm. Fair hours will be from 1pm to 9pm on December 3rd through 5th, and from 12pm to 6pm on December 6th. Tickets prices range from $50 for the opening preview and 5-day show pass, $20 for the general admission and $10 for student and senior admission. The entry is free for children under 15. For more information, visit the official website.
Featured images in slider: Patricia Rieger - Cold Song VIII; Anna Voloshko - Metamorphosis; Gala Moskvitina - 07 12. From Sparkles series; James Paterson - Imagination Is My Carnival of Prayer. All images courtesy of Spectrum Miami.