Hundreds of naked bodies brought together and intertwined - in real life, you would probably either think of an orgy or Ancient Greece. In the art of Spencer Tunick, it is neither of the two. The artist displays a remarkable capacity to transform the human body into an element, a decontextualized cell whose purpose becomes clear once in relation with other bodies, when contributing to a greater picture together. Using some inexplicable magical code, Spencer Tunick transforms the human body into flesh, but not even in the purely organic sense of the word. Human bodies are deprived of their social and psychological notions, detached from their original context and established within the surroundings of the scene directed by the conductor himself. This makes us equally confused and amazed, and finally leaves us in awe of the aesthetics of these beautiful, structural assembles, and of the artist's power to conceive and to realize a piece as complex as each one of his works is. The complexity is not only made manifest through the execution of the taboo-breaking mission, but also in the fact that organizing and leading people, even if volunteers, is usually very demanding by itself. Given that each of Tunick's projects is realized with an ever greater success, it seems that his concepts are always inspiring and strong, and therefore clear.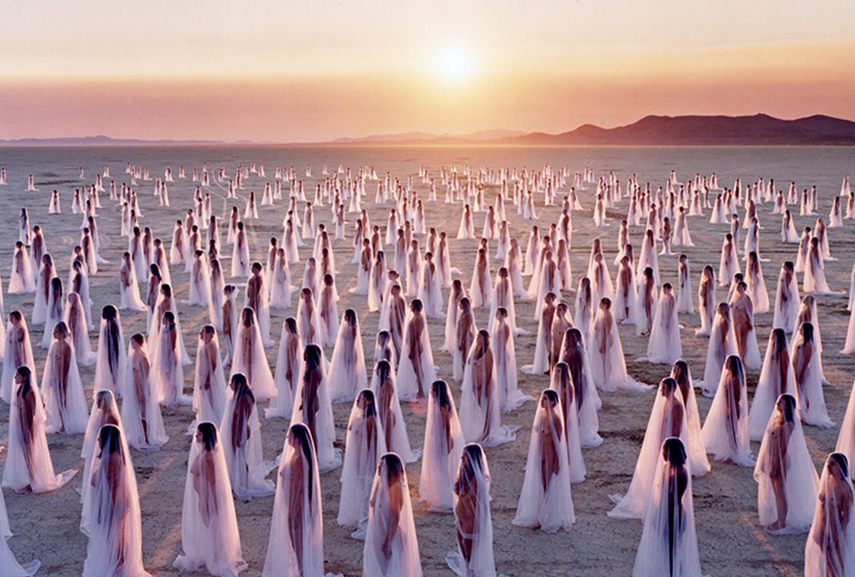 A Different Approach To Human Body
Tunick's art involves an excessive amount of nudity, but it somehow never is about sex. In fact, it is not even close to being about sex. Perhaps our common way of looking at human body in its primal state is somewhat wrong and conservative, since we are obviously inclined to instinctively associate nude bodies with sexual activity. If there wasn't for our civilization, ruled by the man-made laws, being naked in public would have probably been the most natural thing. Or maybe not - but we will never know. What we do know is that public nudity does not have to be vulgar or explicit at all, and we know that thanks to all of the fascinating performances directed by Tunick. The way of referring to Spencer's art differs in this text, since it is not completely clear whether it is more appropriate to consider his works as performances or art installations, or a form of staging nude photography. The New-York born artist is not very specific himself, because he usually addresses the installations as installations, the single nudes as "individuals", and the final product is usually the photograph, or rather a series of photographs. Nonetheless, since they are often accompanied by "behind the scenes" materials and exciting videos as well, it is clear that, while the focus may be on the ultimate physical result, the reality of this concept bursts into a bunch of other directions. It is even educational in a way mentioned in the beginning of this paragraph, making us wonder if our assessment of our own bodies is any good. In such an idiosyncratic manner, basically without any words, Tunick will first make you question his art, only to end up questioning your own judgement and the banal principles that implicitly constrain our freedom.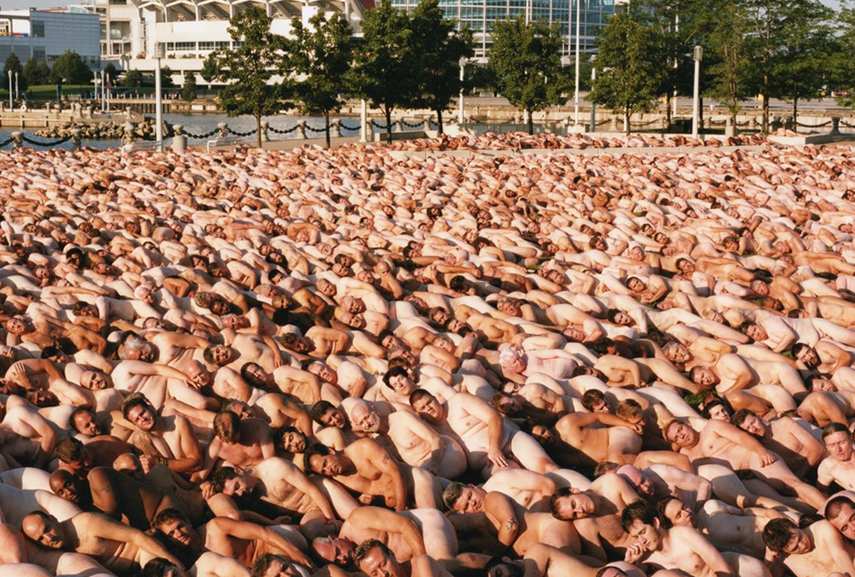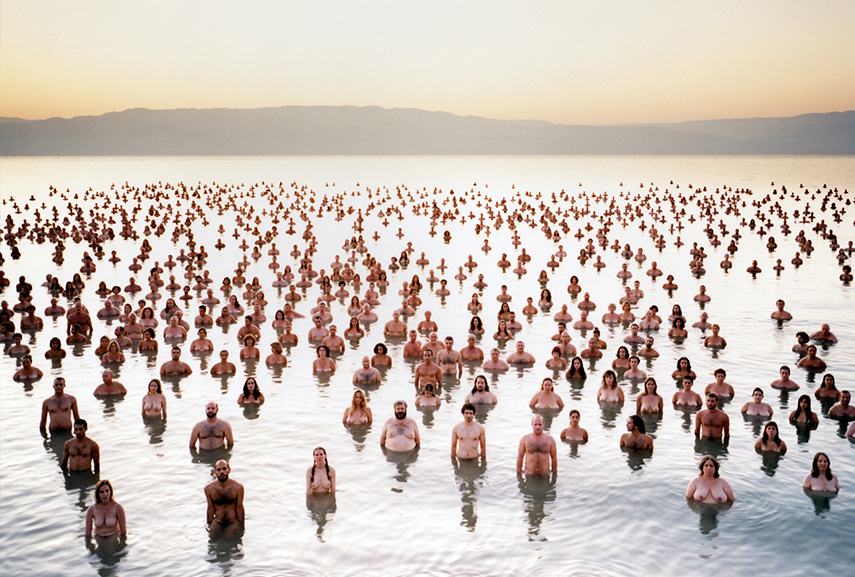 Spencer Tunick - Photographer, Director, Free Thinker, and Now a Socially Engaged Artist
The photographer's latest project is seemingly typical for what he usually does, but this time with a slight catch. This particular naked art event involved 3000 people who were all painted in blue, and the color was chosen deliberately in order to raise our awareness of the sea level which is constantly rising, due to the drastic climate change. 3000 shades of blue occupied the streets of Hull, metaphorically representing the infrastructure flooded with blue human bodies. Although this is not the biggest amount of people involved in a single Spencer Tunick participatory project, it is one of the few to involve body paint. One other successful project that included paint was the installation at Max Joseph Platz in Munich, in which half of the "mass" was painted in red. You may also remember the women painted in gold at Bayerische Staatsoper, called Munich 6.2. Still, we dare say that the Hull participatory performance was perhaps the most effective one so far, when it comes to the colored-body art events. It really incarnates a segment excerpted from an impossible world, one that you find both slightly uncomfortable and irresistibly inviting to observe and contemplate on.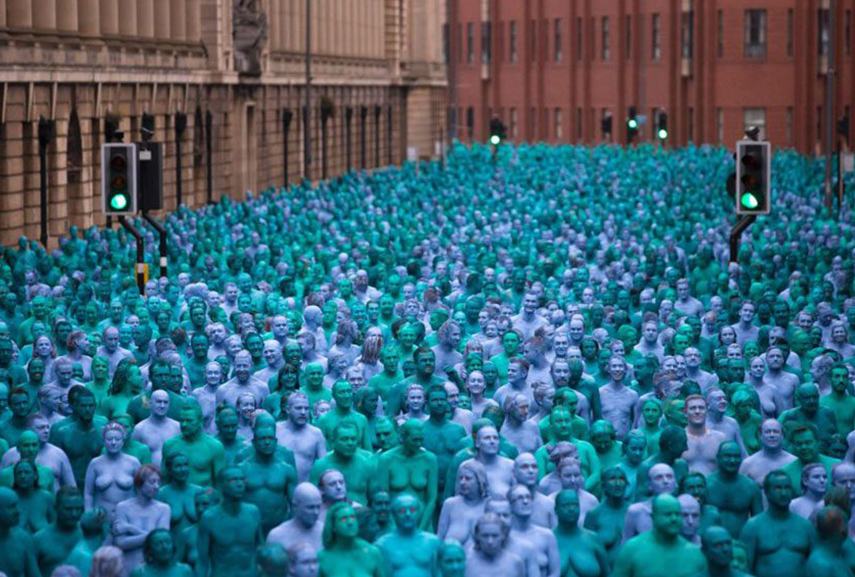 Featured images: Portrait of Spencer Tunick, image via NY times; Spencer Tunick - Netherlands 5 (Dream Amsterdam Foundation) 2007; Spencer Tunick - Santiago 2, 2002. All images used for illustrative purposes.