Thanks to Spencer Tunick, Hull and its 3000 residents turned blue - and we don't mean in a sad way! The acclaimed American photographer took over the east Yorkshire city with his latest artwork, which got naked people painted with four shades of blue walking the central area early in the morning on July 9, 2016. Mixing performance, installation, photography and nudity, the project was a complete success and a true celebration of participatory art that knows no limits. The photographs of the event in Hull, taken by Spencer Tunick, will be exhibited in the newly refurbished Ferens Art Gallery, as part of the UK City of Culture celebrations to take place in 2017.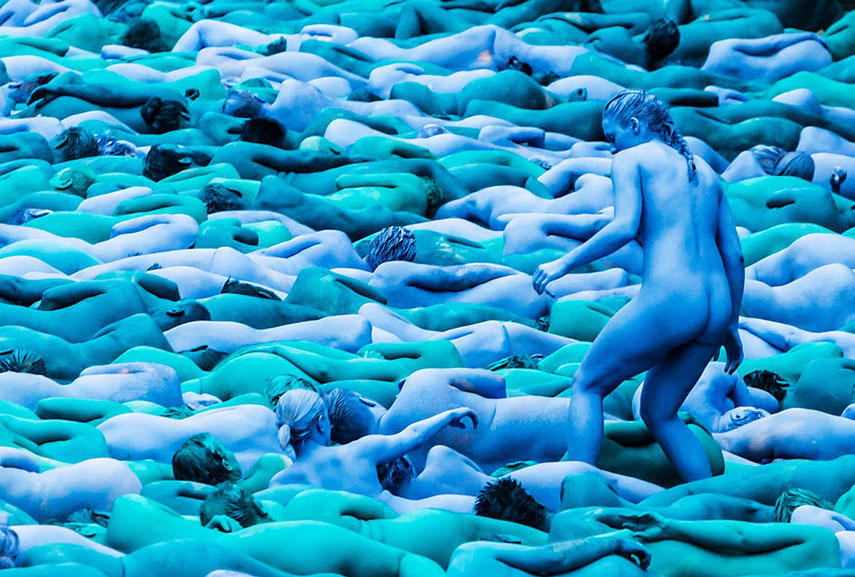 Spencer Tunick New Work in Hull
Posing in locations that reflected Hull's maritime history, there some 3,200 of its citizens, who wore nothing but a layer of blue paint. Entitled Sea of Hull, the event welcomed voluntary participants in all sizes and shapes, many of which had trouble walking and were in wheelchairs and with crutches, turning this English city into one with the best turnouts for the photoshoot. As they filled the city streets, which were closed between midnight and 10am, they were ordered into position by megaphone by Spencer Tunick's assistants for three hours starting at 3am. The artist, who is already famous for other similar projects taking place in countries all over the world, uses the aspects of the human body and juxtaposes them with public space. In Hull, he tried to draw attention to the rising sea levels caused by the climate change - the bodies and humanity are flooding the streets.
Naked and Blue - Spencer Tunick's Latest Artwork
Expectations
This art event was a huge opportunity for the residents of Eastern England to be engaged in this remarkable and exciting piece of art. Anyone over 18 could take part, while all participants received a limited edition photograph in exchange for getting involved. As Spencer Tunick explains himself: I'm very interested in the history of the city and its place as a seafaring center and its relationship to a rich maritime past. It intrigues me that in some places where there are major streets or parks today, previously there was water. To reflect this I'll be using body paint so that the massed people create the idea of a sea of humanity flooding the urban landscape. This is a wonderful opportunity for anyone interested in art who wants to pose nude but is modest. The body paint will help many participants to overcome their inhibitions - after all, they will still be covered in a way. Kirsten Simister, curator at Hull's Ferens Art Gallery, said: This is more than a commission. It's an opportunity to involve people directly in an amazing live, performance that will temporarily transform the city. His new body of work will form part of an exhibition in 2017 and will also be purchased for the permanent collection. With hundreds upon hundreds of people coming together to be photographed, Sea Of Hull anticipates the exciting things to come at the Ferens next year.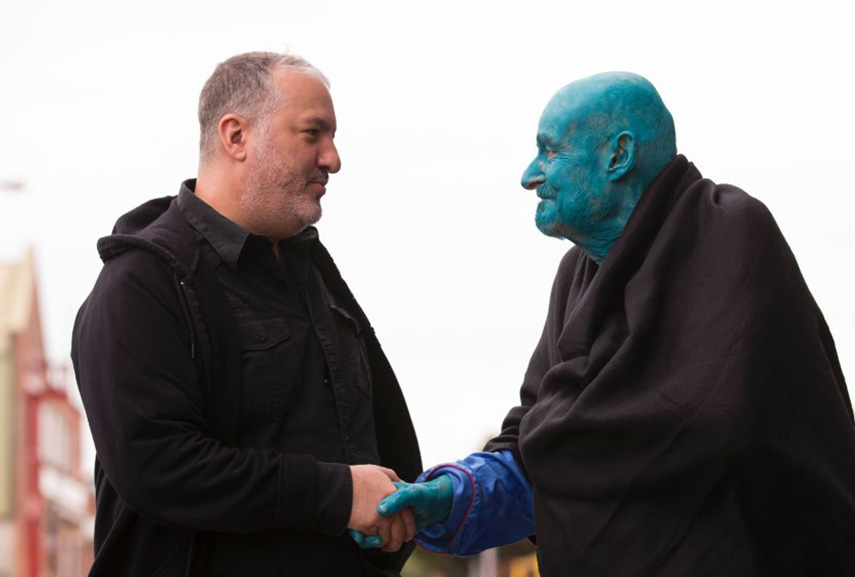 Nude Gatherings and Participatory Art
Altgough Spencer Tunick is a photographer, we can identify in his process elements of art of nude, performance art and participatory art (participatory art was most popularized by Marina Abramovic). The subjects of his photographs are not only models; they are like "co-authors" of the work. In June, Tunick shot 7,000 naked people in Barcelona, and hundreds of women in New York's Grand Central train station in October. On July 17, 2005 he photographed almost 1,700 nudes on the quaysides at Newcastle upon Tyne and Gateshead, including the Gateshead Millennium Bridge. On May 6, 2007, approximately 18,000 people posed for Tunick in Mexico City's principal square, the Zócalo, setting a new record, and more than doubling the previous highest number of 7,000 people who had turned out in Barcelona in 2003. Will the event in Hull break a new record? We'll wait and see.
We would like to hear your opinion! Please comment on our Facebook page!
Editors' Tip: The Art of Participation
Of course, participatory art is not exclusively related to art of nude or mass performances. It's used mainly by performance and conceptual artists. This new survey covers the rich and varied history of participatory art, from early happenings and performances to current practices that demand audience interaction. As the hallmarks of Web 2.0--browsing, sharing, collecting, producing--increasingly permeate every aspect of society, this timely project reveals the ways in which artists and viewers have approached the creation of open works of art. The featured artists include Marina Abramovic and Ulay, Vito Acconci, Joseph Beuys, John Cage, Janet Cardiff, Lygia Clark, Kit Galloway and Sherrie Rabinowitz, Dan Graham, Hans Haacke, Allan Kaprow, Lynn Hershman Leeson, Antoni Muntadas, Yoko Ono, Nam June Paik, and Erwin Wurm.
Featured images: Spencer Tunick in Hull, 2016. All images used for illustrative purposes.