Somewhere between the Middle-Earth and Westeros, fans of two of the greatest fantasy epics of our time will find themselves before a spectacular art show hosted by San Francisco's Spoke Art! Inspired by Lord of the Rings and Game of Thrones, an entire army of international artists created original paintings and limited edition prints from both literary works and tv series in probably the biggest art tribute ever created. Hop on your dragon and head over to California, as this will surely be an event to remember and a chance to see some remarkable artworks of our favourite characters, all in one place.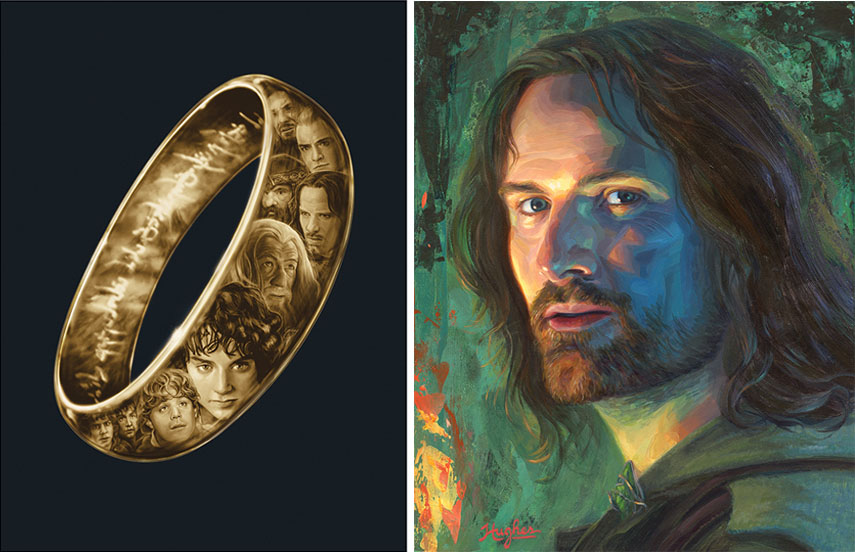 The Fantasy Worlds of J.R.R. Tolkien and George R.R. Martin
Through an incredible series of books that have enriched the lives of millions of fans around the world over the course of the last fifty years, J.R.R. Tolkien and George R.R. Martin have managed to create an entire culture around their elaborate, fictitious worlds. Using their imagination on a quite unprecedented level, the writers have given life to exciting environments and a variety of complex characters from scratch, giving us an inexhaustible source of inspiration and always keeping us on the edge of our seats. While Lord of the Rings ended up being a highly successful trilogy, Game of Thrones became a TV show we're still lucky to be enjoying, as Mr. Martin is still writing the sixth novel from his acclaimed A Song of Ice and Fire series.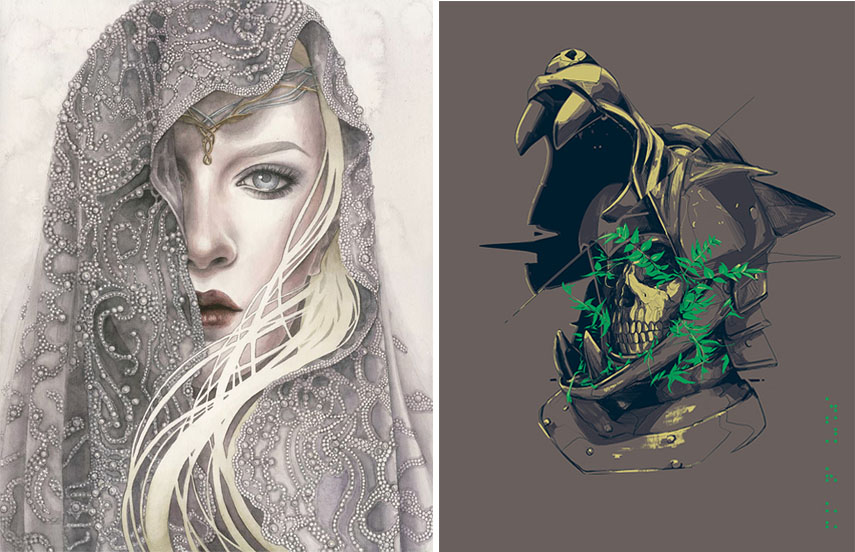 Participating Artists
Over 70 artists were invited to participate in this magnificent show, and the list includes: Stuart Whitton, Bruce White, Justin Van Genderen, Geoff Trapp, Maria Suarez-Inclan, Deangus, Meghan Stratman, Nick Stokes, Paul Shipper, Fernando Reza, Allison Reimold, Rebecca Rose, Michael Ramstead, Rich Pellegrino, Ruel Pascual, Lily Padula, Johannah O'Donnel, Chelsea O'Bryne, Reuben Negron, Joseph Murdach, David Moscati, Guillame Morellec, Zach Meyer, Brighton Metz, PJ McQuade, Jeff McMillian, Kelly McKernan, Kemi Mai, Dave MacDowell, Adam Lister, Nan Lawson, Conor Langton, Caia Koopman, Alex Kirzhner, Tim Jordan, Sarah Joncas, Paige Jiyoung Moon, Jeremy Hush, Primary Hughes, Christine Aria, Justin Hager, Gene Guynn, Sam Gilbey, Monica Garwood, Alex Garant, James Eads, Matt Dye, Emily Dumas, Max Dalton, Rhys Cooper, Michelle Coffee, Tracie Ching, Keith Carter, Sandi Calistro, Adam Caldwell, Joshua Budich, Robert Bowen, Eric Bonhomme, Cory Benhatzel, Oliver Barrett, Derek Ballard, Mia Araujo, Brianna Angelakis, Paul Ainsworth, Bungaloo and Epyon5.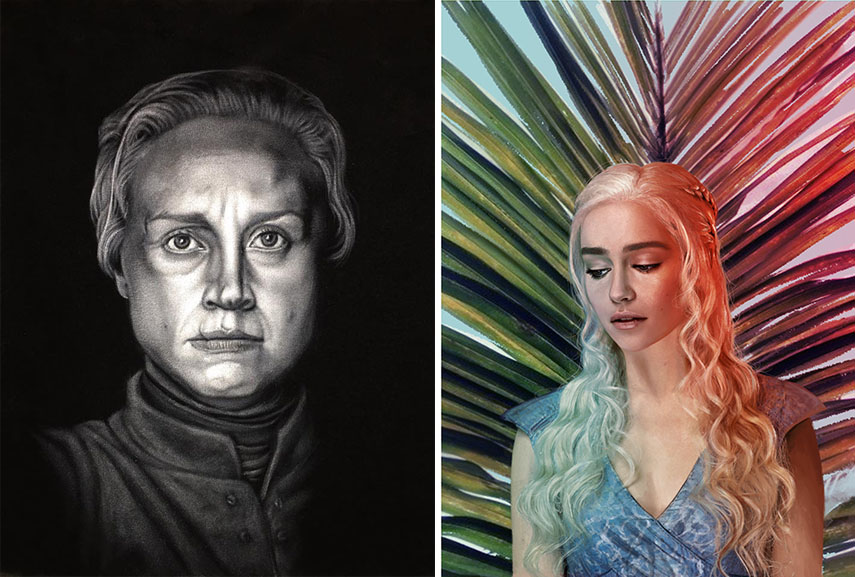 Lord of the Thrones at Spoke Art
Don't miss out on a chance to see all your favourite familiar faces like Jon Snow, Gollum, Daenerys Targaryen and Frodo "clash" inside a renowned art gallery that will once again celebrate the genius and the success of two narratives of fate and human triumph. The Lord of the Thrones group exhibition will be on view at Spoke Art in San Francisco, USA, from June 2 through 25, 2016. The opening reception is scheduled for June 2, from 6pm to 10pm.
  Editors' Tip: The Hobbit and the Lord of the Rings
Possibly the most famous epic high-fantasy series in the world, The story began as a sequel to Tolkien's 1937 fantasy novel The Hobbit, but eventually developed into a much larger work. Written in stages between 1937 and 1949, The Lord of the Rings is one of the best-selling novels ever written, with over 150 million copies sold and translated into as many as 38 languages. The enduring popularity of The Lord of the Rings has led to numerous references in popular culture, the founding of many societies by fans of Tolkien's works, and the publication of many books about Tolkien and his works. The Lord of the Rings has inspired, and continues to inspire, artwork, music, films and television, video games, and subsequent literature. This set includes all three books, The Fellowship of the Ring, The Two Towers and The Return of the King, as well as The Hobbit.
  Editors' Tip: George R. R. Martin's A Game of Thrones
For the first time, all five novels in the epic fantasy series that inspired HBO's Game of Thrones are together in one boxed set. An immersive entertainment experience unlike any other, A Song of Ice and Fire has earned George R. R. Martin - dubbed "the American Tolkien" by Time magazine - international acclaim and millions of loyal readers. Now here is the entire monumental cycle: A Game of Thrones, A Clash of Kings, A Storm of Swords, A Feast for Crows and A Dance with Dragons. The TV show has received widespread acclaim by critics, particularly for its acting, complex characters, story, scope, and production values, although its frequent use of nudity, violence, and sexual violence has attracted criticism.
Featured images in slider: Artworks by Sarah Joncas, Monica Garwood, Reuben Negron, Adam Lister and Nick Stokes. All images courtesy of Spoke Art.
spoke art