One of the biggest events of its kind in the world, SCOPE Art Far in New York is celebrated as the premier showcase for emerging contemporary arts. SPOKE NYC, an art space specializing in new contemporary painting, sculpture, and illustration with an emphasis in accessible programming, is returning to this acclaimed art fair coming this March 2017. Along with more than 50 national and international exhibitors, the gallery will be showcasing a range of painting and sculpture. Their booth will be highlighting works from return artists like Scott Scheidly, ONEQ, Lauren Brevner, Abigail Goldman and Erik Jones, but will also be presenting some new faces like conceptual sculptor Dan Lam and Tokyo-based painter Mark Drew.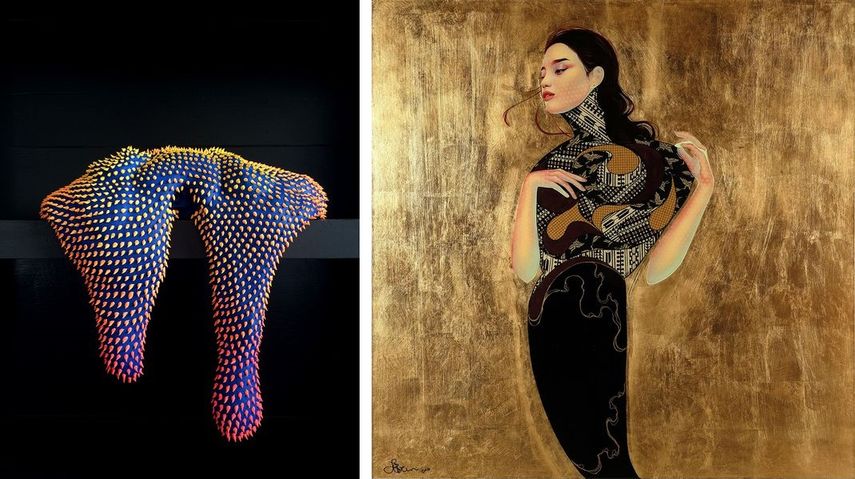 Scott Scheidly, ONEQ and Erik Jones
An American artist born in Ohio, Scott Schiedly paints in the style of pop-surrealism. His works feature realistic interpretations of the surreal, fused with pop culture references. Imbued with a sense of humor, these pieces explore the culture implications of colors. Bringing together East and West in his sexy illustrations, the Japanese illustrator OneQ draws inspiration from both traditional Japanese comic book art and American pin-up photography. Her work feels both vintage and contemporary at the same time.
An American contemporary figure painter, Erik Jones blends abstract painting and portrait photography. Having vibrant portraits of women as the central motif of his works, he paints their faces and naked bodies in a very realistic manner, juxtaposed with abstract and partly geometric forms and large chunks of bold colors.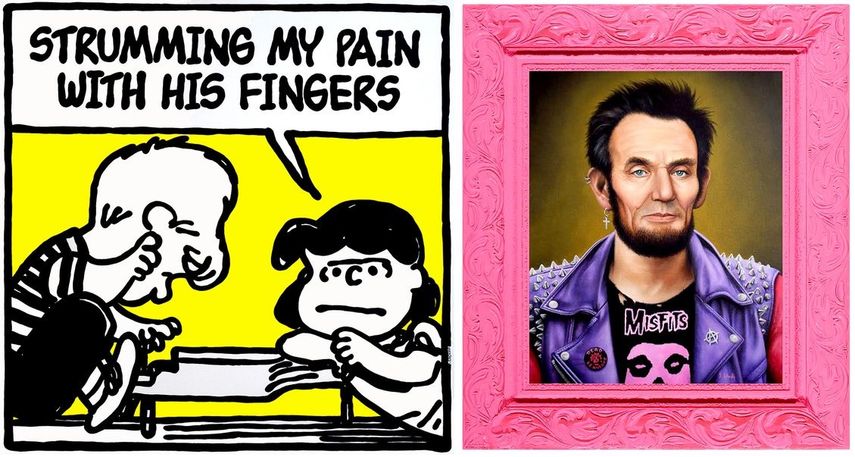 Lauren Brevner, Abigail Goldman, Dan Lam and Mark Drew
Dan Lam is best known for her series of vibrant, free-standing "drippy sculptures" that resemble exotic organic matter seemingly sourced from another planet. These neon-hued artworks form elongated, stretched shapes that ooze off the edges of surfaces where they are placed. These blobs are covered with hard spikes that wrap around the curvaceous anatomy of each object. On the other hand, the Australian artist and graphic designer Mark Drew creates work that carries a soft spot for nostalgia, but he places the past into a new personal context. His artwork revolves around pop culture references, 90s rap samples and the visual side of music.
Born and raised in Vancouver, Lauren Brevner creates paintings that explore mixed-media through the use of oil, acrylic, and resin. This unique technical style is combined with a collage of Japanese chiyogami, yuzen, and washi paper on wooden panels. Lastly, Abigail Goldman is an American contemporary sculptor best known for her dioramas, where she often depicts gruesome, yet funny scenes. Appearing both charming and disturbing in nature, Goldman's "die-o-ramas" offer a conflicting experience for viewers.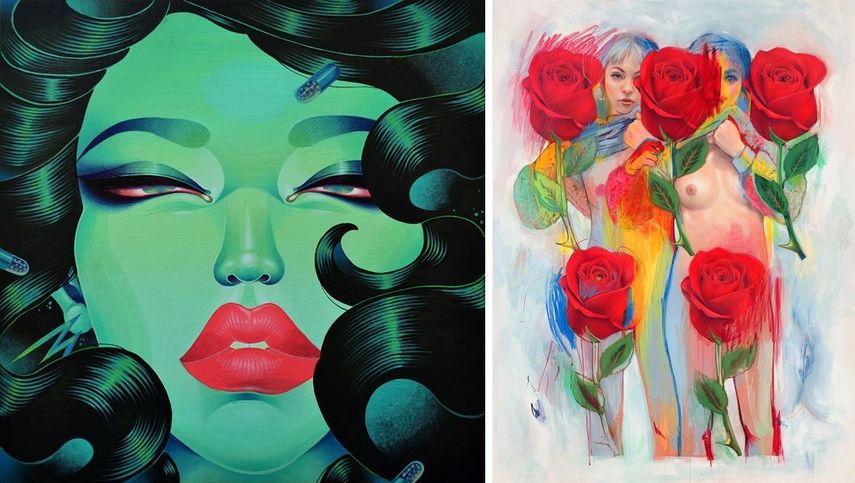 SPOKE Art at SCOPE NYC
Founded in 2010, SPOKE Art Gallery houses locations in San Francisco and New York that rotate monthly exhibits of a wide variety of solo and group shows. Throughout the year, the gallery organizes pop-up exhibitions, conventions and art fairs around the country. The visitors of the SCOPE Art Show can find the gallery in the booth 027, at The Metropolitan Pavilion in New York City, USA, from March 2nd through 5th, 2017.
Featured image: ONEQ (detail)