Born from the encounter of urban art professionals and companies, Spray gathers investors and aficionados around a collection of contemporary urban art. Collaborating with French and international institutions, Spray Collection brings together the biggest names in the French and international scene such as Brusk, C215, Philippe Echaroux, Erell, Shepard Fairey, Speedy Graphito, Joe Iurato, Kouka, Okuda, Cleon Peterson, Vhils, YZ, Seth, Stew among others. As part of the Off-Site program, Spray partnered with the 2017 edition of the Urban Art Fair in order to exhibit and share its collection. We've had a chat with Gauthier Langlois from Spray in order to find out more about their work.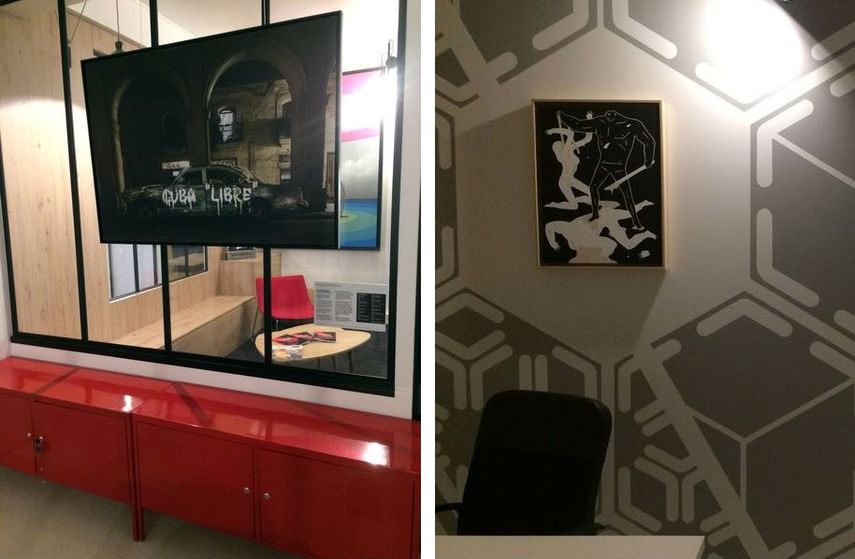 The History of the Collection
The Spray Collection was initially started by three people - a businessman who works in consulting, a businessman and art lover working in finance, and an art merchant. They had an idea of creating a collector's club, and soon enouhg, they had three of their friends join them. "The basic idea was that everybody comes in with the same amount of money, they group up and buy art", explains Gauthier. "They wanted to make the collection grow with more people joining and eventually make it represent the actual landscape of urban contemporary art. Since we are in Paris, our collection is mostly comprised of French artists, but there are also famous international ones". The collection started with several pieces donated by one of the founding members and, at the time, it included artists such as GRIS1, Brusk, Speedy Graphito, and Philippe Echaroux. After presenting their initial collection, people became interested in joining and contributing to it. "Thirteen people joined and the collection grew. Everyone puts the same amount of money, and we have three experts who take care of transactions of buying and selling". The collection soon expanded with pieces from Case Maclaim, Cleon Patterson, and Okuda, among others, reflecting a real eclecticism in style. In order to make the collection live, Spray hosts events and presentation and rents their pieces to companies. "These offices are owned by one of the founding members who has decided that the best way to highlight the importance of having art in an office was to display it in his own office. Now all the artists are here. We are really trying to put the urban street art into a workspace and make it work in the best way possible."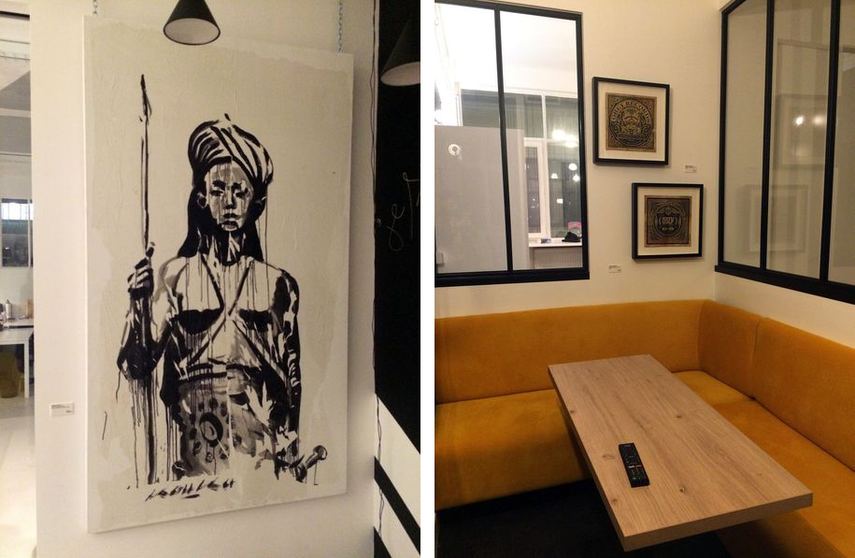 The Inclusivity of Urban Art
As Gauthier explains, the spirit of Spray Collection is all about putting art in the real world. "By expanding the collection even further and having services around it, we want to create a friendly ecosystem around urban art. We really love art and we want to make it spread". The focus on urban art was initially sparked by the inclusivity and openness of the movement as compared to the fine art world. "One of our founding members was initially into fine contemporary "One of our founding members was initially into fine contemporary art, but realized that it is impossible to have the access to the majority of the artists. After meeting Murakami at the art fair in Dubai, he was pleasantly surprised how easily he could chat with him about his work. After Nicolas Laugero Lasserre, the collector and director of Artistik Rezo, explained that happens in street art every day, he decided to switch to it." Seeing Paris as one of the capitals of street art, they want to show people how this art evolved from street walls into pieces that we see today.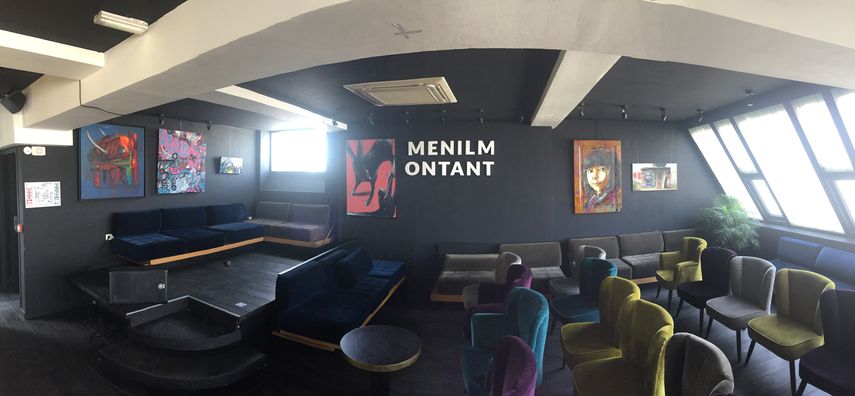 The Spray Collection at Urban Art Fair in Paris
Due to their passion for Urban Art, the collaboration with Urban Art Fair in Paris came naturally. "Yannick Boesso, the director of the fair, met one of our founding member Phillippe Danjean through Nicolas Laugero Lasserre. Yannick wanted to make the second edition even more real by organizing things outside of the main venue. Thus, he wanted to give the audience an opportunity to see our collection. Our offices are open in the evening for the visitors of the fair. We have some really great art and we are happy to show it." Gauthier sees the future of urban art collecting as very bright - the movement will continue to grow and that market will follow the trend. "I am not an expert of course, but the market is changing", explains Gauthier. "People seem to really enjoy street art. They see these big walls in the streets and now, they can find affordable prints of these artists and have them at home. Even more people will want to buy it, and a lot of younger people will get into collecting. It will spread easily because it's inclusive and open", he adds. Be sure to check out the Spray Collection at 14, rue Crespin du Gast in Paris by the end of the fair, but also stay tuned for their future activities.

Featured images: Levalet - Shoot, 2015 Dessin sur papier 90 cm x 110 cm Dessin N° Inv. INV-009; The part of the Collection at the 6th floor; YZ - Amazone - Zumaley, 2016 Encre de Chine sur papier de soie marouflé sur bois 200 cm x 150 cm Dessin N° Inv. INV-013; The Spray Collection; Shepard Fairey - Legislative Influence, 2011; Techniques mixtes sur bois; 60,9 cm x 45,7 cm; Technique mixte; N° Inv. INV-027; Seth - In between, 2016; Peinture aérosol, acrylique et fusain sur bois; 200 cm x 150 cm; Peinture; N° Inv. INV-012; Pantonio - Composition lapins, 2017 Acrylique sur toile 80 cm x 120 cm Peinture N° Inv. INV-029;   Okuda - Bull, 2016; Email synthétique sur bois; 50 cm x 50 cm; Peinture; N° Inv. INV-024;