Technological developments can always really surprise us. We wrote about a number of high-tech devices that are changing the methods of art creation and art perception. For example, Israeli company Artbit has been developing an application that can identify artworks. Re+Public has developed an application that transforms advertisements and commercials into works of art. There is a serious question being posed whether all museums will transform into digital once? But, an Estonian start-up is going even further. It is working on a new wireless wall printer that works with spray cans and transfers images from smartphone to walls. The printer is entitled SprayPrinter and a question can be posed: Will SprayPrint affect street art practice?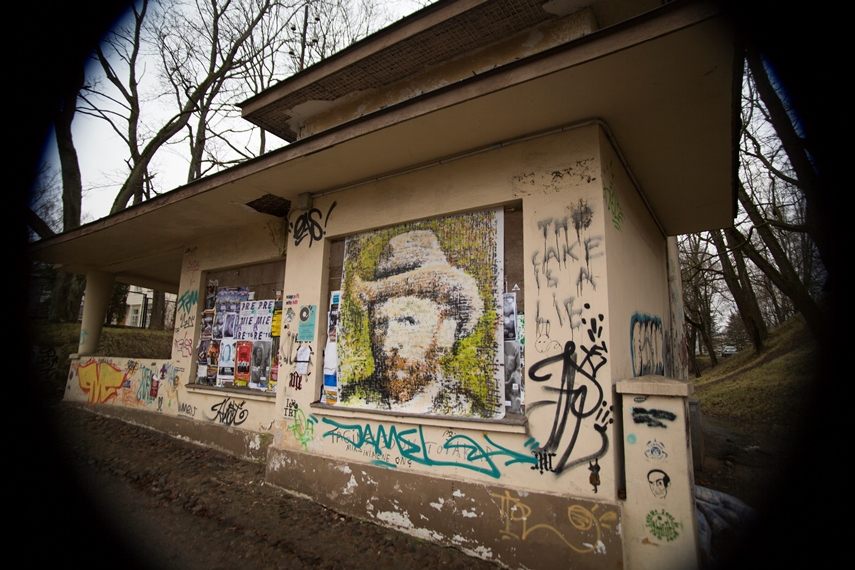 What is SprayPrint?
SprayPrint works with spray cans and transfers images from smartphone to walls. The printer is made up of two modules: print module and camera module. The print module (printer) is a device that is moved by hand to spray paint on the wall. The camera module is the smartphone, which tracks the position of the printer. SprayPrinter mobile app breaks an image down into pixels, calculates their exact position and tells the printer exactly when to open the valve. The result is an image that is printed on the wall one pixel at a time. The application controls printing of the pixels on the wall, avoiding repeated layers and identifying any missing pixels. It was inspired from a modern car engine and the Nintendo Wii console. As the inventor Mihkel Joala explains: Engines nowadays use extremely fast valves to spray fuel to combustion chamber, I realized I can use them to shoot paint with pinpoint accuracy. SprayPrinter has won Estonian prototyping contest Prototron and featured at Tech Crunch Disrupt in London among hundreds of start-ups where it managed to play up to ten most disruptive products. Due to great performance in London, SprayPrinter participates at San Francisco Crunchies in February.
SprayPrinter Presentation on Discovery Channel
SprayPrint and Street Art
So, the big question is: Will the invention of the SprayPrint change the street art? Even though it's not fully automatic (you have to move the printer with your own hand), it brings up new questions of making art with a help of a machine. Many feel that it's spoiling the concept of wall art while the other have different opinion and believe it brings new opportunities worth to experiment (it was even difficult for the world of art to accept photography when it first emerged). Whatever the impression is, it's undoubtedly a new futuristic way of seeing wall art and gives people more possibilities to change their own environment. The Estonian start-up have contacted different experiments with graffiti writers and street artists how they accept the idea of sprayprinting.
Will the SprayPrinter Change the Practice of Street Art?
A Word from Edward von Lõngus
So, one the most infamous street artists in Estonia, Edward von Lõngus, tried the SprayPrint. As he explains: When SprayPrinter team offered me to try out their latest invention, I chose the self portrait of Vincent van Gogh as a tribute to the old masters. Impressionism was the first step towards unlocking the secrets of pixel imaging, the key element in modern visual communication. The auto portrait of Vincent is a futu-retro painting where old styles meet new technologies creating the realm of digital impressionism.
Do you want to try SprayPrinter? It can be pre-ordered through Indiegogo crowdfunding platform until 17th of February – igg.me/at/sprayprinter
We would like to hear your opinion! Please comment on our Facebook page!
Featured Images: SprayPrinter. All Images courtesy of SprayPrinter.