The Stencibility Street Art Festival just announced a sketch contest for covering a 90m-high industrial chimney! The selected sketch will be sprayprinted on the chimney in June during the festival held in Tartu, Estonia.
"The idea to use SprayPrinter technology initially came from a practical need because we couldn't find an artist with previous experience of painting such a difficult object. It's not possible to do it from a ladder or cherry picker," says Sirla, the organizer of Stencibility. "Then we realized that using SprayPrinter makes it an extra cool project, because it broadens the spectrum of artists who can participate. Plus, sprayprinting an object so round and huge is so insane that no one has ever done that before," she adds.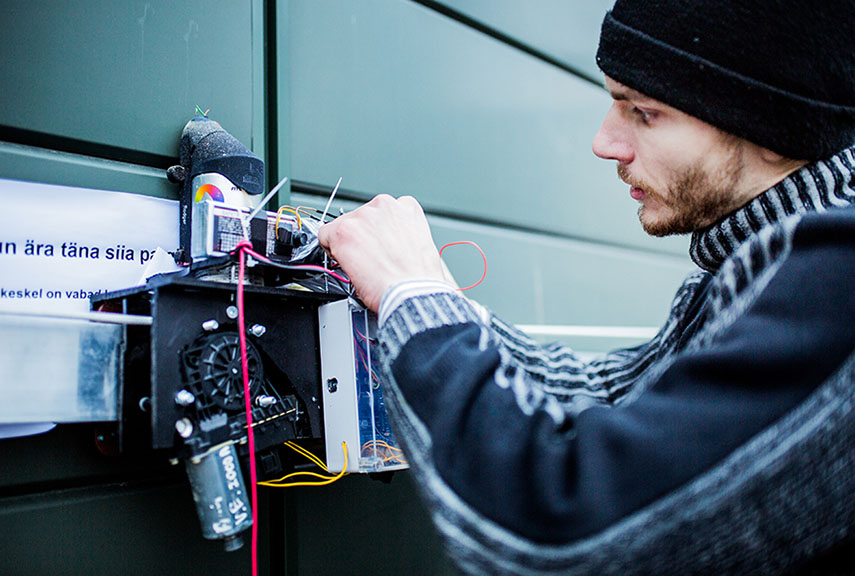 SprayPrinter? What's That?
SprayPrinter is a new invention from a young Estonian start-up. It's a handheld printer that transfers images from a smartphone onto walls using spray paint. Users only have to move the printer with their hand while the device releases paint to the right areas to get the needed image. The smartphone's camera tracks the position of the printer to know where to release the paint.
SprayPrinter is mostly meant for home use - for people who like to do stuff themselves but don't feel so confident with painting or drawing. A common alternative is to use a projector and trace the lines with a marker or spray. SprayPrinter is like a projector and spray can 2 in 1 - the can already knows the areas that need to be painted. The fun thing is that SprayPrinter isn't fully automatic. The way users move their hand inside the lines will affect the final result.
SprayPrinter Tutorial
Printing Instead of Painting
With the same technology, the inventor of SprayPrinter Mihkel Joala tried a new hack. He attached the handheld printer to a wall climbing robot and got a mural printer for large-scale surfaces. The mural printer is still in the prototype phase but it has already been tested a few times.
A fun fact is that with SprayPrinter, doing murals like this is one person's one day job, and it took three cans of spray paint to do the whole Einstein print! Imagine where this could take us. Right now, if you see a boring electricity box or an ugly wall on the street, you can do some street art there during the night. If you want to change how a side wall of a 5-story building looks like, there's not much you can do alone - you need a decent budget for a cherry picker, loads of paint, approval from the owner and city council etc. The bureaucracy takes a lot of effort and time; plus there's a chance that your original sketch will be changed by third parties (officials, sponsors, wall owners) during the process. That's why there aren't that many illegal large-scale murals out there. With sprayprinting technology, it's possible to create images on block houses with the same effort as on an electricity boxes.
The Creation of the First SprayPaint Mural
"You Should Burn This Machine Before it Gets Famous"
The feedback to SprayPrinter from the (street) art scene has been extremely polarizing. Let me remind you that getting the art world to accept new machines has always been a hassle. When the photo camera was first invented in the 19th century, photography wasn't taken as a serious art form because the idea of a machine doing art was so alien to people. The art critic Charles Baudelaire despised photography for being a product of industry. He felt that it provided a picture of reality which lacked the "spiritual momentum". On the other hand, painter Gustave Courbet recognized photography as a useful aid in depicting motifs. He wanted to illustrate that photography is only a copy of reality while painting is "concrete" reality. Imagine the position of photography in today's world. Taking selfies is an everyday routine for many people. At the same time, photography done by professionals is a highly appreciated art form.
SprayPrinter is in a similar situation. There are muralists who are afraid that if SprayPrinter gets too popular, it will take away their jobs or spoil the market, but there are also artists who are totally fond of the idea and the new possibilities that SprayPrinter offers as a tool; for example, getting the proportions right for large-scale murals by marking the strategic lines with SprayPrinter, or printing large, difficult objects like this chimney, or mixing different techniques. The first sprayprinted artwork, by an Estonian street artist Edward von Lõngus, has just been sent to an art auction. As with photography, you can print the needed image on the wall without adding any of your own ideas and just have fun doing it - or you can be creative, play around and explore the new possibilities. I'm sure there's lots to discover because the concept of sprayprinting is so new. So, come join the journey and send us a cool sketch for the contest until May 18th, 2017.
Written by Sirla, Chief Inspiration Officer at SprayPrinter.
All images courtesy SprayPrinter.