Squeak Carnwath has been active in the Californian Bay Area since the early 70s. While working closely with the artists such as Jay DeFeo and Viola Frey, she has developed a recognizable style that incorporates meticulously applied layers of paint with text, symbols and abstract patterns. Now she is coming back to New York for the retrospective exhibition that will include finest works from the past 25 years of her career. What Before Came After exhibition, that will be hosted by Jane Lombard Gallery, will assemble numerous artworks by the American artist, including her cigar box sculptures, oil on canvas works and a series of music inspired "song" paintings.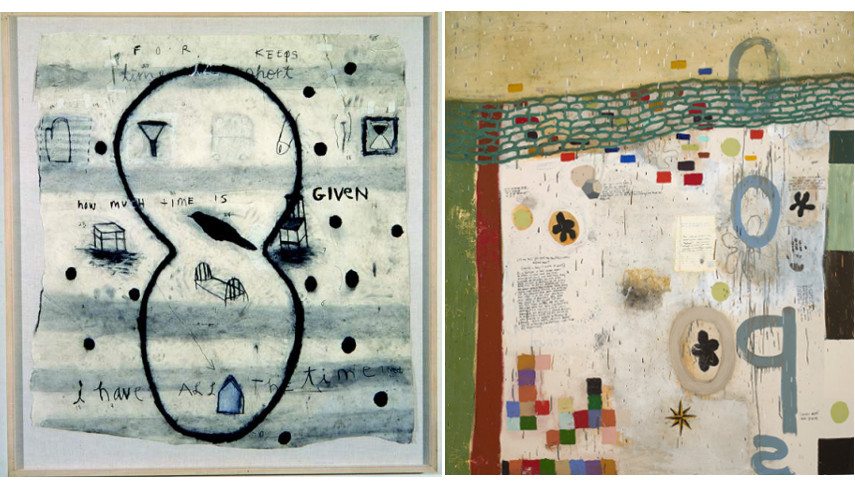 The Songs That Touched Artist Squeak Carnwath
What Before Came After exhibition will feature artworks from Squeak Carnwath's latest "song" series, in which she explores responses of the human mind to lyrics and memory. Letters and texts are recurrent topics in Squeak Carnwath's work and for this series she has written titles of famous love songs in intense color strips. The images, (much like the songs they were inspired by) evoke viewers' profound emotional responses. In order to intensify the connection between the visual and the sound, every artwork is accompanied by a meticulously selected soundtrack. By listening to the music, viewers immerse completely into the artwork and become active participants, thus turning Squeak Carnwath's imagery into an intimate experience. Apart form her "song" artworks, the artist will exhibit her color saturated oil on canvas paintings. In a loose, almost childlike manner Squeak Carnwath portrays various symbols of loss and cyclic passage of time such as urns, one-sided LP records and sinking ships.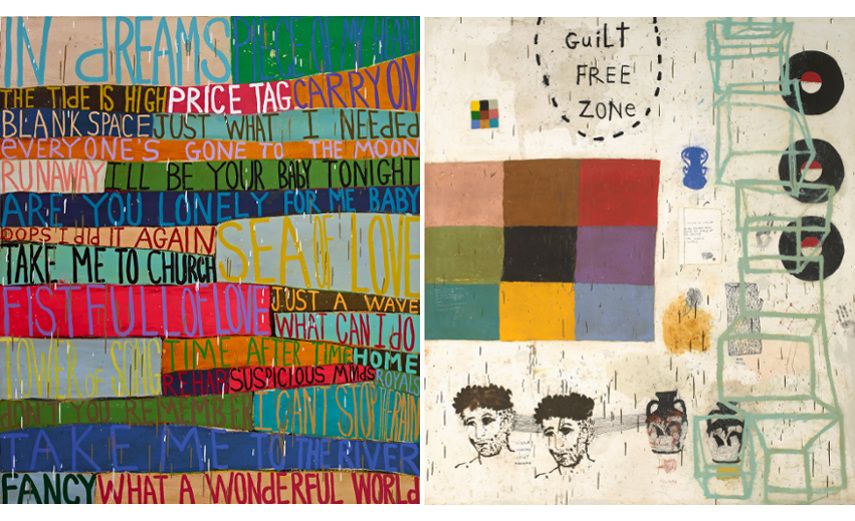 Cigar Box Sculptures : A Catalog of Everyday Life
Squeak Carnwath's unique style combines carefully applied layers of paint, abstract patterns, words and phrases and repeated symbolic iconography. Each one of her works is a part of a several decades long exploration of representation, remembrance and human experience. She often works with objects from her everyday environment, thus creating a catalog of her personal life. At What Before Came After solo show she will present sculptures made out of cigar boxes. Each box is filled with lumpy chunks of recycled paint and decorated with the same symbols as her canvas works. The artist's embellished cigar cases reside between paintings and sculptures, simultaneously exploring the limits of both mediums.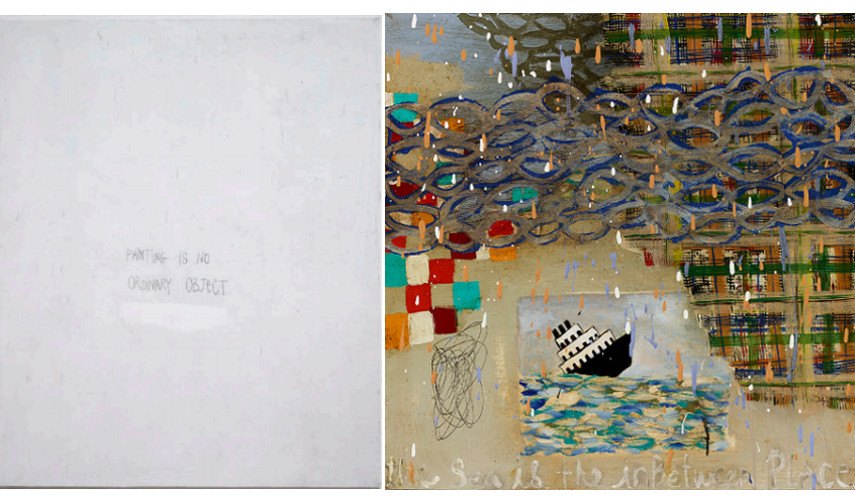 What Before Came After at Jane Lombard Gallery
What Before Came After exhibit will start on October 22nd and the artist will attend the opening. This will be the first Squeak Carnwath's solo show in New York in over a decade, and will feature an array of colorful paintings and accompanying sculptures. With her rich visual vocabulary and signature style, the artist reflects upon her psychological questionings and immerses into a personal exploration that expands to universal themes. What Before Came After exhibition will run till December 19th, 2015 at Jane Lombard Gallery.
Don't forget to sign up for My Widewalls and enjoy interesting features and exciting shows every day for FREE!
Featured image : Squeak Carnwath - Partagas Londres Finos (PB 6), 2001
All images courtesy of Jane Lombard Gallery