If you're a Star Trek fan, you're probably already planning your trip to San Diego's legendary Comic Con, taking place in July. Well, get this - now you have one more hell of a reason to go, as the city's Michael J. Wolf Fine Arts will host a new art exhibition in honour of the franchise's 50th anniversary! Star Trek: 50 Artists. 50 Years will be everything you dreamed of and more, with an abundance of illustrations, photographs, sculptures, paintings, graphics and more! And just when you think it couldn't possibly get any better than that, among the artworks on view not only will there be those that depict the iconic Spock, but also those made by Spock himself - the late Leonard Nimoy.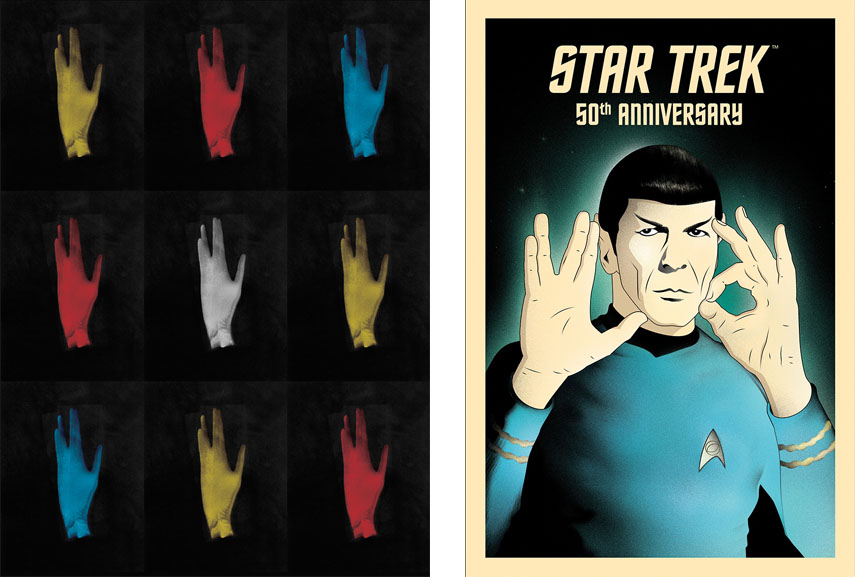 50 Artists. 50 Years
A total of fifty artists from ten countries around the world have contributed their artworks for the Star Trek exhibition, eager to celebrate half a century of one of the most popular sci-fi series ever. One of the show's highlights will certainly be an original piece created by actor and renowned photographer Leonard Nimoy, who sadly past away in February 2015. Mr. Nimoy, who famously portrayed Vulcan science officer Spock, immortalised his own Vulcan salute in a colourful series of hands that can't help but remind us of Pop works by Andy Warhol. As an important part of Star Trek, Spock is also the protagonist of many other works on show, including the 50 - Live Long and Prosper illustration by Germany-based Rocco Malatesta, or the Star Trek Commemorative Stamps designed by The United States Postal Service artist Jason Kernevich and Dustin Summers. Another work not to be missed is Tom Whalen's spectacular U.S.S. Enterprise Spec Sheet.
A video trailer for Star Trek: Beyond
The Star Trek Art Exhibition
Are you packing your bags yet? Be sure not to miss the show's debut at Michael J. Wolf Fine Arts during the Comic Con, taking place between July 21st and 24th, 2016. Following the debut in San Diego, the Star Trek art exhibition will then move to Las Vegas in August, the Canadian National Exhibition in Toronto end of August to mid-September, before reaching the UK for the Destination Star Trek Europe convention in October. But you can relax, folk who don't live in these cities, as the show will continue its worldwide tour all the way through August 2017 too. If you're interested in the artwork on view, the consumer products collection will be available at retail, right after its showing in July. Among the items, there will be a coffee table book from Titan Publishing and calendars from Rizzoli, now available for pre-order, as well as trading cards, apparel, accessories, glassware, posters, stationery and prints. For the full list of artists, make sure you visit the Star Trek art exhibition's official webpage!
Star Trek: Beyond premiers July 22nd, 2016! Will you be there? Share your love on our Facebook page!
Featured images in slider: The US Postal Service - Star Trek Commemorative Stamps; Left: Tom Whalen - U.S.S. Enterprise Spec Sheet, detail / Right: Joshua Budich - To Boldly Go. All images used for illustrative purposes only.