For centuries stained glass was used in houses, public buildings and cathedrals to depict scenes that often referred to the history or a purpose of the place. Now, artist Stefan Glerum gave this ancient technique a modern twist and created two large stained glass windows, located at the front and at the back of the housing complex in Amsterdam. Pop Art imagery and Art Deco merge in 60 feet tall artworks that feature an array of motifs characteristic for the Polderweg area in Amsterdam.
A Video About the Project and the artist Stefan Glerum
Stefan Glerum 's Gas Factory Inspired Imagery
The base of every image is a silhouette of a 19th century gas factory, also known as Oostergasfabriek. The factory was a prominent feature of this particular part of Amsterdam, but eventually lost its function in the early 20th century. An array of unusual characters climbs up the smokestack, as the artist portrays important moments from the district's history. On the front window we can see a chimney turning into a pool, with animals from the local shelter diving in while an old plane circles around the building. Top of the artwork is dedicated to the Dutch artist, Anton Rooskens who, at one point in his life, thought metalworking at the local school. The second window, located at the back of the building, includes depictions of hidden treasures found in the local synagogue, a musical band that rehearsed in the area and numerous World World II references. Additionally, part of the artwork is dedicated to Ernst Laqueur, a scientist who discovered estrogen while doing a research on beef.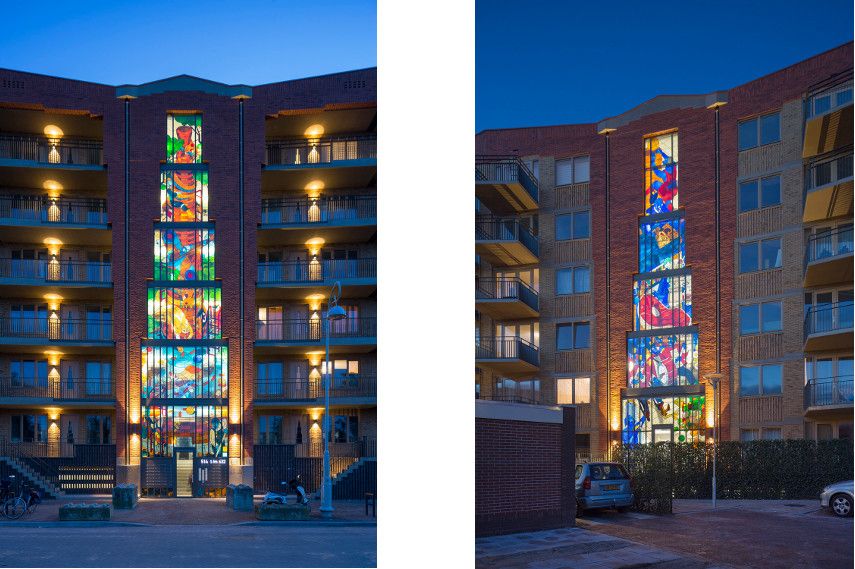 "Melting Pot Art" by Stefan Glerum
Stefan Glerum is a well known illustrator and designer whose works are often described as a "melting pot of various illustration styles". In his works, the artist skillfully combines early 20th Century movements such as Art Deco, Bauhaus, Italian Futurism and Russian Constructivism, with popular themes thus creating a unique and recognizable body of work. What makes his stained glass windows so incredible is the historical interviewing of two opposite phenomena - pollution, symbolized by factories and World War II depictions on one side, and animals and environmental elements on the other.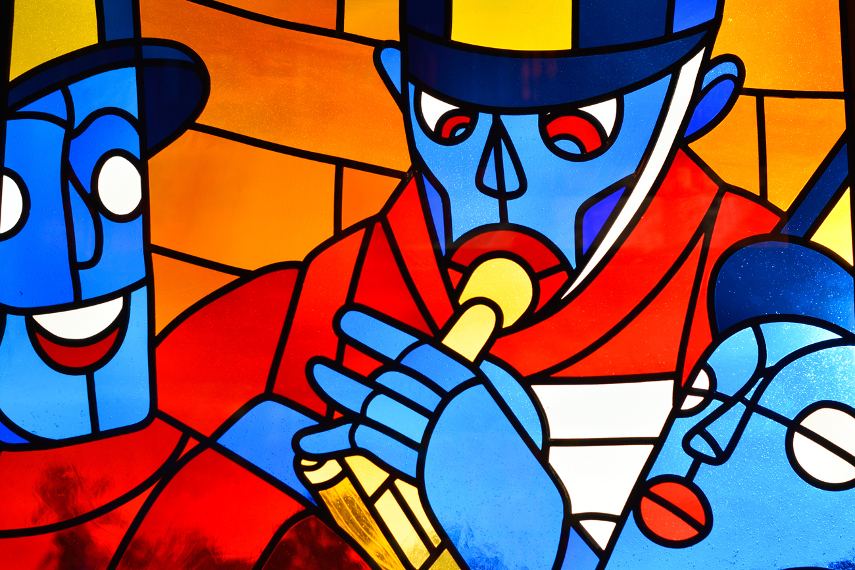 Ymre Housing Project
These colorful stained glass windows are one of the biggest and most ambitious projects by Stefan Glerum and Kallenbach gallery, that represents the talented Dutch artist. Two stained glass facades reaching up to 60 feet, were designed by Heren 5 Architects for a new residential project by the housing corporation Ymere. These breathtaking windows were unveiled on November 10th, 2015 and they will remain on the building permanently, shining like beacons above the Polderweg area in Amsterdam.
Contemporary art and architectural masterpieces are featured in

My Widewals every day, so sign up

for a FREE profile!
Images courtesy of Kallenbach gallery