October 1st brings the opening of a solo exhibition entitled Stranger, by Stella Im Hultberg, at Spoke Art in San Francisco. After dedicating some time to parenthood, Stella returns to the scene after four years with new oil paintings, indian ink sketches and loosely rendered watercolor. Becoming a mother, the artist was inspired to delve into the fragmented dream-like world of female identity. Distancing herself from the rigors of composition, Stella experiments with different mediums, using these unencumbered materials to produce beautiful and unforeseeable results.
Stella Im Hultberg's Return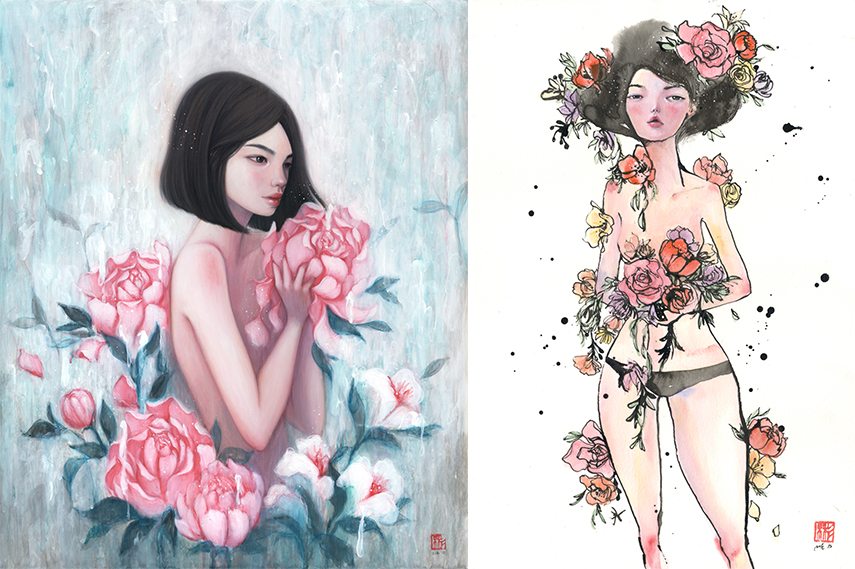 Heaviness of Love
Becoming a parent is no negligible experience, especially for the mother, the process of giving birth and the postpartum effects can be overwhelming and difficult to process. As Stella Im Hultberg explained, she felt a lot of "heaviness of love", which she further described as a very heavy-feeling blessing. Periods of major change can have effect on our personality and even alter our character henceforth. As Stella argues, this change may not be instant and evident, it may creep up on you, and one day, without even realizing it, you have already become a different person. The time she had spent away was by no means a hiatus, the Portland-based artist has refined her style and prepared fresh aesthetics. The new mediums she uses are more fluid and organic, thus making her creations more alive.
Major Changes Influence Our Characters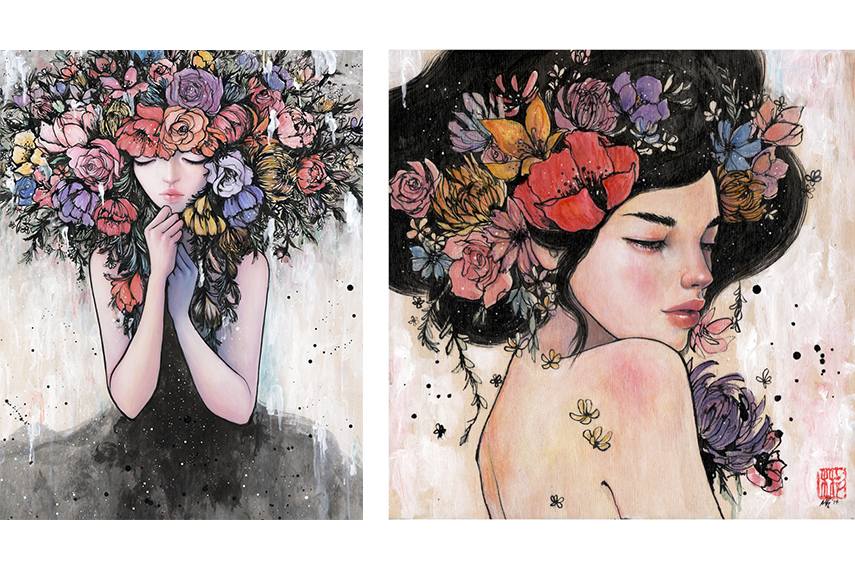 The Ever-Changing Female Identity
The overabundance of flowers in Stella's work is related to her interpretation of flowers as of things which can become very heavy and hard to bear. They are delicate and beautiful, but even as such they can make it hard to breathe for you, as the artist stated. Stranger still contains Stella's signature female figures with organic iconography, but the style is more playful and graphic. The characters are shown in surreal, dream-like states, depicting the ever-changing female identity. The evident symbols and fragments of Mother Nature and fertility are representing the artist's celebration of all things new. The female figures seem shy and contemplative, yet serene and calm at the same time. They may not appear as seductive and sultry as her previous works, but they remain undeniably beautiful. While on the subject of celebrating females, have a look at our list of 10 women in contemporary art.
Celebration of All Things New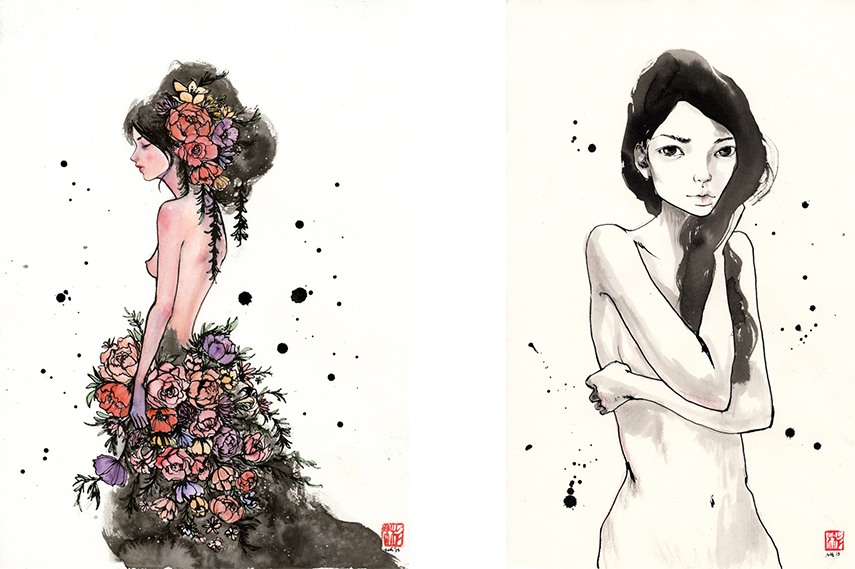 Stranger, Solo Show by Stella Im Hultberg at Spoke Art
Having grown up and lived in Hong Kong, Taiwan, Korea, California and Portland, the artist has a diverse blend of cultural influences to draw inspiration from. Even though she has developed her style and incorporated different mediums, her female characters remain stunningly beautiful and mesmerizing. Stranger, solo exhibition of the latest body of work by Stella Im Hultberg opens on October 1st, 6-10 pm, and will remain on view until October 24th, 2015, at Spoke Art, San Francisco.
All images courtesy of Spoke Art Gallery
Featured images:
Stella Im Hultberg - Hiding The Blue (detail)
Stella Im Hultberg - Dusk
Stella Im Hultberg - Dream Of Me
Stella Im Hultberg - Hiding The Blue (study) process pic