Despite the ecological proclamations, the good-for-Earth transportation alternatives and the fact New York is a very densely populated city, a number of traffic accidents ending in tragic deaths does not seem to decrease. Losing one life is too much, but when rates of as high as two injured and killed children a week, it's time for the society to worry and for the people to act. Right of Way organization stands for basic human right to move around in urban and public areas without being hurt or bullied. It was organized years back, after families of those killed by arrogant drivers, some of which even got away.
More recently, Right of Way initiated a new bill called Vision Zero, through which it advocates seeing traffic injuries and deaths as crime, rather than accidents, thus pushing to completely eliminate these catastrophic fatalities in the city by 2024.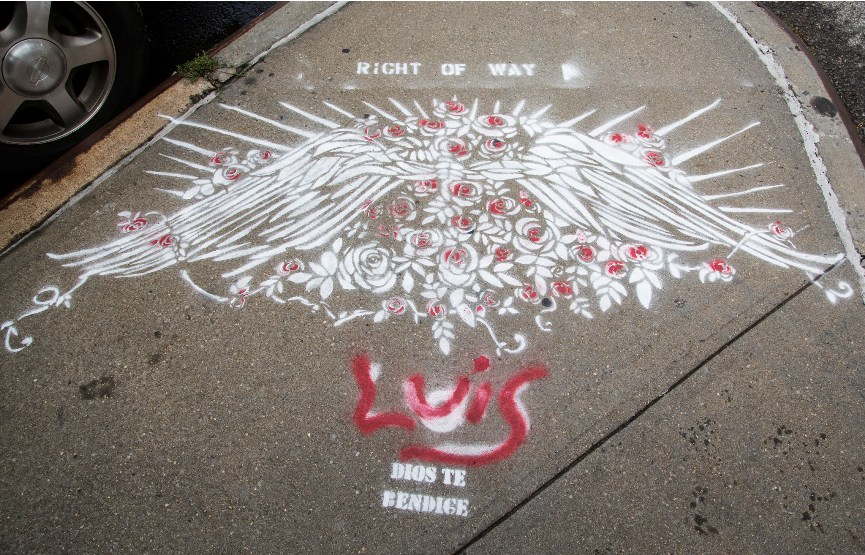 Ride of Remembrance and Hope
Ten days ago, Right of Way organized a Ride of Remembrance and Hope, painting 12 stenciled mementos onto the NY pavement, as a tribute to 12 children and adults who lost their lives in the street. The ride was attended by artists and families of the victims, who scattered rose petals and read poems in honor of their deceased loved ones. The heartbreaking situation drew much attention to the burning issue of city traffic safety, while simultaneously demonstrating the socio-political potency of street art.
The event followed a stencil action commenced by two mothers in the late 90s who both lost their sons in the streets of NY due to reckless drivers. It included painting a recognizable body outline of the victims followed by Killed by Automobile stencil piece, in an event honoring the memory of 8 traffic casualties under 8 years of age at the time of their death.
Once the new stencil design was completed, Right of Way teamed up with Families for Safe Streets, having permission of 12 families to paint these stencils on the pavement where the victims were killed around the city, covering the road of 60 miles through four boroughs on bikes, in a ride lasting for 12 hours.
Stencils in 12 spots now memorize nine pedestrians and three cyclists, ages 3 to 22, who have lost their lives from 1997 to 2013 in traffic accidents.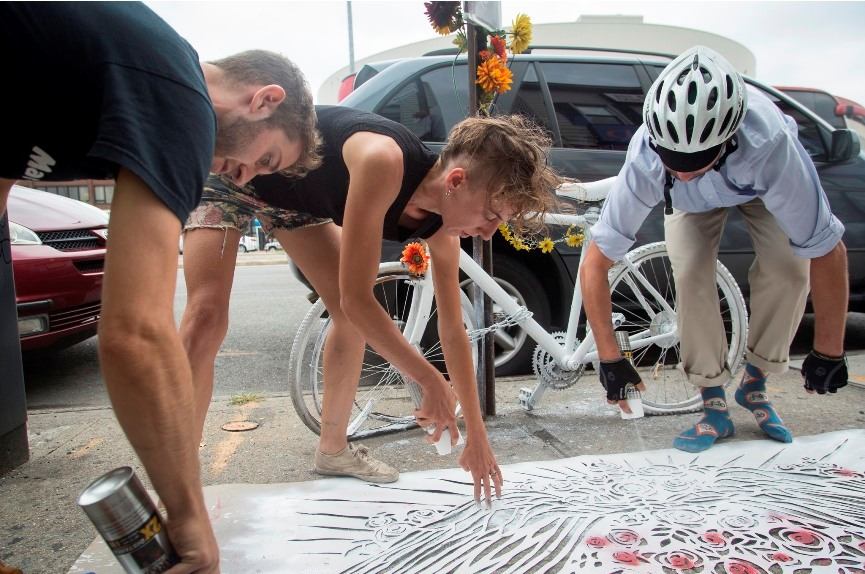 Robyn Hasty
Wishing to honor the ones they lost, Right of Way commissioned artist Robyn Renee Hasty to create a picture, which would capture the emotion of love, loss, and hope for the better. Hasty designed an image around a pair of wings, alluding to the innocents turned into angels, hugged by roses and foliage, not only as a decorative background, but as a memento mori in the most traditional sense.
Robyn Renee Hasty is a versatile artist, who creates by merging various, often primitive or indigenous techniques, producing bodies of work in sculpture, installation, photography, printmaking and street art.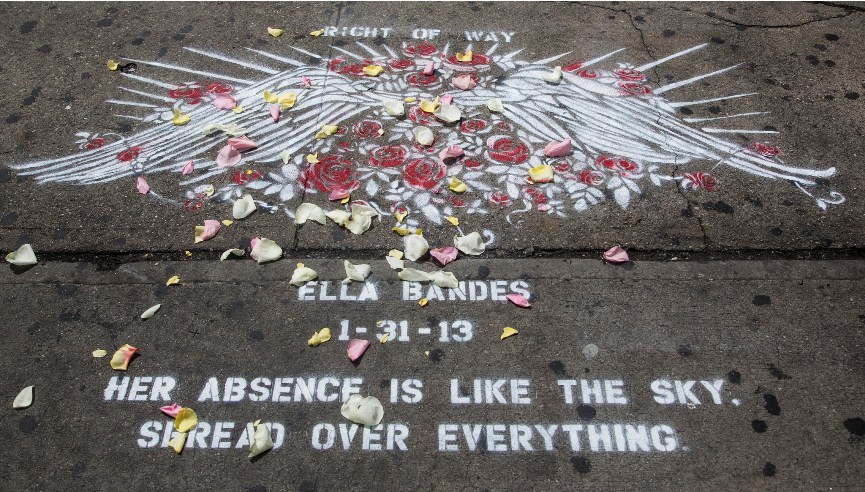 Tributes in Street Art
Colored with strong social tones from its very beginnings, street art has proven to be one of the prime vessels for delivering community messages, and paying tributes. These tributes are not always addressed to the famous or legendary figures, but to everyday people as well, who marked the lives of those close to them. Charitable events are frequently enriched by street art actions, while the movement still possesses the optimism of bettering the quality of life in impoverished areas. This gives a new, deeper and more widely significant meaning to street art, and in this case to carefully devised stencils in honor of twelve souls. Although connected to New York alone, this message bears a universal importance, as pointless traffic deaths keep spreading like a disease across the globe. Therefore, we must appeal to drivers everywhere - Slow Down and Eyes Open!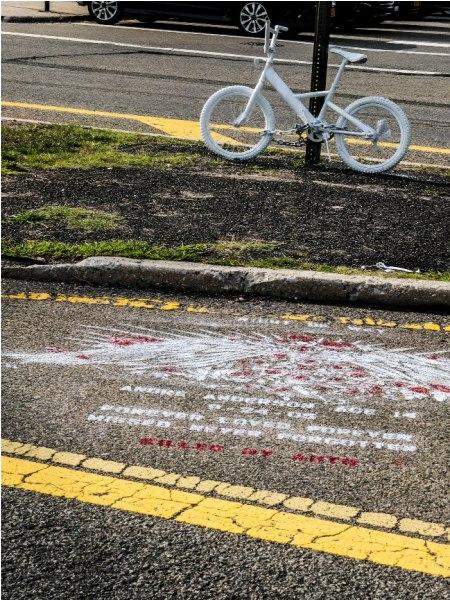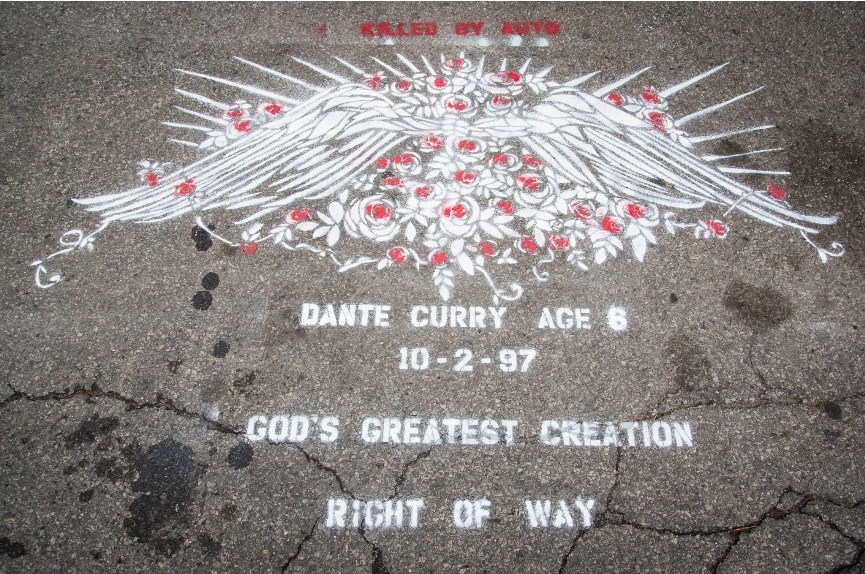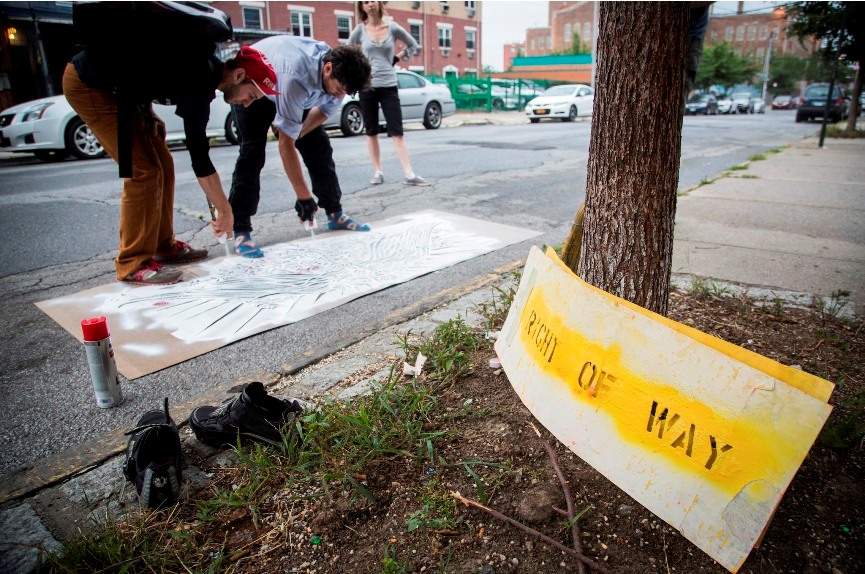 Photos courtesy of Right of Way.