It can be argued that stencil art is one of humanity's oldest creative forms, dating to cave artists placing their hands on cave walls and blowing ground minerals over them to leave their ghostly palmprints. Fast-forward some 30,000 years, the medium has greatly evolved, although the technique has remained essentially unchanged.
The current exhibition at Pretty Portal celebrates this iconic medium with the work of renowned contemporary stencil artists coming from Netherlands, Franca / Austria, Germany, UK and the USA. Titled Stencils Only, the exhibition brings together works by FAKE, JANA & JS, L.E.T., Otto Schade and kurznachzehn.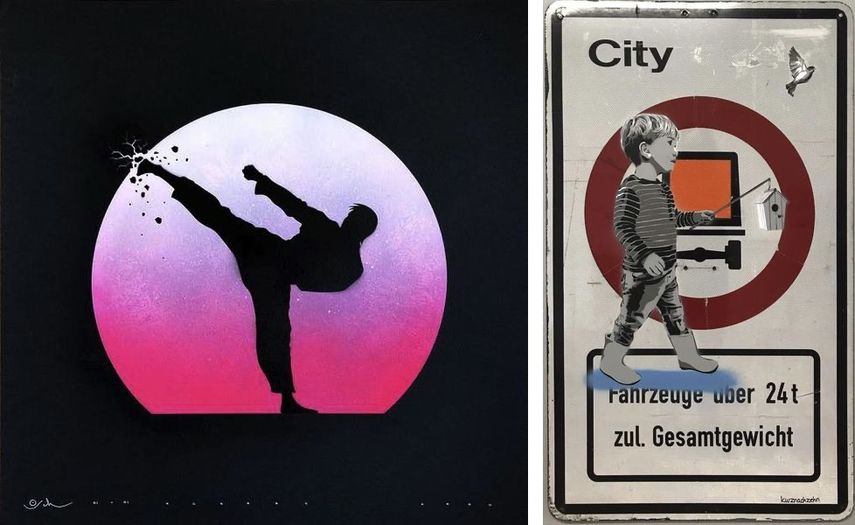 The Art of Stencil
The art of stencil went through different forms and purposes, but it can be argued that, with the rise of urban art, it has found its true calling. Starting with John Fekner and Ernest Pignon-Ernest in the early 1970s, the stencil paved the way for the development of art in public space as we know it today.
Following in their footsteps in the 1980s was Black le Rat, now considered "the father of stencil graffiti." As he explained, it allowed him to spray "tens of thousands, maybe a hundred thousand" images in the streets of his native Paris.
Indeed, stencil turned out to be the perfect fit for the kind of creativity that requires immediacy, simplicity and quick doing. His works had a great influence on contemporary street artists such as Vhils, C215 and his most notable successor, the now-legendary Banksy.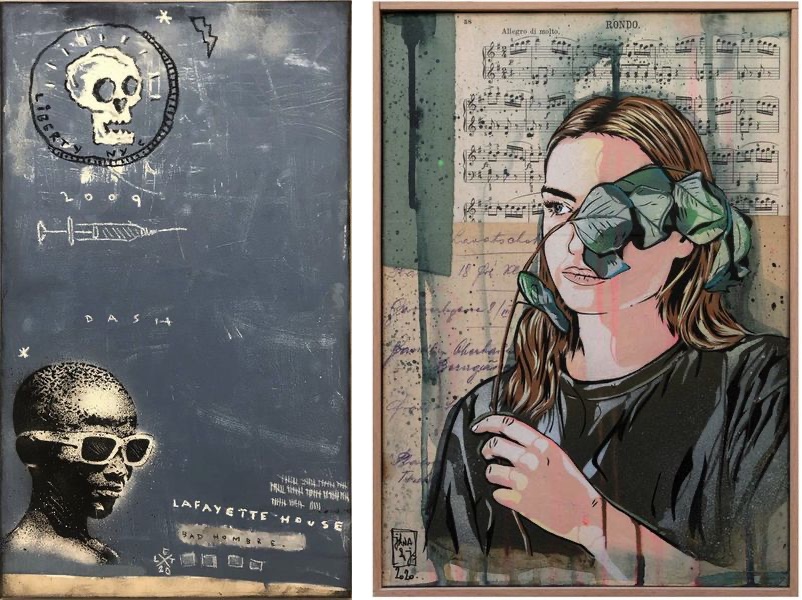 Artists on View
Coming from Amsterdam, the self-taught artist FAKE creates works largely inspired by the events, objects, and relationships that left a mark on him in the past. Focusing on storytelling, the artist found stencils as the perfect form to give him power to use any image on any background and give it a humorous or ironic twist. An Austrian-French artist couple, JANA & JS create pieces inspired by the city and its architecture in the change of time. Using the stencil technique, the work exclusively with their own photos.
A Franco-German contemporary artist based in Düsseldorf, L.E.T. experiments with graphics, sprayed scripts or images on posters or walls. Drawing inspiration from the well-known works, he allocates different elements from them as a new statement. A Chilean-German artist, Otto Schade perfectly fuses abstract and surreal elements, which enables him to perfectly capture and display his obsessions and dreams. After spraying his complex stencils, he uses markers to shade the ribbon-structures, providing his works with depth and a three-dimensional appearance.
Lastly, the German born artist kurznachzehn is known for complex pieces created from multiple layers of stencils that she first spray-paints onto a paper surface and then pastes onto the urban landscape. Originally from Germany, she has imprinted her unique style on many facades in the streets of San Diego, California, her adopted home town since 2016.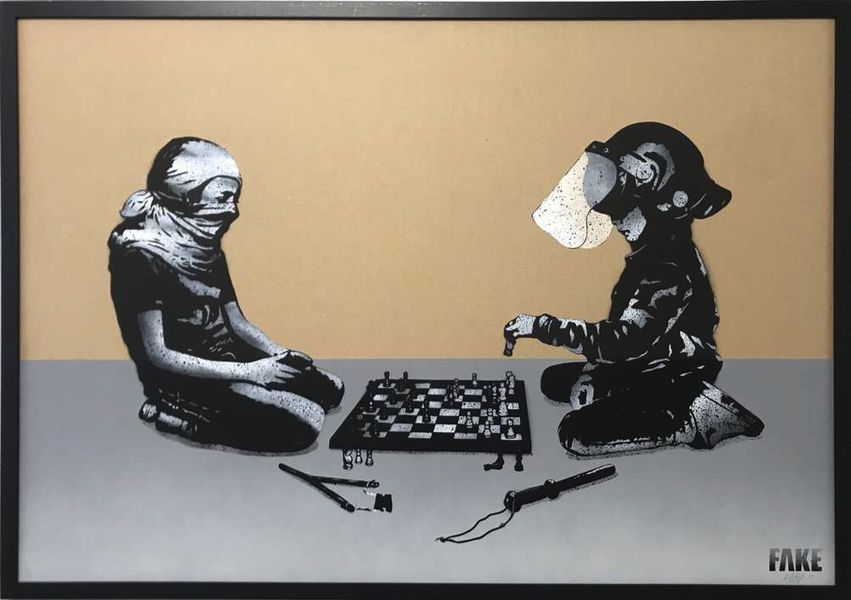 Stencil Art at Pretty Portal
The exhibition at Pretty Portal is a real treat for all the stencil lovers and street art enthusiast in general, so don't miss the chance to stop by the gallery and check it out
The exhibition Stencils Only will be on view at Pretty Portal in Düsseldorf until June 28, 2020.
Featured image: FAKE - Dance Dance Dance. All images courtesy of Pretty Portal.