Stéphane Moscato aka STF makes a name for himself in Marseille for ten years. The artist draw his inspiration from punk-rock culture, and proposes a subtle and ba­lanced work between a very graphic and contemporary visuals and a social and political use of mythology and symbols from history of art. The exhibition Terrain de Jeu (Playground) is Moscato's first show at Openspa­ce gallery. It will present a selection of brand new pieces on canvas, book covers, paper and posters. The show opens on June 14 and runs until July 5.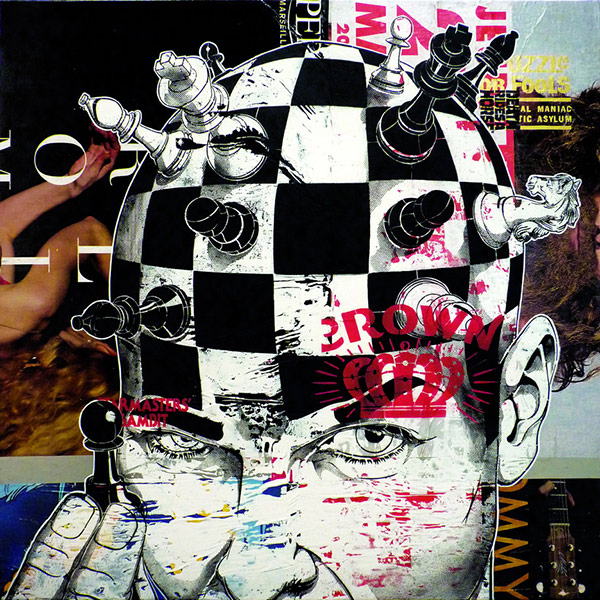 Unique Artworks
Whereas art critics consider collage and stencil techniques as old-fashion, Stéphane Moscato takes the op­posite view in approaching the notion of original artwork and reproducibility. He realizes unique and never reproduced artworks, which enable him to follow the meaning that can be drawn from these fragments of street.
Posters and Canvas
After peeling illegal posters off the street, Moscato then paints them on canvas. He applies the stencil back on canvas by pressing and then uses black paint to draw the outlines of the design. Creative dialogue between form, text, and paint begins. Moscato also enjoys painting covers of books he picks and finds. Another playground for Moscato! One of his obsessions too is the human body, each time telling a different story with an ambiguous interpretation.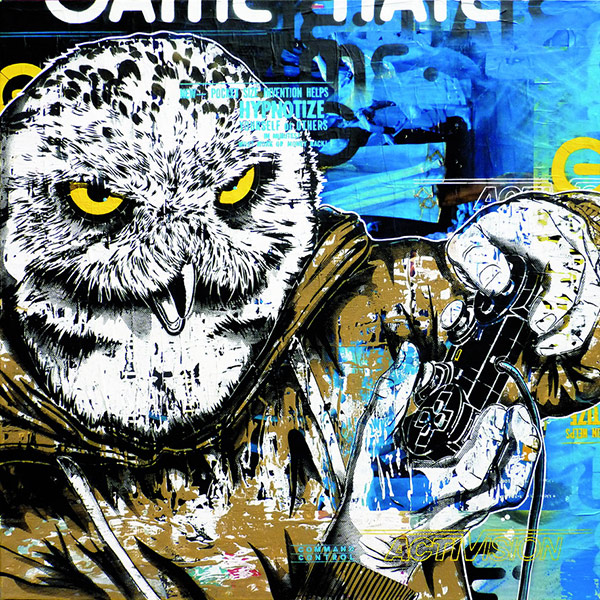 Inspiration
Strongly inspired by the punk rock culture, Moscato's work also shows the social and political engagement. Other sources of inspiration are comic books as well as classical painting. He even appropriates classical mythology in a new narrative. In terms of artistic references (street art or classical painting), Stéphane Moscato is inspired by Ernest Pignon-Ernest, Os Gêmeos, Roa, C215, Logan Hicks, BLU, Banksy, and Lichtenstein, all DADA movement, Rancillac and painters of Narrative Figuration.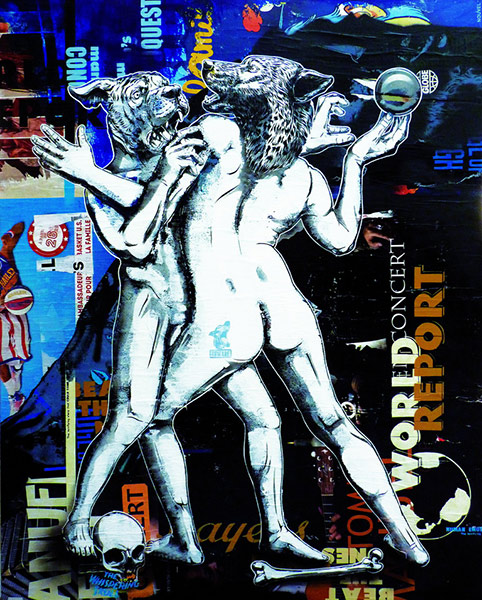 About Openspace
Located in the heart of the 11th arrondissement, Openspace is the new place for the promotion of diverse urban art in Paris. It is a nice and friendly gallery. Its aim is to highlight the diversity of urban contemporary art scene and to stimulate and promote its creations through presentation of original works of artists such as Velvet, Zoer, C214, PRO176, Jana & Js, duo Sobekcis, to name a few. OPENSPACE also approaches to a wide audience through multiple publications of books on the subject.