Stephanie Sarley has more than 117,000 followers on her Instagram profile. She is using this profile as an open-air gallery, showing her art pieces to everyone interested in watching. But, her Instagram profile has been shut down twice in a month period. Sarley is an artist, but not quite an ordinary one. She has a formal art education, but her artistic way is directed to a little more provocative path. She isn't using only watercolors and brushes for her work. She is also using - fruit. Mostly citruses, but here and there pops out a banana, a strawberry, a melon, or a papaya. If you are eager to find out what she finds so inspirational in the fruit, read on!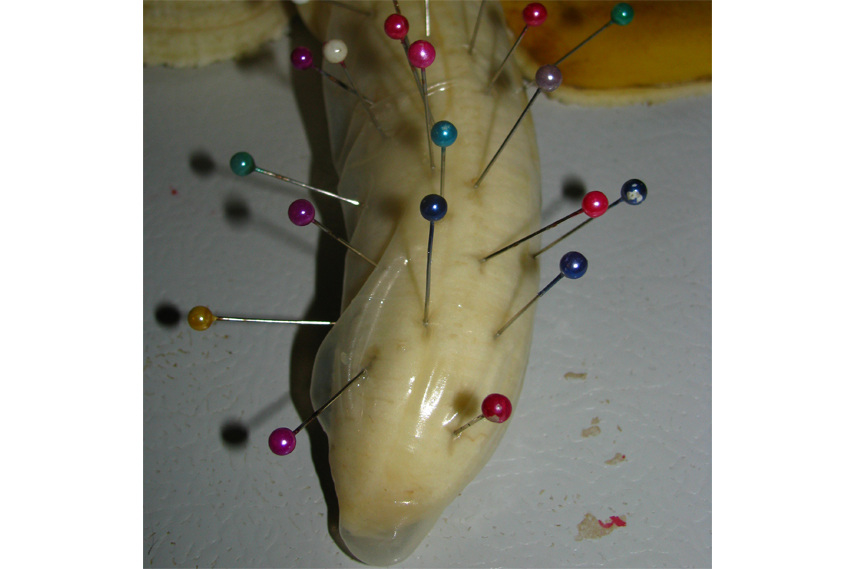 Shedding Light on Female Sexuality
Stephanie Sarley is using fruits as vagina-like models to showcase penetration, masturbation, and sexual excitement. She simply uses her own fingers to make the 'magic happen'. But how (and why) did she put together fruits and vaginas in the first place? Does she want people never to think the same about the term 'finger food' again? Well, reviewing her artistic opus may lead towards a theory that she actually wanted to shed some light on the female sexuality, possible being sick of a constant men-friendly approach to topics related to sex and libido. Her artistic approach can be understood as quite thoughtful actually, as it surely brings a deeper meaning into the discussion around the feminists' side of the table. Stephanie Sarley actually is a true feminist fighting for women rights in her own way.
Is her Art Explicit Enough?
Some critics compare her with Betty Tompkins and Joan Semmel. Considering the time distance (Tompkins was at the peak of her glory in the middle of the 20th century), Tompkins is far more provocative than Stephanie Sarley. Take only her Fuck Paintings series for example. Those large-scale paintings depict sex in almost photographic clearness and have been banned or proclaimed to be pornography for a long period of time. Nothing is hidden in Tompkins's paintings, and please have in mind that those were made during the 1960s. And now, half a century later, in the year 2016, Stephanie Sarley is making Instagram art, so to speak, that is undoubtedly provocative, sexual, seductive, and highly suggestive, but is isn't that much explicit. Her art may be tickling imagination, but it can't be described as pure pornography as Tompkins's.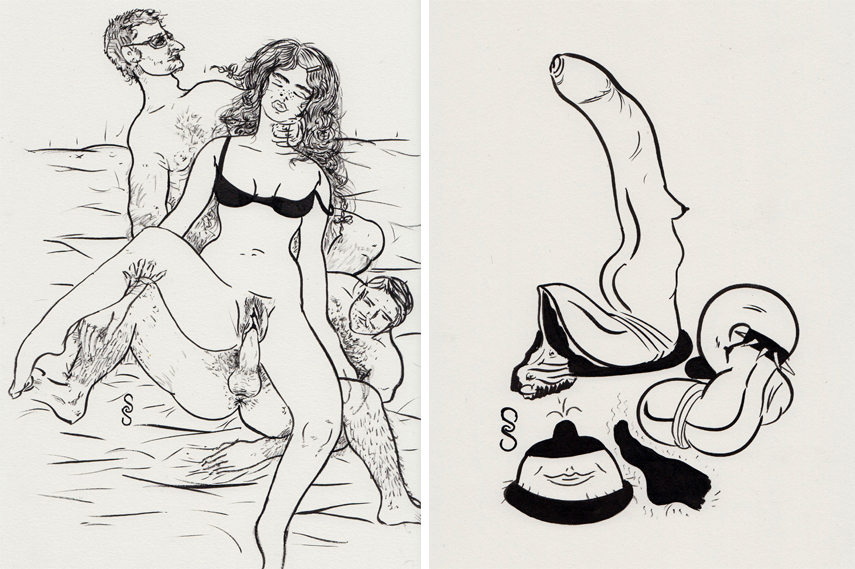 Women should Feel Free about their Bodies
On the other hand, there is Joan Semmel. Her art is more lodged in the present time than Betty Tompkins's, but then again, her paintings are also more explicit than Sarley's. Whether it is the age difference in question - Stephanie Sarley is 27 years old and she is on the verge of the exploration of her sexuality - or the variety of artistic languages, but Sarley, Tompkins, and Semmel really do have much in common. They are all intellectual women fighting for their right to feel free about their own bodies, not to be told what to eat, what to wear, what to look like. They have all found their own style and they all want to shout it out to the whole world to know it.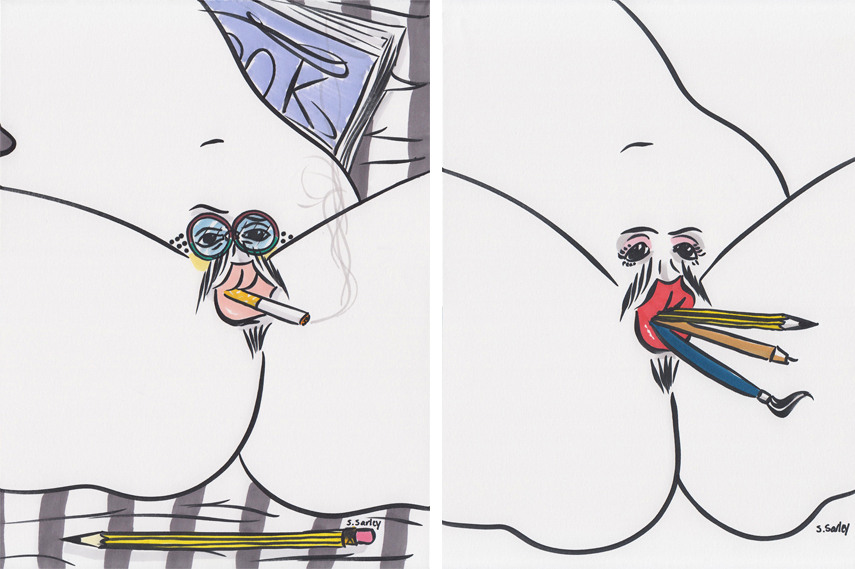 Stephanie Sarley Instagram Art going Viral
'You. Are. Genius'. That was the comment of Jerry Saltz, an art critic for the New York magazine, for the particular Stephanie Sarley's video where she is 'messing' with blood orange. The video was posted to her Instagram profile in January 2016 and immediately went viral. But, not every reaction to her work is so highly positive. Ranging from comments like 'You are calling yourself an artist?', to 'Nothing but the food waste', to 'Oh yeah, straight to the point!', and finally to 'Whether you like it or not, it is only fruit. Right?'. It is, isn't it? And what does Stephanie Sarley say about her own art? 'I fight to reclaim women sexuality. No more art through the filter of the male gazes only. These narratives are outdated. I am showing you the female gaze here. With my art, I have my vision of new women and I embody her in my Crotch Monster and Orcunt art series, as well as in my yonic fruits', Sarley explains.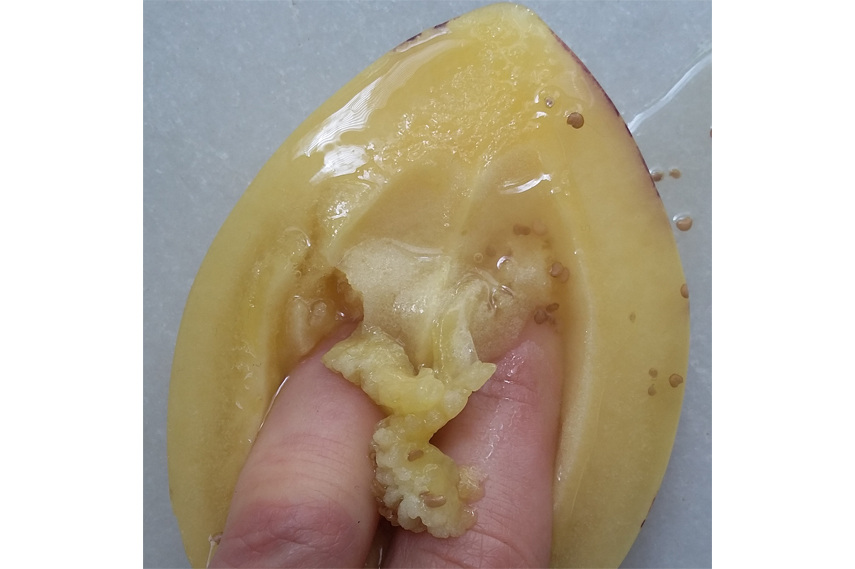 Smokin' Vagina
You know what? If a sex-tourism offer in Thailand can include vaginal ping-pong on the table in a crowded cafe, why wouldn't we consider a vagina-smoking-cigarettes to be art? Maybe this was the exact thought of Sarley while she was creating her art, and maybe not. However, her series Crotch Monster and Orcunt include drawings of a vagina smoking a cigarette, drinking a cocktail, 'eating a dick', and you know, stuff like that. And then there is more explicitly sexual drawings and the Geni Talia series. All in all, the whole body of artwork by Stephanie Sarley, including her sketches, drawings, illustrations, and, of course, the fruit art videos, could be defined with simple characterization – feminist art.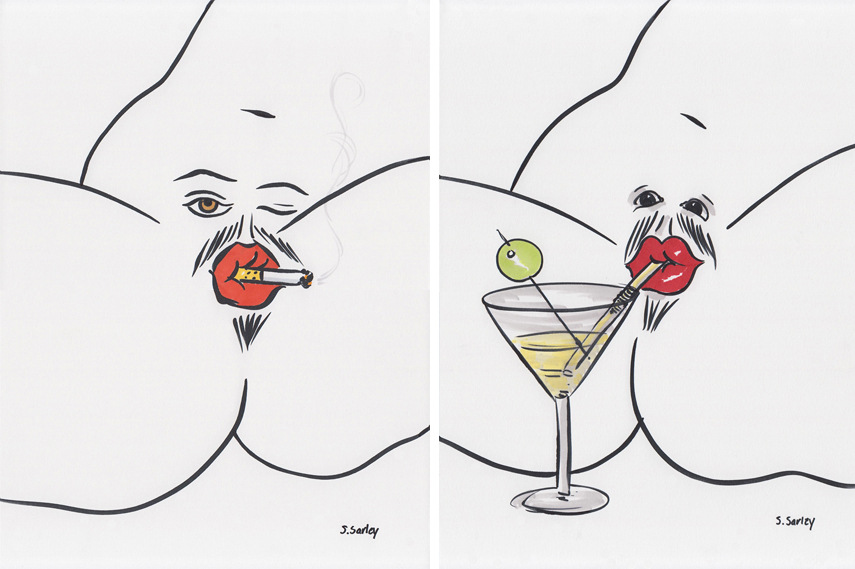 Does it Turn you On?
Sarley admits that she has had a few 'sensations and a heavy breathing' moments while she was creating her art. Even though her artworks aren't explicitly sex images, no one can deny that they are evoking some emotional and rather sensual responses from the audience. She manages to stay provocative while not being extremely explicit nor vulgar. One way or another, we'd say that this girl is having huge fun with her art.
Editors' Tip: Dick Dog and Friends Coloring Book
Stephanie Sarley didn't stop at the drawings and fruit art videos. She also created an adult coloring book titled Dick Dog and Friends. And yes, the penis-look-alike-dog is the main character, and there are all shapes and sizes of human genitalia as a bunch of his friends. This book is emphasizing the funny side of Sarley's art. She remains provocative and perverted, but with everything packed in a brilliant stylistic form. The imaginary world that Sarley has created was best described by Ron Turner of the Last Gasp blog. It is making him 'delighted in a kind of sexual predator yellow submarine sort of way', Ron Turner claims. And critics agree on that.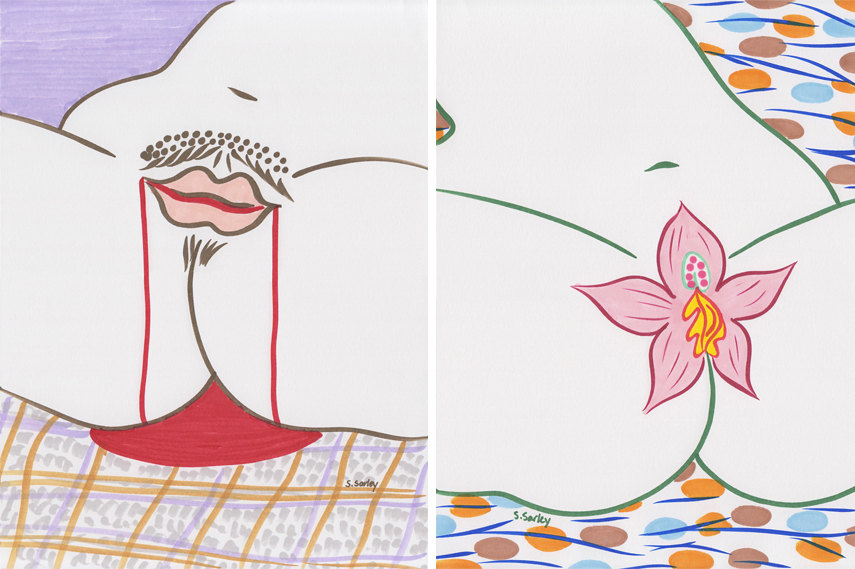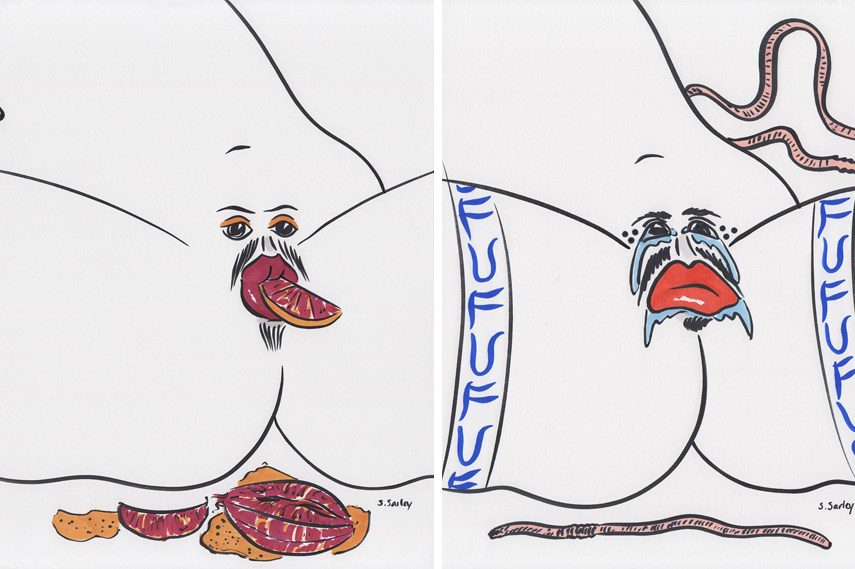 Featured image: Stephanie Sarley - Blood Orange, image
All images via Stephaniesarley.com. All images used for illustrative purposes only.