Stephen Romano Gallery is proud to present The End Of Things – STATIM FINIS, a group exhibition featuring a number of artists that have already exhibited their works at the gallery, as well as the artists who are to work with the gallery in the future. The show will display the works which are both contemporary and historical. The goal of this show is to present and mix the masters such as Charles Dellschau, Darcilio Lima, William Blayney, and Martin Ramirez, with the contemporary, historical, vintage folk, photography, and vernacular art, along with the works of Esoteric art. This exhibition will make that vision come alive, and it will be curated by Stephen Romano in the Bushwick gallery space. Furthermore, for all the melancholic souls out there, this whole display is driven by the sense of ellipsism, the sadness you feel when you are uncertain about the future, the feeling of never being able to get the punchline of the joke, the sole legatee of all human strife.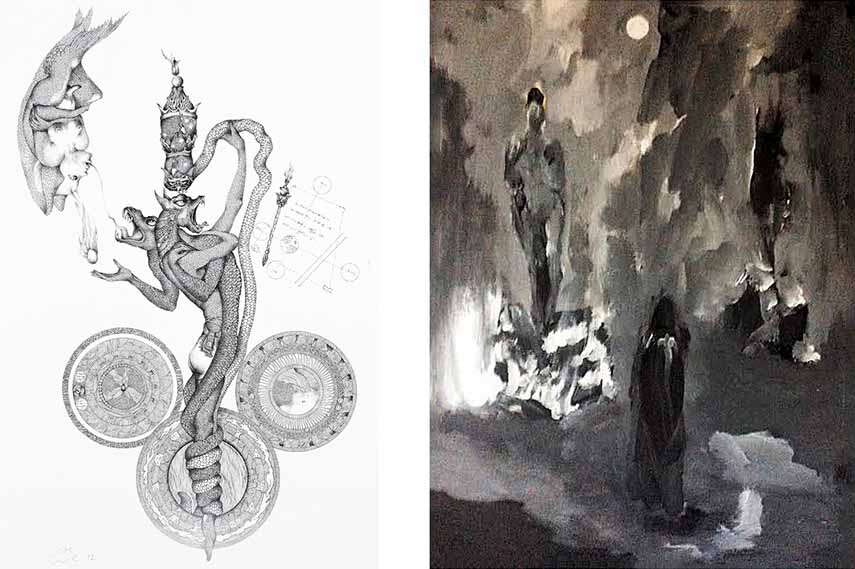 The End of Things – STATIM FINIS
The exhibition at Stephen Romano Gallery will feature the works of a myriad of artists which will each depict their own visions of life, history, and future. "Some are born to sweet delight, some are born to endless night", William Blake once wrote, and this quote from Auguries of Innocence can be applied to this gallery display. The elusiveness of live and its plan for us, the uncertainty of the future, the quandary of what the history will one day look like, the melancholy that follows all this is what has driven the artistic creation of painters, poets, and writers for centuries, and will continue to do so in the future. The dreamers featured in this exhibition are many and include Charles Dellschau, Darcilio Lima, Colin Christian, Lukasz Grochocki, John McGarity, Jon Jaylo, Erin O'Shea, Travis Lawrence, William Blayney, William Mortensen, Rithika Merchant, Linnea Strid, Melanie J Moczarski, Steven Bradshaw, Jel Ena, Erna Kd, Marko Velk, Lori Field, Matthew Dutton, Joel Lorand, Ray Robinson, Tim Kern, Tine Kindermann, Bree Jonson, Kim Bo Yung, Stephanie Lucas, Gigi Chen, Art Toulinov, Inge Vandormael, Anthony Mangicapra, Cendrine Rovini, Christina Dallas, Bruna D'Alessandro, Dolorosa De La Cruz, Cecilia Avendano Bobillier, Samuel D Gliner, A. Fiorillo, Barry William Hale, Loic Lukas, and others.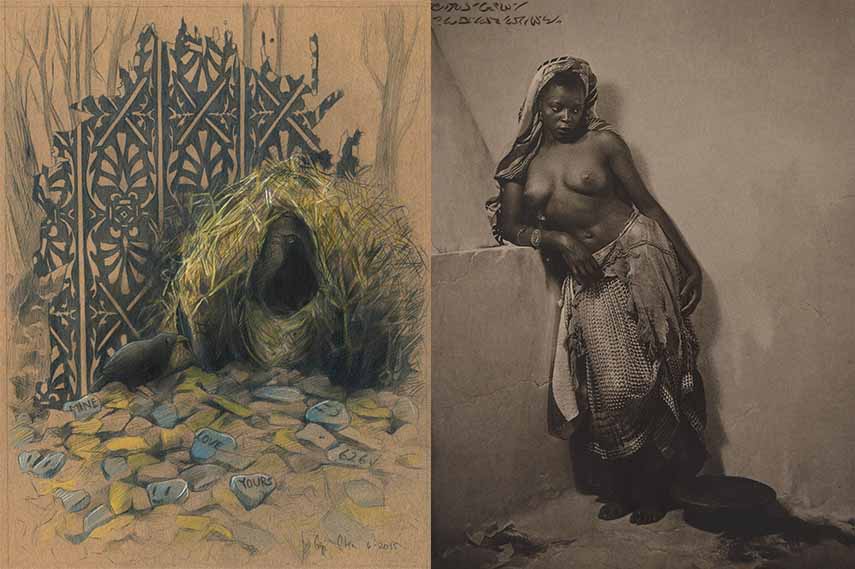 Swallowing The Stone, AETHER, When Grasp > Reach
Along with The End of Things, another three series will be shown at Stephen Romano Gallery. These works by three artists are especially featured in this exhibition and include Swallowing The Stone by Deirdre Sullivan-Beeman, AETHER by Nyahzul C. Blanco, and When Grasp > Reach by Matt Nolen.
Deirdre Sullivan-Beeman is a self-taught contemporary figurative and surrealist painter who utilizes the Old Masters' techniques of modified oil and egg tempera to execute artworks that seem as if they glow from deep within. She uses her own dream journal as an inspiration for her art, investigates Jung's collective unconscious and expresses the conspicuous inquisitiveness for the esoteric and bizarre, especially when it comes to tarot and alchemy. The Los Angeles-based artist has shown her works at Corey Helford Gallery, La Luz de Jesus Gallery, and Gabba Gallery. This exhibition with the Stephen Romano Gallery is her first solo show in New York City.
Nyahzul C. Blanco is a Bogotá, Colombia-born self-taught multi-media artist based in Brooklyn. She has an over a decade-long career during which she has vigorously been exhibiting, creating, and curating in the United States, in Los Angeles, Orlando, New York, Detroit, Las Vegas, and her hometown – Bogotá. Her art evokes magical and romantic chronicles that investigate the numerous aspects of darkness and light, and femininity. Blanco's photomontage series AETHER is named after the element which combines all five known elements – Earth, Air, Fire, Water, and Aether. The Greek philosophers Pythagoreans honored the element by adopting the Five-Pointed Star as their most sacred symbol. Blanco's series addresses the investigation of these elements in the regard to the sense of self-awareness of the body – Earth and spirit – Heaven. Aether (Spirit) is the divine energy that occupies all the spaces, thus serving as the bond our bodies and souls.
Matt Nolen is the artist who has received awards such as the Mid-Atlantic Foundation Fellowship, New York Foundation for the Arts Fellowship, and international residencies in China and Israel. He has served as President of the Board of Trustees for Watershed Center for the Ceramic Arts in Newcastle Maine and is Adjunct Professor of Art at New York University and Ceramics Area Coordinator at Prat.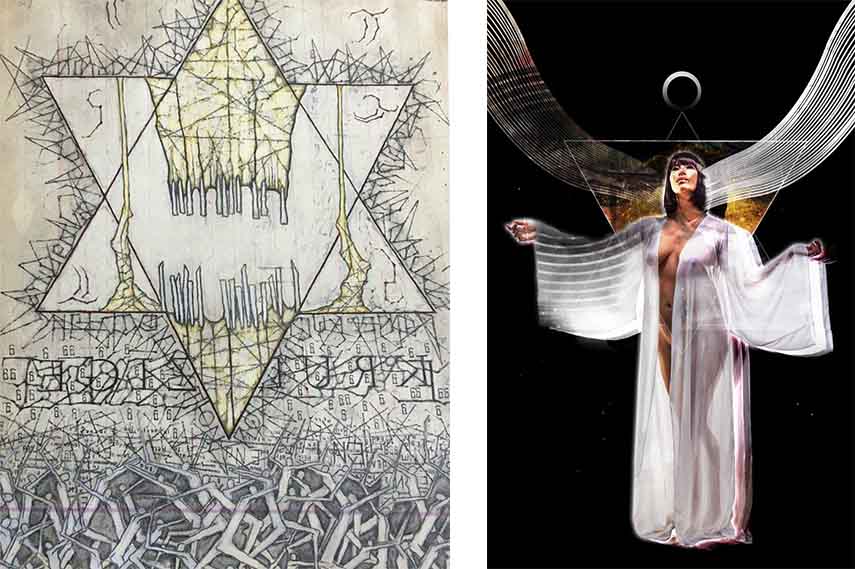 Exhibition at Stephen Romano Gallery
The End of Things – STATIM FINIS, Swallowing The Stone, AETHER, and When Grasp > Reach will be exhibited at Stephen Romano Gallery from May 3rd to May 29th, 2016. The opening reception will take place at the gallery on May 5th, from 5 PM to 9 PM. Stephen Romano Gallery was opened in Brooklyn in April of 2014 in Dumbo and relocated to Bushwick in September of 2015. Stephen Romano was a private art dealer for 15 years, as a specialist for self-taught masters and visionary art. He has also been a participant in numerous art fairs such as PULSE, The Metro Show, and the Outsider Art Fair, among others.
All images courtesy of Stephen Romano Gallery.
Featured images: William H. Mortensen - Ho Ho Off To The Sabbot, c. 1926 | Melanie J Moczarski - The Conversation, 2012 | Colin Christian - Trypophobia, 2015 | Inge Vandormael - Artwork, 2015 | Jon Jaylo - Because We Can Only Write Our Own Story Once, 2016 | Linnea Strid - ... And Her Future Was Waiting, 2016 | Marko Velk - Ophelia, 2015