For this year's SCOPE New York, Stephen Romano Gallery has prepared quite a treat. By bringing the works of the American visionary photographer William Mortensen and Brazilian Surrealist Darcilio Lima, this local art space will surely represent a booth that should not be missed, at the fair that is already very critically-acclaimed and dedicated to the very best of art today. This will be the first time that these two artists will be presented at the fair too, as Mortensen's provocative nude photography inspired by Pictorialism and Lima's intrinsic Surrealist drawings take the stage. And because the almost macabre nude photograohy of William Mortensen appears to be still much ahead of its time, Stephen Romano was banned from Facebook for thirty days for posting the artistic imagery of the photographer.
Of his presentation and this ban, we talk to the gallerist himself!

William Mortensen and Darcilio Lima at Stephen Romano's SCOPE Booth
Widewalls: This year, Stephen Romano Gallery is bringing quite a treat for the SCOPE audience; can you tell us a bit more about it?
Stephen Romano: SCOPE is a highly vetted and curated art fair, we don't just bring anything. I was approached by the fair to participate, as a result of my presence at the Outsider Art Fair in January, and I submitted many of the artists I work with and they proposed a booth which would exhibit the works of William Mortensen (1897 - 1965) and the Brazilian erotic surrealist Darcilio Lima (1944 - 1991).
Both of these artists were forgotten for some time after their deaths, and their bodies of work were relegated to less than a footnote in their respective cultural cannons. But, like Charles Dellschau, A. Fiorello,and many other dead artists whose legacies yearned custodianship, their "ghosts" found me, the patron saint of lost causes in the world of visionary art, and I connected on such a profound level with both artist's works and began to perpetuate them to a greater visibility by publishing catalogs and giving them press and exposure through art fairs (The Metro Show, Pulse, The Outsider Art Fair and now Scope). Many other top photography dealers had tried (for the love of the work) with William Mortensen without much success, his works do not really appeal to the "proper" community of photography collectors in general as he did not work in strict editions, all of his prints of the same image differ to some extent and are unique works - some to a greater extent than others. Mortensen had the instincts and temperament of an artist, not so much the purist sensibilities that were popular in his day, as expressed by Ansel Adams (who referred to Mortensen "The Anti-Christ").  I somehow refreshed the appreciation of the works by showing Mortensen in context to the other great visionaries of our time (also refered to as "Outsider Artists) such as Charles Dellschau, Henry Darger, and Martin Ramirez. Somehow, recontextualizing William Mortensen in this context seemed to allow his works to make more sense, outside of the cannon of they type of photography you would see at the AIPAD show.
Darcilio Lima, who grew up in poverty in a northern costal village in Brazil,  was by the time he was in his early 20's and had moved to RIO an outpatient at a psychiatric facility. He had suffered a nervous breakdown by oversaturating himself with esoteric writings, science fiction, drugs and immersing himself in an excessive lifestyle in the hedonistic underground of Rio in the 1960's. He was discovered in the hospital by Ivan Serpa, an internationally renowned Brazilian minimalist painter, and it was there and then that Lima committed himself to bringing his art to the very farthest edge he could reach, both in terms of technical proficiency and esoteric content. In many ways, Darcilio Lima looked at his artwork as spells he created to conjure protection from evil forces for himself and the viewers. This positions Lima in the role of shaman, an all-important role for the artist in these new dark ages. Late in his short life, Lima turned his back on all of this, art as an occult healing practice, and returned to his home town in northern Brazil, where he lived in a back room of a church with a dirt floor, himself completely disheveled. He tried to destroy all of his works for redemption, however a few precious ones survived, mostly now in our archive, while many fakes circulate South America. The pairing of these two artists in the context of a contemporary art fair is historical, the visionary and the shamanic, two artists who were forgotten and whose time has now come for re-assessment.
For instance, Darcilio Lima will be featured in exhibitions at two of the greatest museums in the world this year, the Reine Sophia in Madrid and the Metropolitain Museum of Art in New York in September. Mortensen was just featured at the Outsider Art Fair in New York for the first time where the art critic Jerry Saltz gave him special admiration with an instagram post which reached a couple of thousand people and he Will be featured also in an important exhibition abroad shortly as well.
Widewalls: In your opinion, why are William Mortensen's photographs more relevant now than ever?
SR: Mortensen is now, some 50 years after his death, recognized as an innovator in the field of manipulated photography, having invented many of the techniques that commonly used in altered photography. He perfected many of the techniques that are perceived as seminal. He was featured in a show at The Met a few years ago called "Photography before photoshop" which elaborated on the use of manipulated photography before the digital era. This is somewhat of a misnomer however, Mortensen did not place his technique in the foreground of his art-making process, he placed the content, and in the execution of this vision, he often had to invent the technology to create the images.  Mortensen in his early years was the right hand man of Cecil B. Demille the movie director. He also had at his disposal an entire floor of the Western Costume Company. His own personal art could not help but take on a sensibility of a theatrical nature, as on the side he would make his own art with the props and actirs who came through the WestCoCo. Mortensen was also known as the hottest portrait photographer of his day in Hollywood where he worked. He was excommunicated from Hollywood around 1928 due to an unfortunate conflict with Faye Wraye's Mormon mother (whom he brought out to Hollywood from Utah and was charged with chaperoning). He then set up a studio and school in laguna beach California where he really sank his teeth into his oeuvre. Mortensen wrote, and this encapsulates his theoretical practice, which he was deadly serious about:
"All art is distortion. Not the copying of reality, but the interpretation of it's meanings in terms of a medium, is the business of art. This means clarification by selective emphasis and elimination, it means the personal comment of the artist - all of which means distortion. Every art involves distortion dictated by the conditions of it's particular medium - be it paint, sounds or words. Even the most literally conceived and executed photograph involves distortion: colors reduced to a scale of greys and solids to a convention of a single plane." William Mortensen 1942.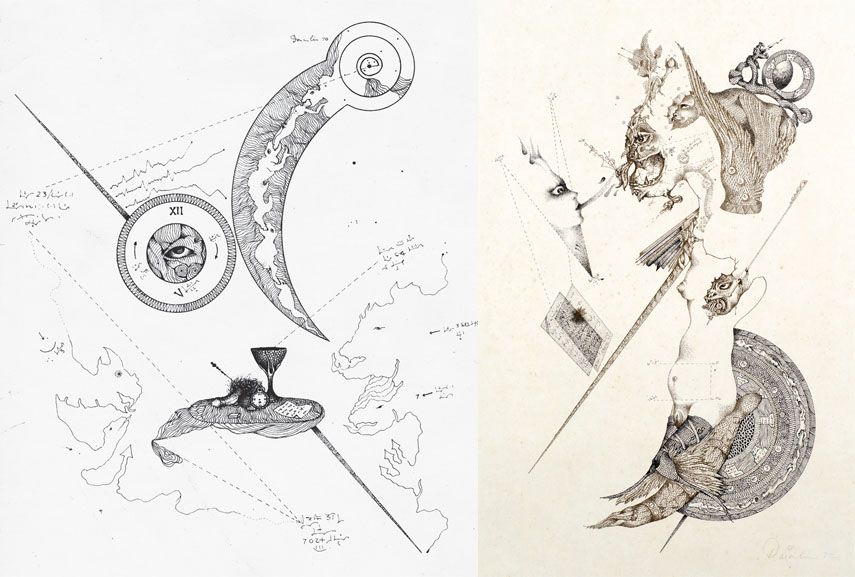 Banned from Facebook
Widewalls: The explicitness of the photographs got you banned from Facebook for posting nudity; what happened there?
SR: It's not the first time this has happened, it is maybe the fourth or fifth time.  I try to be more careful about it now, but this one slipped by.
It was a re-posting of an article in Juxtapoz magazine from 2014 which featured a series Mortensen did in 1922 - 1924 called "A Pictorial Compendium of Witchcraft" which featured hedonistic images of men and women in what is presumed to be occult ceremony as well as images of women being persecuted by both demons and figures of religious authority. The entire series can be seen here. Someone must have seen the post and objected to it and reported me, I don't know of any other way that these things come up before Facebook's censors. The censors, according to what I've read are in the Philippines (my wife is Filipina so the point i'm making by bringing that up isn't a cultural insult but rather that that they are probably cheap labor)  who have a second or two allotted to them to look at the image and decide if it merits a ban. This is what information I have been able to divine about it. And there is no means of appeal I am aware of and was told there is no way to lift any ban. What I know about how things are posted is that what image appears along with the post is based on what called an "Open Graph" tag in the markup language, which we often don't see until it's actually posted. But in this case, I did know what would happen and somehow just didn't exercise caution. I find Facebook, which is obviously the major social network platform of our time, bordering on a totalitarian attitude about this. I am sure they have enough resources to accommodate a method of appeals for those struck by these randomly considered and extremely harsh bans. I can't even message anyone. Odd thing is, they left the post up as of a few minutes ago.
Widewalls: This is not the first time that Facebook has a problem with artworks on its platform. What are your views on this?
SR: I think that Facebook's public position on posting nudity in art does not match it's practice. Here is the policy from the page of community standards:
We remove photographs of people displaying genitals or focusing in on fully exposed buttocks. We also restrict some images of female breasts if they include the nipple, but we always allow photos of women actively engaged in breastfeeding or showing breasts with post-mastectomy scarring. We also allow photographs of paintings, sculptures, and other art that depicts nude figures. Restrictions on the display of both nudity and sexual activity also apply to digitally created content unless the content is posted for educational, humorous, or satirical purposes. Explicit images of sexual intercourse are prohibited. Descriptions of sexual acts that go into vivid detail may also be removed.
However the mechanism they in place to "police" (which is what they are doing) the posting of nudity in art is not congruous with the community standard, and there is no appeals process. None that I am aware of anyhow.
Widewalls: What's next in store for Stephen Romano Gallery this Spring/year?
SR: As mentioned, Darcilio Lima will be featured in two major museum shows. I'm going about my practice as I usually do, looking for opportunities where I can find them to perpetuate the art I love as well as earning a living at the same time. I am presently cautiously looking into re-locating the gallery to Manhattan. While I enjoyed being in a very vital artistic community in Brooklyn, I found I was spending too much time and effort trying to get collectors to come out. Moving to Manhattan is a challenge though, and the turnover in my own ecosystem of artists has thinned out dramatically.. Yes, I miss the scene, but that's gone now, for now staying in my pajamas until 11am, throwing ten balls at the wall and hoping one bounces back, that's what a private art dealer does. And the old saying is that "A private art dealer makes more in his pajamas in one morning than a gallerist does in a month" rings somewhat true as the expenses of overhead are gone. But this is a temporary situation, I am sure to re-open, and I see as well as the artist estates i deal in, living artists such as Barry William Hale, Alexis Karl, Samuel Glinner, Linnea Strid, Matthew Dutton, Alessia Iannetti, Erin O'Shea, Marko Velk, Jon Jaylo, Lori Field, Kimbo Yung, Damian Michaels, Erna Kd, Lori Field and Vincent Castiglia I can see working with in the future incarnation of the gallery, among others.
Also I feel I need to take some time to evaluate the business model of a gallery as I have been operating. I believe many dealers are trying to figure this out simultaneously. With the advancement of social media in the art world, the old role of the dealer being the go-between the artist and the collectors is gone. Collectors in general want to enrich the quality of their own lives now by perpetuating their own relationships with artists, who are easily accessible now through Facebook, Instagram, and so on, and the advantage is obviously that they want to get a better price and a better selection. The trouble with this as I see it is that the dealer has a level of proficiency and connoisseurship, and assuming they are any good at what they do and are not simply dilettantes, can edit the artist's body of work. Now, it seems everything the artist produces is made available for consumption. This is maybe OK if you're Anselm Keifer or Anish Kapoor, where we assume the demand for the artwork far exceeds the supply. But maybe not such a good practice to become so accessible when your career is still in the formative stages.
The prevailing idea though is to continue to perpetuate the artists who works bear a shamanic presence in our culture, works that define themselves as tools for social healing. This is the blessing and the curse of the true artist, to wield true power for social healing and to bear the awareness of their responsibility. The dealer is no different really, once we have our purpose in sight, it's harder to put on a spectacle without full knowledge I am telling myself lies... To do something spectacular within our own practice, that is always the goal.
William Mortensen (1897 - 1965) Visionary American Photographic Artist - Stephen Romano Gallery
Darcilio Lima - 1944 - 1991 "DIAFRAGMA" artist's book, 1975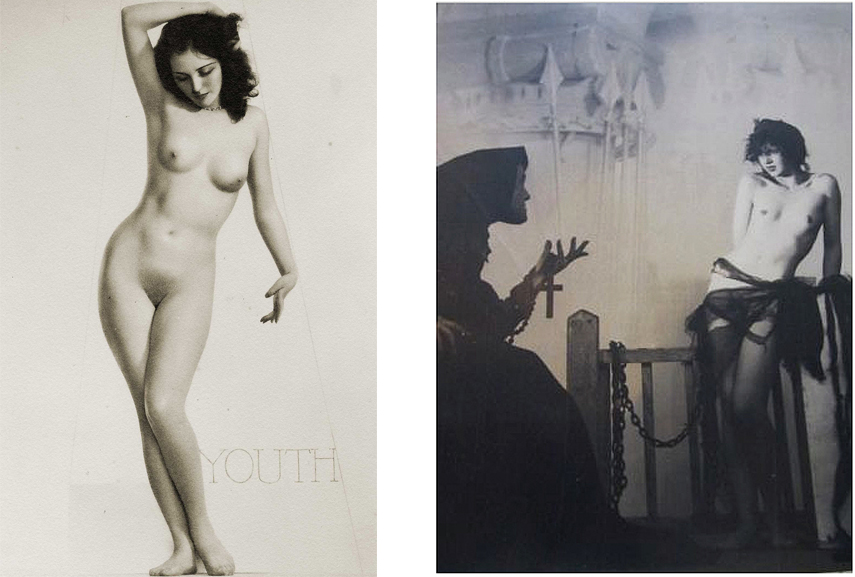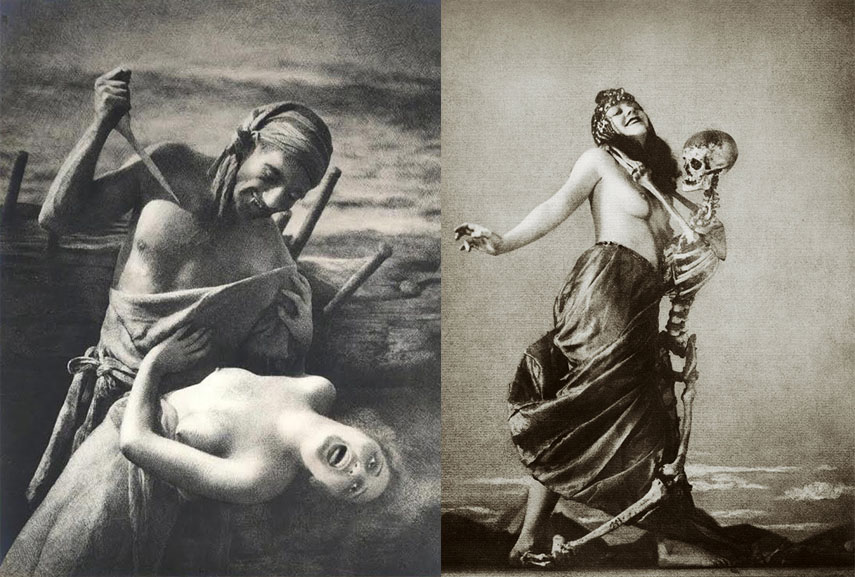 All images courtesy Stephen Romano Gallery.